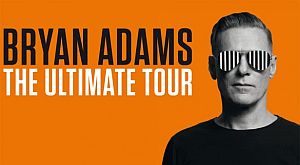 Lanxess Arena, Cologne, Germany
22nd June 2018
Bryan Adams - "The Ultimate Tour"

Bryan Adams returns to Germany with his "Ultimate Tour" at the beginning of summer. The artist, who is one of the most successful rock interpreters, gives concerts in Hamburg, Mannheim and Cologne from June 18th to 22nd. 'Ultimate' is also the title of his new album, which includes two brand new tracks plus all hits. "The Ultimate Tour" presents Bryan Adams with a thrilling set, which of course includes all the charts hits. Adams is considered one of the most fascinating live musicians worldwide. His energetic performance, the ease of his stage presence and incredible vocals guarantee both excitement and great entertainment.
For more than three decades, Bryan Adams has thrilled million fans as a credible Rock'n'Roller worldwide with bestselling songs and intense live performances. His CDs always conquered the top of the international and German charts, achieved multiple gold and platinum status. His hit singles developed into rock hymns, his concerts are pure adrenaline. While his hit songs always dominated the international charts, he captivated the masses with absolute naturalness and exuberant playfulness. Over 65 million records and # 1 status in more than 40 countries document a unique response that is matched by sold-out tours around the globe. Bryan Adams and his longtime companions, Keith Scott (lead guitar) and Mickey Curry (drums) and keyboarder Gary Breit and bassist Norm Fisher, present a rousing show that, of course, combines hits and highlights.
Bryan Adams live - that's more than two hours of unrestrained energy and total engagement analogous to the promise of his million-selling 'Let's Make A Night To Remember'. It is, as his rock hymn 'Straight From The Heart' aptly describes: straight from his heart into that of his fans.
Live Nation Presents: Bryan Adams - The Ultimate Tour

18.06.2017 Hamburg - Barclaycard Arena
19.06.2017 Mannheim - SAP Arena
22.06.2017 Cologne - Lanxess Arena
Additional Concert Info

Doors: tba
Starts: 20:00
Tickets: Tickets are available from 77.45 € (pre-sale plus fees)
HERE
and at
Ticketmaster
Info: https://www.dbe.ag/k/bryan-adams-73239
More on
Bryan Adams