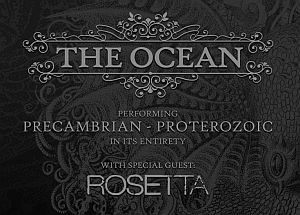 Kulturfabrik, Esch sur Alzette, Luxembourg
8th May 2018
The Ocean - "Precambrian Tour" - 10th anniversary with support: Rosetta

Five silhouettes, their backlit bodies moving frenetically in front of the huge LED lighting rigs, flashing synchronized to every little change in the music: watching THE OCEAN perform live is an experience. The videos, the lighting and more than anything, the music - orchestral, dense and epic - all contribute to that certain atmosphere that sets THE OCEAN apart from most of their peers in the realm of modern day's heavy music. The lynch-esque play with darkness and dynamics make it easy for the listener to get lost in the dismal oceanic spheres.
Despite initial hardships and the ever-changing line-up, THE OCEAN have released four critically acclaimed studio albums over the course of the past six years. Praise of their latest 80 minutes concept-opus 'Precambrian' has spread like wildfire in the community. This last album is the fruit of two years of composition and six months of recording at 'Oceanland', the band's studio, with the participation of 26 musicians and singers. 'Precambrian' is a double album (Hadean / Archean and Proterozoic) symbolizing two geological sub-periods of the Precambrian era. The violence of the 'Archean / Hadaean' is masterfully reproduced through the coldness of MESHUGGAH riffs, polyrhythmic structures and guttural songs as desired. Sometimes filled with riffs close to MASTODON, EORCHEAN follows in the same vein "grandiloquent metal".
After close to 400 shows all over the world, supporting bands like OPETH, CULT OF LUNA and ISIS, and successful headlining tours in Europe and the US, the addition of vocalist Loic Rossetti marks the final step in a recent development within the band: after 10 years of existence, THE OCEAN has transformed from a collective into a band. On this special tour, the band will exclusively performs the 2008 highly recommended 'Precambrian' album!
Additional Concert Info

Doors: 19:30
Start: 20:00
Tickets: 22€ + presale fee (https://www.ticket-regional.de/)
Info: http://kulturfabrik.lu/fr/programmation/details/event/the-ocean-d/
Facebook Event: https://www.facebook.com/events/561223620899088/
More on
The Ocean
&
Rosetta