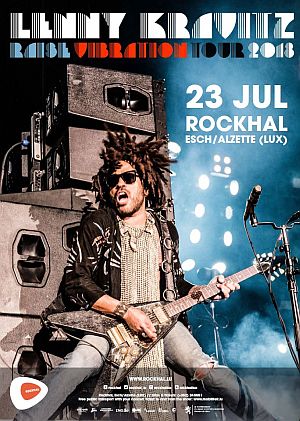 Rockhal, Esch sur Alzette, Luxembourg
23rd July 2018
Lenny Kravitz

After his last performance in December 2014, the Rockhal is amazed to announce that LENNY KRAVITZ will finally be back in Luxembourg with his upcoming 2018 summer European tour, called "The Raise Vibration" Tour. He will perform at the Rockhal on July 23rd.
Regarded as one of the preeminent rock musicians of our time, LENNY KRAVITZ has transcended genre, style, race and class over the course of a 20-year musical career. Revelling in the Soul, Rock and Funk influences of the '60s and '70s, this writer, producer and multi-instrumentalist has won four consecutive Grammy Awards, as well as set a record for the most wins in the "Best Male Rock Vocal Performance" category. In addition to the tour, KRAVITZ is also gearing up to announce new music that is set to be released later in 2018. But he will also play his beloved classic songs, like 'Fly Away', or 'I'll Be Waiting'.
In addition to his ten studio albums, which have sold more than 38 million worldwide, this multidimensional artist has segued into film, appearing as Cinna in the box-office hits, 'The Hunger Games' and 'The Hunger Games: Catching Fire'. KRAVITZ can also be seen in the critically-acclaimed films 'Precious' and 'The Butler'.
Additional Concert Info

Doors: 19:00
Show: 20:30
Tickets: 76€ + 5.00 € presale fee
Info & Tickets: https://www.rockhal.lu/agenda/rock-pop/show/detail/lenny-kravitz-2/
Facebook Event: https://www.facebook.com/events/170950363693436/
More on
Lenny Kravitz