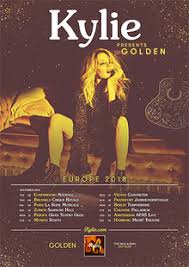 Rockhal, Esch sur Alzette, Luxembourg
6th November 2018
Kylie Minogue

After the incredible reception of her intimate shows earlier in the year, KYLIE MINOGUE announces her "Kylie presents Golden" European tour, which will see the international pop star play to more fans across Europe this November. Kylie, whose performances have been globally-celebrated over the years, will play shows that embrace themes of 'Golden' - Kylie's most personal album to date. Fans will see Kylie and her live band perform songs from her new number 1 album, together with iconic classics from her phenomenal back catalogue.
The "Golden Tour" is the fifteenth concert tour by the Australian artist, in support of her fourteenth studio album, 'Golden' which was released earlier this year via BMG - her first album on the label. It debuted at Number 1 in the UK Albums Chart and is her sixth Number 1 album to date. It spawned the singles 'Stop Me From Falling' and 'Dancing', the official video for which has over 9 million views and counting. The tour began on 18 September 2018 in Newcastle, England at the Metro Radio Arena and will conclude on 6 November 2018 in Esch sur Alzette, Luxembourg at the Rockhal, consisting of twenty-seven shows in Europe. In an interview on Good Morning Britain, Minogue said that the shows would be split into "two halves", with an interval and a narrative throughout. She continued to say the setlist is mostly concrete, mentioning 'Raining Glitter' and 'Lost Without You' as definite performances.
You want your very special KYLIE MINOGUE experience? Check out the different VIP Packages!
Early Entry Package

Total Price: 145€ (55€ ticket + 85€ Early Entry + 5€ presale fee)
• Standing ticket to see Kylie Minogue Live
• Early Entry into the venue before standard ticket holders
• Limited edition Kylie Minogue VIP gift item
• Souvenir Kylie tour laminate + lanyard
• Designated check-in with our on-site concert host
Hot Ticket Package

Total Price: 174€ (84€ ticket + 85€ Early Entry + 5€ presale fee)
• Top priced seated ticket to see Kylie Minogue Live (seats on the bleacher)
• Limited edition Kylie Minogue VIP gift item
• Souvenir Kylie tour laminate + lanyard
• Designated check-in with our on-site concert host
Additional Concert Info

Doors: 19:00
Show: 20:00
Tickets: Standing: 55€ + 5€ presale fee; Seated: 84€ + 5€ presale fee
Info & Tickets: https://www.rockhal.lu/events-tickets/rock-pop/show/detail/kylie-minogue-1/
Facebook Event: https://www.facebook.com/events/838053373067336/
More on
Kylie Minogue