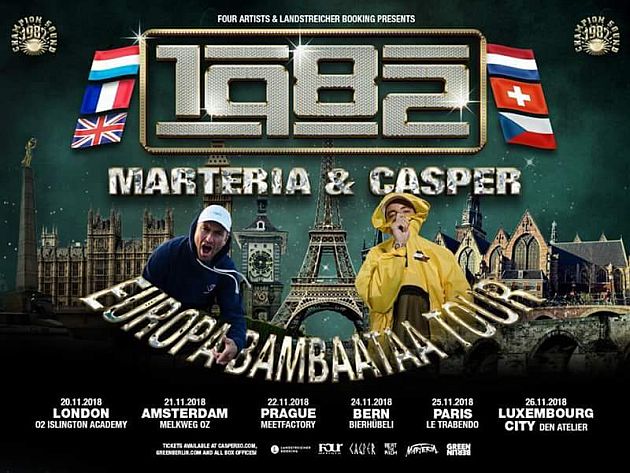 Rockhal, Esch sur Alzette, Luxembourg
26th November 2018
Marteria & Casper

Within two weeks more than 60,000 tickets for the "Champion Sound Open Airs" of MARTERIA & CASPER were sold. Now the two rappers are announcing a club tour through Europe. Even before the big open air shows in summer 2019 MARTERIA & CASPER will go on "Europa Bambaataa Club Tour 2018" in six European countries.
The idea for a cooperation album by MARTERIA & CASPER has been around for some time. After songs together on samplers and solo albums, they finally released the long-awaited Collabo album '1982' on 31st August 2018, which immediately entered the German album charts at number 1. At the latest with their last two solo albums, 'Lang lebe der Tod' and 'Roswell', MARTERIA & CASPER have finally achieved an untouchable status as two of the biggest and most successful rappers and live artists of Germany and at the same time are so fresh in business that '1982' doesn't look like a nostalgic act of desperation disguised as a nostalgic "once again know-it-all", but is the logical consequence of two of the most glorious rap careers of this country.
In November, MARTERIA & CASPER will also bundle their enormous live energies and will be responsible for the international demolition of six club shows across Europe before they play five big "Champion Sound Open Airs" with lots of hits and bucks in their luggage next summer.
Additional Concert Info

Doors: 19:00
Show: 20:00
Tickets: Sold Out!
Info: http://www.atelier.lu/Upcoming-Shows/Marteria-Casper
Facebook Event: https://www.facebook.com/events/2228934677344294/
More on
Marteria
&
Casper