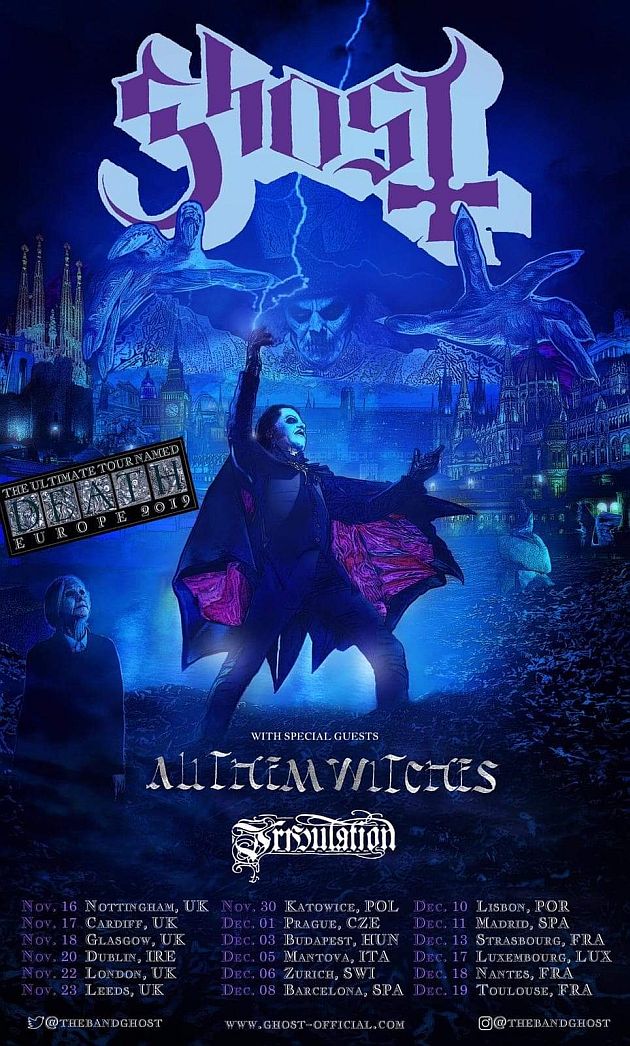 RuhrCongress, Bochum, Germany
15th February 2019
Ghost - "A Pale Tour Named Death" Europe 2019


GHOST: With new band to big successes! The fourth album, 'Prequelle', is a worldwide chart-topper and an interdisciplinary masterpiece! The band comes to Stuttgart, Bochum, Hanover & Hamburg in February 2019. The myths and mysteries surrounding the Swedish metal band GHOST are unparalleled. For almost a decade, the true identity of the people behind the music could be kept secret, as GHOST are always masked in public. The founder and head of the band gathered as Papa Emeritus diverse musicians, all of whom were subsumed under the term Nameless Ghouls. For three albums, the band played virtuously between poetry and truth, creating a dystopian world between Heavy Metal, Satanism, religious elements and legendary creation.
Only in 2017, the true identity of Papa Emeritus was revealed as a result of a dispute: Behind the whole concept is the Swedish Rock musician Tobias Forge, who now, with a completely new band and his also newly created alter ego Cardinal Copia, developed the idea of GHOST. At the beginning of June, the fourth GHOST album, 'Prequelle', which became an international chart-topper, rose to the top of the charts in almost all Scandinavian countries, up to No. 2 in Germany and third in the USA. Between February 14th and 18th, GHOST comes to Germany for four concerts in Stuttgart, Bochum, Hanover and Hamburg.
Additional Concert Info

Doors: tba.
Start: tba.
Tickets are available for 56.40 euros + charges (pre-sale) via
Eventim
More Info: http://www.kingstar-music.com/portfolio-items/ghost/

German Dates

14 Feb. 19 – Stuttgart, Schleyer-Halle
15 Feb. 19 – Bochum, RuhrCongress
17 Feb. 19 – Hanover, Swiss Life Hall
18 Feb. 19 – Hamburg, Sporthalle
More on
Ghost