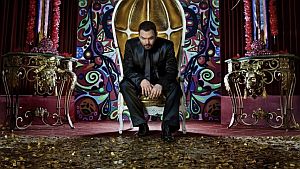 Zeche, Bochum, Germany
19th March 2018
Alphaville - "Forever Young" Tour 2019

'Forever Young', this title accompanies ALPHAVILLE singer and founder Marian Gold not only since the uber hit (and debut album title) in 1984, which, together with 'Big in Japan' and 'Sounds Like a Melody' belongs to ALPHAVILLEs success hymns which today still are played on the radio. FOREVER YOUNG was also the name of Gold's band founded in 1982 with Bernd Lloyd and Frank Mertens, the forerunner of ALPHAVILLE. And looking back today, ALPHAVILLE is indeed "forever young" - Marian Gold's distinctive voice sounds fresh as ever on the current album, 'Strange Attractor'. And "Forever Young" is also the name of ALPHAVILLE's tour in March and April 2019.
The ALPHAVILLE nucleus was created at the Berlin University of the Arts, where the mentioned trio had more desire to produce music instead of pictures: "After the do-it-yourself spirit of Punk we looped our drum sequences on a two-track machine. There was no drummer! So we had to resort to this early sampling form before the term 'sampling' ever existed," recalls Marian Gold. Equipped relatively quickly with a record deal, ALPHAVILLE landed several world hits with their debut album. Millions of heavy titles that earned them the status of studio band with the greatest possible artistic freedom. "We enjoyed our existence in the ivory tower, tried everything and set on the constant musical change."
ALPHAVILLE has been touring the globe since the mid-nineties. With celebrated tours from Salt Lake City to Singapore, from Russia to South Africa, with intimate club concerts alternating with stadium and festival appearances in front of tens of thousands. ALPHAVILLE's seventh studio album, 'Strange Attractor', was released in 2017. A hybrid of pumping Funk and Soul quotes with hymnal-baroque euphoria à la FRANKIE GOES TO HOLLYWOOD, ABBA and PINK FLOYD, and a purity in Electro Pop as we used to only hear at the beginning of the eighties, when the genre was still young. The first single release, 'Heartbreak City', immediately returned to the charts.
The next album is already in production: 'Thunderbaby' will be its name. For next spring ALPHAVILLE have announced a tour through Germany. And it is called "Forever Young" Tour – that's how the circle closes.
Tour Dates

15 Mar 2019 – Leipzig / Haus Auensee
16 Mar 2019 – Stuttgart / Im Wizemann
19 Mar 2019 – Bochum / Zeche
20 Mar 2019 – Cologne / Die Kantine
29 Mar 2019 – Berlin / Huxley's Neue Welt
30 Mar 2019 – Hamburg / Gruenspan
09 Apr 2019 – Frankfurt / Batschkapp
10 Apr 2019 – Munich / Technikum
27 Apr 2019 – Belfast (UK) / SSE Arena (80s 90s Disco)
10 May 2019 – Glasgow (UK) / SSE Hydro (80s 90s Disco)
24 May 2019 – Malmö (S) / Malmö Arena (Tillbaka Till 80-talet)
27 Jul 2019 – Löfflingen / Jubiläumsnacht (Open Air)
07 Sep 2019 – Budapest (H) / Budapest Park (80s Disco Csillagfény)
19 Oct 2019 – Dublin (IRL) / Arena Dublin (80s 90s Disco)
Additional Concert Info

Doors: 19:00
Start: 20:00
Tickets: are available for 40.95 Euros plus charges from
Eventim
Info: http://zeche.net/konzert.php?nummer=15
More on
Alphaville