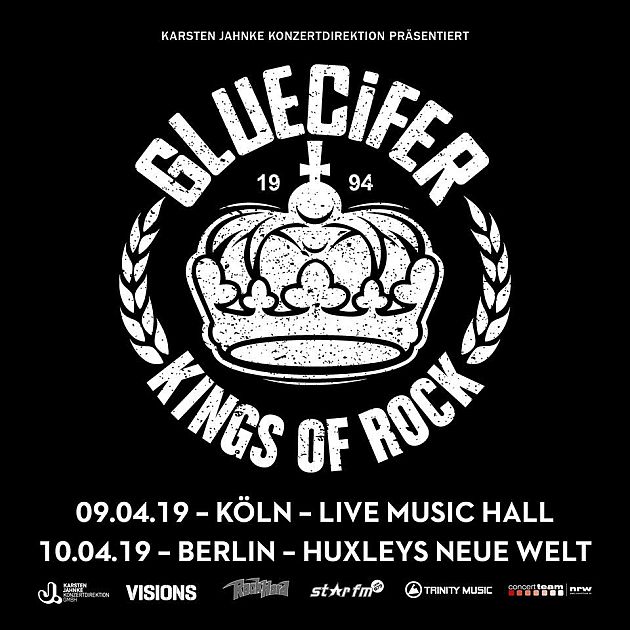 Live Music Hall, Cologne, Germany
9th April 2019
Gluecifer - "Kings Of Rock" Tour 2019

The Norwegian "Kings Of Rock" come to Germany for two selected shows! 20 years ago, a wave of Scandinavian Rock bands swept across Europe - with GLUECIFER from Oslo at the top of their list. Until their breakup in 2005, they shaped a whole genre over five albums. In 2018 the band around frontman Biff Malibu and Captain Poon appeared on stage again in Oslo for the first time in 13 years. The four concerts were sold out in the twinkling of an eye, and the audience gave them a grandiose reception back on stage. The reactions spoke for themselves, some said the band sounded "better than ever".
In 1994 GLUECIFER started in Oslo. At that time they were still a Punk band, but they attracted attention with a few underground releases, so that after a short time they were signed on the Swedish label White Jazz (THE HELLACOPTERS). Excessive tours through Europe and the USA, hundreds of concerts, five albums and numerous other releases shaped GLUECIFER's 16-year history.
With 'Automatic Thrill', the most commercially successful album was released in 2004 and marked the artistic highlight of the band. The following year, the band announced their dissolution with the promise never to return to a stage again. They couldn't keep this promise. Fortunately. In June 2018 they played their first show after 13 years at the Spanish Azkena Festival, followed by exclusive festival shows and the sold-out hometown shows in Oslo.
Additional Concert Info
Doors: 19:00
Start: 20:00
Tickets are currently available for 35.35 EUR via
Eventim
More Info: https://livemusichall.de/gluecifer.1432.html
More on
Gluecifer