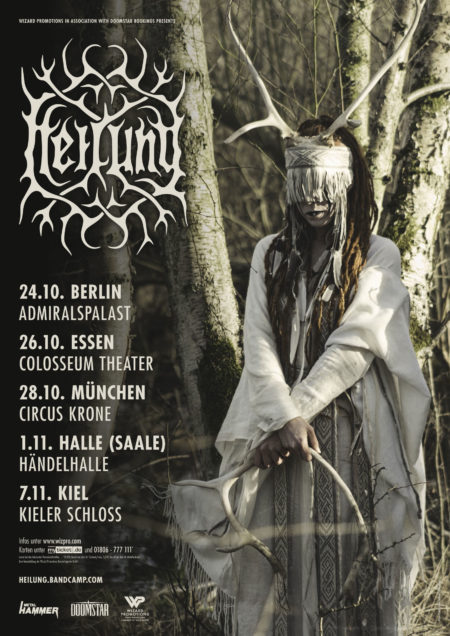 German-Scandinavian Pagan Folk band announces Germany tour with five concerts confirmed in late October / early November 2019. The new album, 'Futha', will be released in May 2019 on Season Of Mist. Tickets now available at the presale!
Following appearances at last year's summer festivals such as Wacken, Graspop, Summer Breeze and Hellfest, as well as the February gig at the Wacken Winter Nights, HEILUNG is now announcing its first headliner tour through Germany. The German-Scandinavian Pagan-Folk trio will present their new album, 'Futha' (Season Of Mist / Soulfood), in October / November 2019 live.
Although the band has only been around since 2014 and with its few appearances so far, the trio has earned an almost iconic reputation in the scene. Because every concert by Kai Uwe Faust (vocals, percussion), Maria Franz (vocals, percussion) and Christopher Juul (vocals, percussion) is spectacular, because of how they blur the boundaries between past and present musical performance and old Pagan rituals. The German-Scandinavian trio has also found a suitable name for their stage show: "extended history". The comments on the fan pages are also euphoric - for the commentators, the gigs are "incredible, breath-taking, making goose bumps and totally unforgettable." Metal Hammer UK ranks HEILUNG's performance at the Norwegian Midgardsblot Festival in Borre on August 19, 2017 as one of the best gigs of the year.
Due to this overwhelming response, the band decided to release a complete live documentary called 'LIFA' from Castlefest 2017 in England. The CD quickly became a bestseller, making the re-release of their debut album, 'Ofnir', a success too. The name of the band is extremely fitting as the listener gets carried away by the performance, forgets their burden of everyday life and leaves the concert in a kind of trance after having experienced a turbulent journey with magical music.
HEILUNG's creative roots lie in the past but offer the listener a modern interpretation, an extension of their horizons. The band's Neo-Folk sound is influenced from the northern European Iron Age to the Viking period. This tightrope walk between antiquity and modernity is in part created by bizarre instrumentation: flowing water through human bones, newly constructed swords and shields as well as ancient percussion devices such as bronze rings bring about previously unheard sounds. Of course, the lyrics also play a major role in completing this unique overall picture: there are partly words from old runic writing, preserved spearheads and spikes, amulets and other ancient artefacts. In addition, the band uses old poems that either deal with historical events or are translations and interpretations of the original texts. Any attempt to integrate the trio into a modern, contemporary political or religious context will fail as HEILUNG draws its inspiration from a time long before the emergence of Christianity and political ideologies in general.
For their new album, 'Futha', the band comments; "The first four letters of all runic alphabets are 'Futha'. It is believed that our forefathers saw a magical potential in the runes, with a lot of focus at the beginning. Science still has no idea why these four letters were always at the beginning, but of course there are quite a few theories. One of them has inspired us: it assumes that 'Futha' means the meaning of fertility and femininity. As on our debut, 'Ofnir', we now focus on war and masculine sensibilities, but the great healing power of the female sex and its power also comes into play. Anyone who has seen or experienced a birth, how lionesses hunt, knows the spirit that we mean. We take up this spirit and integrate it into the sound of the new album."
Further information at: www.heilung.bandcamp.com / www.season-of-mist.com/bands/heilung
German Tour Dates

24 Oct 2019 - Berlin / Admiralspalast
26 Oct 2019 - Essen / Colosseum Theater
28 Oct 2019 - Munich / Circus Krone
01 Nov 2019 - Halle (Saale) / Händel Halle
07 Nov 2019 - Kiel / Kieler Schloss
From Friday, 8th March 2019 - 11:00 am, ticket providers will offer CTS Eventim and MyTicket pre-sales. The general presale starts on Monday, March 11, 2019. Tickets are available at www.myticket.de as well as by phone at +49 (0)1806 - 777 111 (20 Ct./Call - mobile prices max 60 Ct./Call) and at the known ticket agencies like
Eventim
.
More on
Heilung