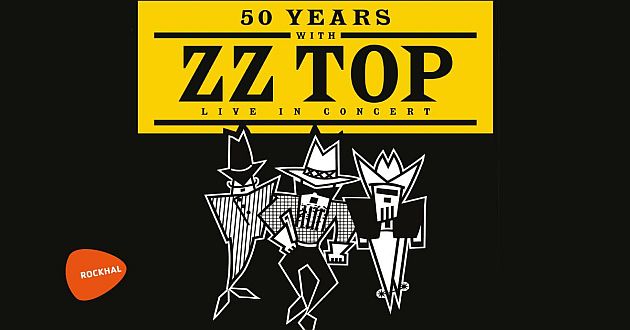 Rockhal, Esch sur Alzette, Luxembourg
10th July 2019
ZZ Top

This year marks the 50th anniversary of Rock and Roll Hall of Fame inductees ZZ TOP's 1969 formation in the Houston area of Texas. The Blues-Rock stalwarts are set to launch an extensive summer tour in Europe in connection with the celebration of that unparalleled milestone.
It is projected that the legendary trio, consisting of the same line-up that has been together for all the intervening decades - singer / guitarist Billy F Gibbons, bassist Dusty Hill and drummer Frank Beard (aka "the man with no beard") - will perform in concert in a dozen countries over the course of four weeks.
ZZ TOP is notable for having the most consistently stable line-up in the history of Rock music. Soon after the dissolution of Gibbons' Houston Psych-Rock band MOVING SIDEWALKS, he formed ZZ TOP, with Hill and Beard from the Dallas-based band AMERICAN BLUES. Fifteen studio albums, 30 million record sales and 50 years later, "That Little Ol' Band From Texas" are still going strong, playing timeless hits like 'La Grange', 'Legs', 'Sharp Dressed Man' and 'Tush' to audiences the world over.
Billy Gibbons looked back at the history of the band, and also looking forward to the European tour. "It's been 50 years, and I think we're starting to get pretty good! We're just as excited to play Barcelona this summer as we were to play Beaumont (TX) back in '69. The beard are, perhaps, a bit longer, but nothing much else has changed and we hope to keep it that way."
Additional Concert Info

Doors: 19:00
Start: 20:00
Information & Tickets: https://www.rockhal.lu/events-tickets/rock-pop/show/detail/zz-top-3/
Facebook Event: https://www.facebook.com/events/553112235151382/
More on
ZZ Top