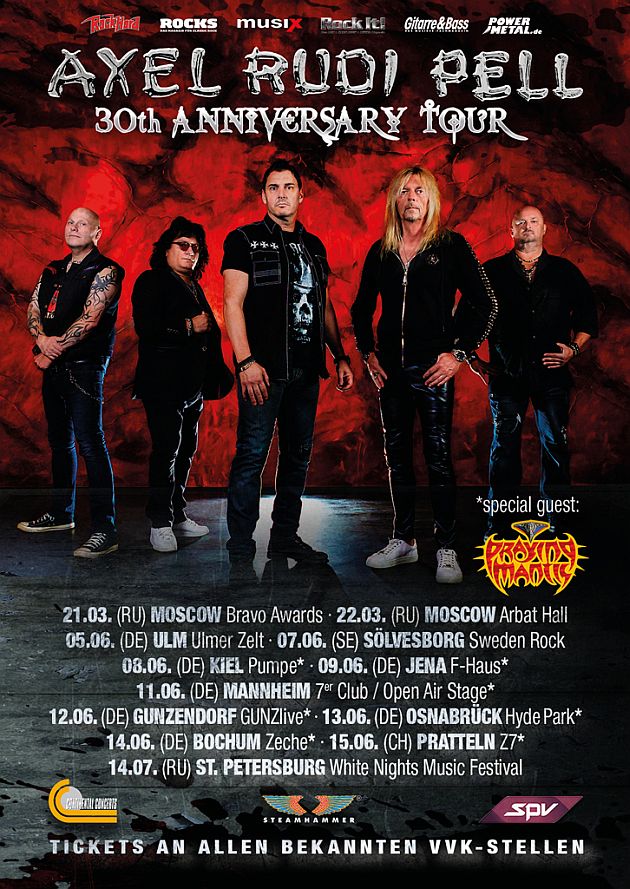 Backstage, Munich, Germany
25th April 2022
Axel Rudi Pell - "30th Anniversary Tour 2022 - Part I"

Attention: due to the Corona crises, this concert is rescheduled from May 2020 to April 2021 and further to April 2022. Tickets remain valid!

There are only few fundamental constants in the Hard Rock business, but one of them is that AXEL RUDI PELL continues releasing high quality and well received music. He and his band had their 30th anniversary last year, played Wacken Festival six times on the main stage within the last 20 years and started conquering Russia recently. Time to celebrate the legendary guitar player from Bochum, who celebrates his 60th birthday by releasing a new album called 'Sign Of The Times' in April and playing a tour for the fans all over in Europe in 2020.


Additional Concert Info
Doors: 19:00
Start: 20:00
Tickets: are available from 42.95 € (+ charges/shipping) via Eventim
Info: https://www.backstage.info/veranstaltungen-2/live/item/axel-rudi-pell-4
Artist: https://www.axel-rudi-pell.de

More on Axel Rudi Pell