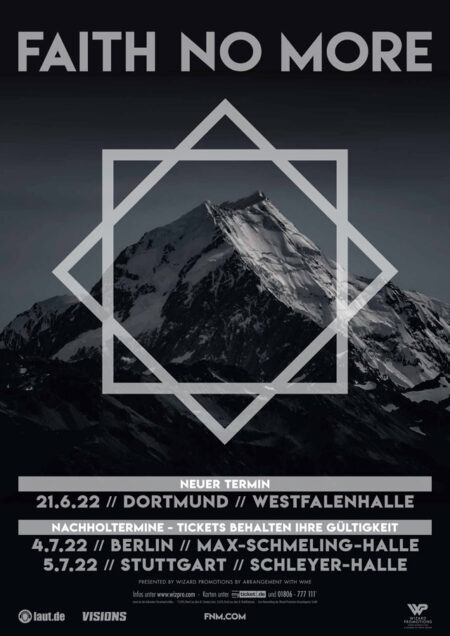 Summer shows 2021 postponed to 2022 - FAITH NO MORE announce additional show in Dortmund - Tickets for Dortmund will be available from Friday, May 14, 2021.
Due to the ongoing pandemic restrictions on global live events, the FAITH NO MORE concerts planned for June 2021 in Germany have to be postponed again. The tour will now take place in 2022. The new tour period, which has July 4th for the concert in Berlin and July 5th in Stuttgart, will be extended in Germany to include an additional show on June 21st, 2022 in Dortmund's Westfalenhalle due to the great demand.
Advance sales for the show in Dortmund will start on Friday, May 14, 2021 - 10:00 a.m. Tickets are available at www.myticket.de and by telephone on +49 (0)1806 - 777 111 (20 cents / call - mobile phone prices max. 60 cents / call) and at the known advance booking offices. Tickets that have already been purchased for the concerts in Stuttgart and Berlin remain valid.
FAITH NO MORE - Live 2022

21 Jun 2022 – DORTMUND, Westfalenhalle (additional show)
04 Jul 2022 – BERLIN, Max-Schmeling-Halle (postponed from 23 Jun 2021, 23 Jun 2020)
05 Jul 2022 – STUTTGART, Schleyer-Halle (postponed from 21 Jun 2021, 22 Jun 2020
FAITH NO MORE are Mike Bordin (drums), Roddy Bottum (keyboards), Bill Gould (bass), Jon Hudson (guitar), and Mike Patton (vocals). The platinum band founded in San Francisco is rightly considered one of the most influential Rock bands of their generation. FAITH NO MORE have released seven studio albums in their career: 'We Care A Lot' (1985), 'Introduce Yourself' (1987), 'The Real Thing' (1989), 'Angel Dust' (1992), 'King For A Day ... Fool For A Lifetime '(1995),' Album of the Year '(1997) and' Sol Invictus' (2015).