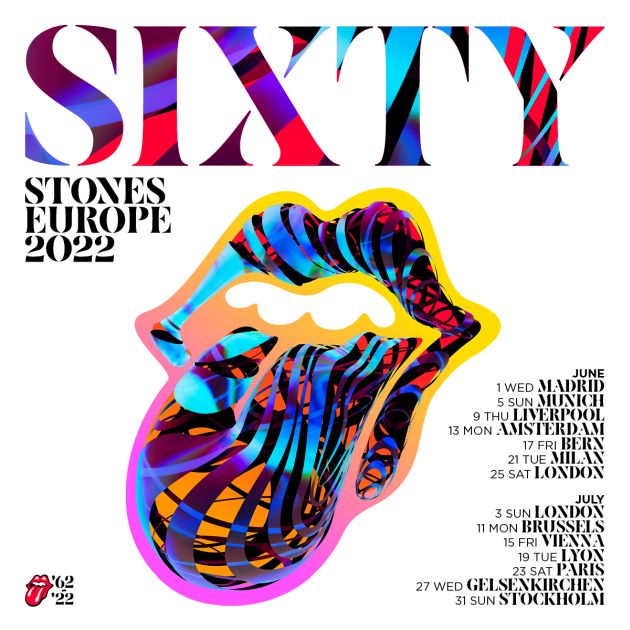 Veltins Arena, Gelsenkirchen, Germany
27th July 2022
The Rolling Stones - "SIXTY European Anniversary Tour"

60 year of THE ROLLING STONES! THE ROLLING STONES rock Germany as part of their "SIXTY European Anniversary Tour" 2022 with two stadium concerts in Munich and Gelsenkirchen. The Stones roll on and are back where they belong this summer: in Europe, where they will present their brand new "SIXTY" tour production to packed stadiums, which will kick off in Madrid on June 1, 2022 and the next stop will be directly in the Munich Olympic Stadium: on Whit Sunday, June 5th, 2022. The second concert date in Germany will then follow on Wednesday, July 27th, 2022, in the VELTINS-Arena in Gelsenkirchen - you can get a first taste of it here: https://youtu.be/egXcgeK_rCY.
With "SIXTY", Mick Jagger, Keith Richard and Ronnie Wood are building on the huge success of the critically and fan-acclaimed "No Filter" tour, which the Stones ended with sold-out stadium shows in the USA in autumn 2021. The European part of the "No Filter" tour began on September 9, 2017 with an energetic opening concert in front of 82,000 fans in Hamburg, where the Stones impressively proved why they are the undisputed best-known and biggest rock band in the world. A total of five German cities – Hamburg, Munich, Düsseldorf, Berlin and Stuttgart – were on the "No Filter" tour schedule in 2017 and 2018, and were visited by a total of around 300,000 enthusiastic fans. All shows were completely sold out.
As is to be expected for the band's 60th anniversary, the Stones, once again joined by Steve Jordan on drums, are treating fans to the "SIXTY" tour with a setlist that will be packed with classics such as 'GimmeShelter', 'Paint It Black', 'Jumpin' Jack Flash', 'Tumbling Dice', '(I Can't Get No) Satisfaction', 'Start Me Up' and many more. But it wouldn't be a real ROLLING STONES concert if there weren't some musical surprises on every show night. This time, too, a selection of unexpected titles from the band's almost inexhaustible arsenal of songs will find their place on the setlist. And as always with the Stones, there will be a new, gigantic touring production, including a huge stage, spectacular lighting technology and revolutionary video design - all specially developed for the long-awaited "SIXTY" tour and befitting a corresponding anniversary.
The nationwide presenter of the German dates of the "SIXTY" tour 2022 is DAS ERSTE. The concert in Munich will also be presented by Bayern 1 and Merkur/tz, the concert in Gelsenkirchen by WDR2 and WDR4 as well as WAZ. The "SIXTY" tour is produced by Concerts West/AEG Presents. Organizer of the dates in Germany is the FKP Scorpio Konzertproduktionen GmbH.
Additional Concert Info

Doors: 17:00
Start: 20:00
Tickets: Tickets are available from 205.65 euros (+ charges pre-sale) via
Eventim
Info: https://www.fkpscorpio.com/de/bands-archiv/the-rolling-stones/