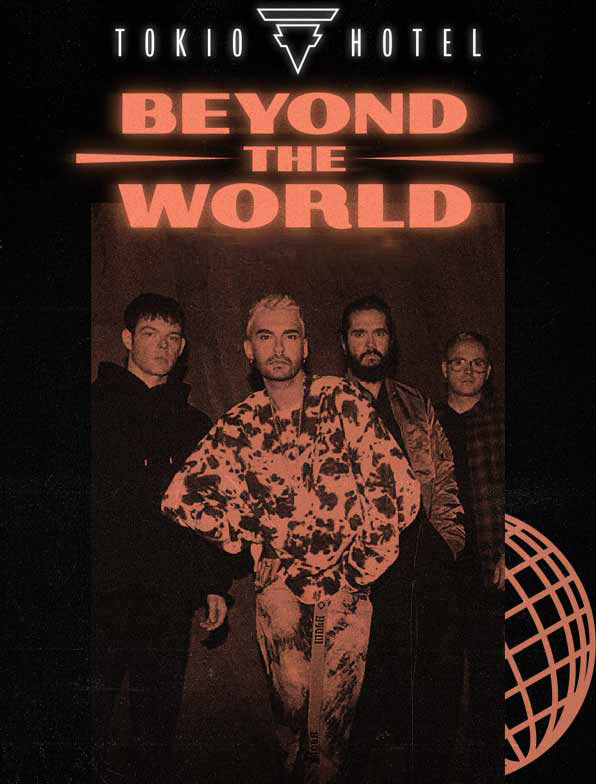 Markthalle, Hamburg, Germany
18th May 2023
Tokio Hotel - "Beyond The World Tour"

When it comes to live concerts, TOKIO HOTEL have also set new standards time and again and have proven on numerous world tours that their productions, from the stage designs to the costumes to the sound, are still at the top international level and that the band enjoys an unparalleled reputation for good reason.
TOKIO HOTEL are currently in the studio together in Berlin to work on their sixth, yet untitled studio album. After the songs 'Melancholic Paradise', 'When It Rains It Pours' and 'Chateau', which were already released last year, the band is releasing another harbinger from the project with 'Berlin'. A dynamic ballad about the capital and coming home. Longing and melancholic, but also warm and hopeful - and in English and German. TOKIO HOTEL are supported on the song by newcomer VVAVES from Los Angeles.
"The time since the beginning of the pandemic feels like an eternity. For our fans as well as for us. We are incredibly grateful for the fans' loyalty and can't wait to finally get back on stage and celebrate with them," the band explains. "We've already been working on the show for months and fine-tuning the setlist - because, besides the songs from the last decade and a half, we also want to perform lots of new songs from our upcoming album."
The concert is rescheduled from 20 Oct 2021 & 4 May 2022. Tickets remain valid.
Additional Concert Info

Doors: 19:30
Start: 20:30
Tickets: are available for 62 euros (plus charges pre-sale) via
Eventim
VIP packages: www.treehouse-ticketing.com
Online orders can be placed at www.handwerker-promotion.de or by calling +49 (0) 1806- 777 111 (0.20€/call from a German landline/max. 0.60€/call from a German mobile network). All information about the tour and VIP packages at www.tokiohotel.com
Facebook Event: https://www.facebook.com/events/291582022282587/
Info: https://markthalle-hamburg.de/konzerte/tokio-hotel-beyond-the-world-tour-2023/