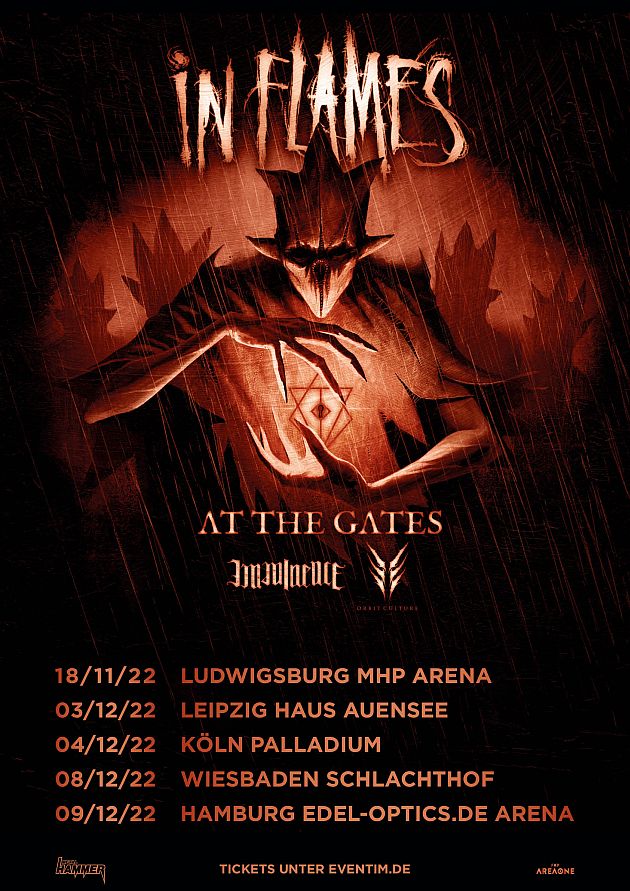 Haus Auensee, Leipzig, Germany
3rd December 2022
In Flames & Special Guests: At The Gates, Imminence, Orbit Culture

The Swedish high-flyers IN FLAMES are the measure of all things in modern metal. More than three million sold units of their 13 albums so far, sold-out tours worldwide and an unbroken creative drive make the band from Gothenburg one of the great constants in the metal genre. The band recently announced the release of their next long player with the new single 'State of Slow Decay', which IN FLAMES will then take on a world tour.
For three decades, the band, which was originally based in melodic death metal but is now more associated with modern metal, has been convincing with creative consistency. The Swedes are constantly evolving, opening up to new genres and influences. These bold and unpredictable developments are demonstrated on their 13 albums released to date. The beginnings of IN FLAMES go back to 1990. After the first demos, the debut album 'Lunar Strain' was released in 1994, the only album with the original line-up. Because already with the follow-up 'The Jester Race' something became apparent that keeps IN FLAMES moving to this day: Constant line-up changes brought new sound approaches again and again. This is particularly evident in the singing, which includes every facet from guttural growls to bloodcurdling screams to melodic clear vocals. In the meantime, none of the founding members are there anymore; the band's creativity is rather determined by the guitarists Björn Gelotte and Anders Fridén, who joined in 1995. Together with guitarist Niclas Engelin they form the basis OF IN FLAMES. The new rhythm section, consisting of bassist Bryce Paul and drummer Tanner Wayne, will be heard for the first time on the forthcoming album.
On their December tour, IN FLAMES will be joined by a massive barrage of fantastic Swedish metal bands. Above all AT THE GATES, also from Gothenburg, the leading protagonists of Swedish death metal around their singer and mastermind Tomas Lindberg. Like IN FLAMES, the band formed in 1990, released four fantastic albums over the next five years and then initially broke up. The band has only been constantly active again since 2010 and has since released three more albums, most recently the seventh album 'The Nightmare of Being' last year. Also present are the Swedish metalcore guarantors IMMINENCE, who released their fourth and most successful album to date 'Heaven In Hiding' in 2021, as well as the melodic death metal quartet ORBIT CULTURE from Eksjö in Sweden.
Additional Concert Info

Doors: 18:00
Start: 19:00
Tickets: can be bought for 55.15 + charges (pre-sale) via
Eventim
Info: https://haus-auensee-leipzig.de/de/in-flames
Facebook Event: https://www.facebook.com/events/788038905709372
Bands: https://www.inflames.com / http://atthegates.se / https://imminenceswe.com / https://www.orbitculture.com