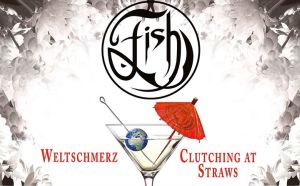 Zeche, Bochum, Germany
30th October 2018
Fish - "Weltschmerz / Clutching At Straws" - Tour 2018


Derek William Dick, better known as FISH (born 25 April 1958), is a Scottish singer-songwriter and actor. He achieved prominence as the lead singer and lyricist of the neo-progressive rock band MARILLION from 1981 until 1988, with which he landed among others the two top ten hits 'Kayleigh', 'Lavender' and 'Incommunicado'. After seven years and a total of four studio and two live albums, Derek left the band in 1988 and started his solo career. In his solo career he has explored contemporary pop and traditional Folk and Rock.
Music critics have acknowledged FISH for his voice, which has been described as both "distinct" and a "conflation of Roger Daltrey and Peter Gabriel", while his lyrics have been praised as "poetic prose". FISH was voted number 37 in the greatest voices in Rock by Planet Rock listeners in 2009. But Derek does not only thrill as FISH with his music. In addition to occasional appearances in British television productions, he moderated between March and June 2007, the radio show "Fish on Fridays" at British digital radio station Planet Rock.com.
After FISH was unplugged for the first time in 1994, he returned to the acoustics tour in 2010/2011 to captivate the audience with the help of his voice and piano and guitar accompaniment alone. In September 2013, FISH's current album, 'A Feast Of Consequences', was released.
Steve Johnson:
"Perhaps Fish's greatest talent lies in his lyric writing. His introspective lyrics, often dealing with his own personal problems and addictions, can in many cases be considered fine poetry..."
IMDB:
"A dynamic personal presence, both off and on stage..."
Hip:
"Few artists have achieved near-mythic cult status in the way that Scottish singer-songwriter Fish has."

Graeme Smith, S1play:
"...being at one of his gigs is like being entertained by a boisterous host at a particularly loud private party."
Additional Concert Info

Doors: 19:00
Start: 20:00
Tickets: EUR 40.90 plus pre-sale fee via
Eventim
More Info: http://zeche.net/konzert.php?nummer=11
Facebook Event: https://www.facebook.com/events/1837324516560731/
Tour Dates Germany

28. Sep. Die Kantine – Cologne
29. Sep. Blues Garage – Hanover
11. Okt. Fabrik – Hamburg
12. Okt. Kulturetage – Oldenburg In Holstein
14. Okt. Kesselhaus – Berlin
30. Okt. Zeche Bochum – Bochum
31. Okt. Rosenhof – Osnabrück
01. Nov. Colos-Saal – Aschaffenburg
03. Nov. Stadtgarten – Erfurt
04. Nov. Spectrum – Augsburg
08. Nov. Musiktheater Rex – Bensheim
09. Nov. Substage – Karlsruhe
11. Nov. Backstage – Munich
12. Nov. Hirsch – Nuremberg
14. Nov. Garage – Saarbrucken
More on
FISH
See also (all categories):