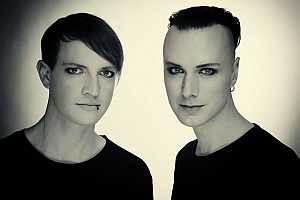 Interview with

Sven Friedrich (vocals) and Frank Arnold (keyboards) of Solar Fake

September 2012, SOLAR FAKE had a live experience during the Deti Nochi festival in Kiev. After the festival, we asked the band to tell us about their impressions from Ukraine and their future plans.


Reflections of Darkness [RoD]: Let me start our interview from your visit to Kiev. Your impressions from Kiev and Deti Nochi (Children of the Night ) festival. Did you manage to communicate with other participants of the festival?
Sven Friedrich [Sven]: Yes, I was. Luckily a dinner has been organized for the international bands the night before the show, so we had enough time to meet the other bands and people from the crew.

RoD: Is the Ukrainian public different from others?
Sven: I usually don't say the audience in town A is better or worse than in town B. This would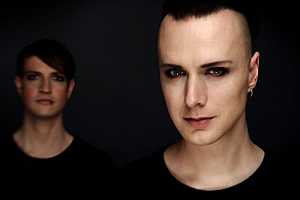 not be fair and it's not really possible to generalize it. What I can tell for sure is that the audience at Deti Nochi Festival was really awesome!

RoD: Do you like the way they accept your show?
Sven: Yes, for us it's been fantastic! I was really surprised that so many people knew our songs and sang along the lyrics, especially because it was our first show in Kiev.

RoD: Would you like to come to Ukraine again?
Sven: Definitely. I hope some promoter will invite us for a concert again.

RoD: Sven, It was not your first visit to Ukraine. Tell us how you came here to Ukraine for the first time. How big is the difference between what you had seen then and what you felt now?
Sven: My first visit in Kiev was back in 1999, when we shot the DREADFUL SHADOWS video clip for 'Futility'. Because we've had much more free time then, I've seen way more of this beautiful city then, than now. So I can't really tell much about differences...

RoD: Next question is more addressed to Frank, because he had more time to see Kiev. Did you like the city and what impressed you most of all?
Frank Arnold [Frank]: Mainly I just saw the city centre. I like it very much. Especially the Maidan Nezaležnosti – the place of independence. There is so much life, the people – most younger people – have some beer and talk about all the things of their lives. I also saw the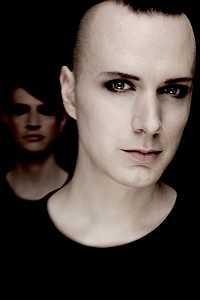 impressive statue "mother of the motherland" and for me it was very strange to see tanks and monuments for heroes of war at the highest point of the town. But anyway, it was a really nice time in Kiev.

RoD: What is Ukraine associated with for you? Some events, people, national traditions, places etc.
Sven: Well, to me things are always associated with my personal experiences, so with the video shoot and the festival, with great and very friendly people. These are my thoughts when I hear 'Ukraine'.
Frank: After the festival I associate the Ukraine just with fun, some really great people and a great time. Before our visit I mainly just know the nuclear disaster of Chernobyl. Due to my studies of renewable energy technologies I read a lot about the accident. I´m really glad to had the chance to see the real Ukraine, the people and some parts of their lives.

RoD: And now we come back to SOLAR FAKE and all what is interesting for your fans. Frank, how did it happen that you started playing music? What instruments do you play?
Frank: Since my early childhood the music was one of the most important things in my life. When I was young I wanted to learn guitar or piano. My mother said I first should start with a simple instrument and I had to learn recorder. After two years and, of course, no success with it I haven't had the chance to learn a second instrument. But I had a keyboard in my room and learned something about the fingerboard / claviature but not to play it very well. I really learned to play it after Sven ask me if I could play the keyboard on stage with SOLAR FAKE.

RoD: How you know each other? And how have you decided to do something together? Why did you choose this music style? Did you decide to do so, because this style is popular now or because it's emotionally near to you and helps to reveal your attitude to the world?
Sven: Well, actually SOLAR FAKE is my idea, I dreamt of an electro project for a long time, but I never had the time to work on it... Then, when I have found the time I started writing songs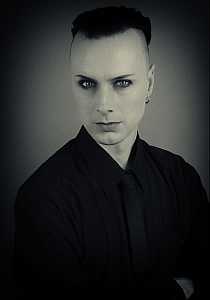 and it all proceeded... I didn't actually choose this style, I simply write and produce the songs exactly the way I love. Then I asked Frank if he would like to join me as a live keyboardist on stage. I knew him from several ZERAPHINE concerts he was visiting. I thought he would be the right one for this, and I was right, obviously ;-)

RoD: How did you decide to create the book 'Your hell is here' and how did you collaborate with Christian Ruhm?
Sven: It was entirely Christian's idea. He introduced this idea to me and I was fascinated, especially by these great photographs. Then we created the concept for the artwork of 'Frontiers' together. For the book I supplied the lyrics and handwritten pieces and of course we were discussing the realization.

RoD: Why are there so many words and sentences in Russian in the book 'Your hell is here'?
Sven: The photos were taken at a former Russian military base near Berlin. All elements have been shot there, even for montages. So it all belongs together.

RoD: Did you learn Russian at school? How many Russian words do you know?
Sven: Yes, I learnt it at School, but due to the lack of practise I forgot almost everything. Unfortunately. I think I don't know more than 20 words in Russian and I couldn't build a sentence anymore.

RoD: When I look at 'Your hell is here' or the booklet to 'Frontiers' I remember about ghost-cities. Have you ever been to such a city? Do you want to visit one?
Sven: I'd love to since I've never seen a ghost city yet. Only left factories, army bases and stuff like that. Near Berlin there is the former Olympic Village from 1936. A lost place as well, very interesting. But a whole city... unbelievable...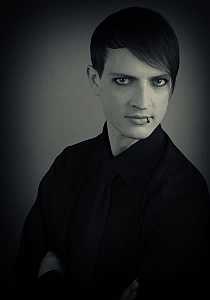 Frank: In Kiev we unfortunately missed the chance to visit Prypiat. For our next visit in Kiev it would be a great arrangement to see this real ghost city.

RoD: So many Russian words make remember about Prypiat, one of the ghost cities of the Ukraine left after Chernobyl. What do you think about this catastrophe? Did it teach people, or do we risk making the same mistake in future?
Frank: As we have seen in Japan in 2011 we haven´t learned enough in our past to handle and control this nature forces. The people out there should think about their habits of energy consumption.
Sven: Yes, that's true, but I think human beings are not able to put their fast and easy profit aside to invest into a better future… It's all too corrupt, everywhere in the world. But each one of us can do just a little bit to change everything.

RoD: Who keeps your YouTube channel? I visited it a few days ago and have found there only one video "solar fake more than this outtakes". The official video is not posted there. YouTube is a good possibility to gather all your videos at one place. Have you ever thought of making video diaries from your tours?
Frank: The official video of 'More than this' was shared by our record company SPV at their YouTube channel.
Sven: Yes, it's all a little complicated with the rights…
Frank: A video tour diary does not really make sense for us. We just want to play music and want to have fun with the people who want to have fun with us. We are always open and reachable for the people, so we don´t need daily videos to show our faces on tour. But anyway, in a band with just two members it is just too boring for a video diary at the backstage.
Sven: Maybe we should start collecting material anyway, just in case we make a Live DVD one day…

RoD: Do you plan to do a new video? If yes, on which song?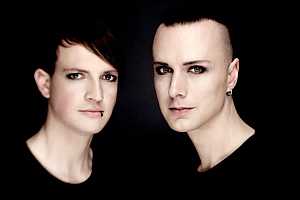 Sven: Yes, we'll make another video clip, but we're still not decided for which song… This is a decision we have to find together with the record company and promoters etc.

RoD: Sven, in one Interview you said, that Peter Spilles (Project Pitchfork) had made a good remix on 'Why Did I Raise the Fire' (info from Shadowplay Fanzine 01/2011) but there was no other info about it. Will it be ever published?
Sven: Yes, I really hope so. I'm just planning a special way to release it (along with other great remixes), but I first have to talk to my record company… But if this won't work out, we'll spread it to several compilations I think!

RoD: On MySpace we can find a cover version for THE SMITHS 'How Soon Is Now'. Will it be ever published as a part of some release? The only time you played it live was at WGT 2010, do you plan to play it live again? The question refers also to other cover versions from WGT Electronic All Stars of last two years. They might have become a good release, because Resigned EP with three of such songs was a successful one.
Sven: I don't really think they'll be published, but you never know… I haven't planned anything like a cover album or so. But when the day comes, or when we want to make another EP again, I'll definitely think about it. These Electronic All Stars - songs were originally made just to perform it there… Well, one result of it was also 'Lucretia my reflection' by DSTR. They've released it and it became a club hit in Germany…

RoD: You have made such cover versions as 'Creep' (Radiohead), 'Such a Shame' (Talk Talk), 'Spit it out' (IAMX), 'Song to Say Goodbye' (Placebo), 'How Soon Is Now' (The Smiths), or 'Craving' (Dreadful Shadows). Pretty much, I think… Why did you choose these songs? I'm also interested in your version of 'How Soon Is Now'. It's rather an old song, but it always reminds me of TV-series "Charmed" where it was used as a soundtrack. Are you a fan of these series?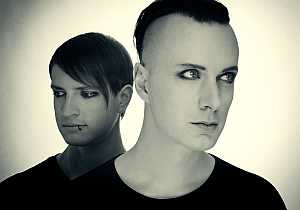 Sven: Not really, I'm rather a fan of THE SMITHS. I always wanted to cover THE SMITHS, but it is really very hard, I think. 'How soon is now' was the only song that worked for me… How do I choose the songs? I have to like them in the original and they have to work within the sound of SOLAR FAKE. That's basically all… For Electronic All Stars I also covered the EDITORS, TYPE O NEGATIVE, DEPECHE MDOE and more… So quite a choice for an EP…

RoD: One more question to Sven about the DREADFUL SHADOWS cover version. Actually you have covered your own music… What was the reason for choosing this song?
Sven: It is simply one of my favourites from DS. I also did this for Electronic All Stars, it works pretty well, even without guitars!

RoD: I like very much 'The Line Of Sight'. Please, tell us about the history of this song. It seems to be very personal.
Sven: Yes, it is. But all of my songs are, that's why I never tell 'my' story. Because I think this would destroy the associations a listener has when playing this song. The listener should connect it with his own experiences, life, whatever… That's how I try to communicate with the people, with the help of the songs… It works pretty often…

RoD: You were in tour as a support of COVENANT as well. Your impressions about tour and band?
Frank: The tour was absolutely too short. The band was so friendly and respectful. It was a great time and we hope to play again with these guys.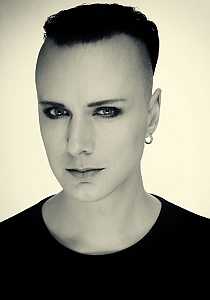 Sven: Yes, we will, in December in Spain! I'm really looking forward to it, because I love their music!

RoD: Have you ever thought of expanding your band and adding additional instruments?
Sven: Actually no, I want to keep it completely electronic. That's at least what I want now. I don't want SOLAR FAKE to mutate to half a rock band…

RoD: Have you ever wanted to make a song on some other language apart from German or English, for example, Italian, French, Russian or Ukrainian?
Sven: I never thought about this, to be honest. I mean, it's not easy to sing in a language you don't really speak, so I think I wouldn't feel very comfortable… I mean if the translator misunderstands the song or if he just makes a joke it can become a very strange thing…

RoD: Tell us more about your future plans. Any plans for a new album, collaboration or tour?
Frank: The new album will be released in October 2013 and the tour follows in the early 2014. We'll also come to Moscow and St. Petersburg. By now Kiev is not planned, but I hope we can come there.
Sven: I'm still working in the studio on the new songs, that's the reason why it took me so long to answer this interview… my deepest apologies… But I think it will be really good, I'm totally happy at the moment with the new songs and today we've just found the name for it : 'Reasons to kill'.

RoD: SOLAR FAKE have already played in different countries, for example England, Russia and this time the Ukraine. What about the USA or other countries?
Frank: We hope that we can play some day in the USA, Mexico and other countries.
Sven: Well, it's not our decision. There must be a promoter who invites us for a show or another band taking us with them as a support… We'd definitely love to play in many countries!

RoD: Which country or city do you want to visit for yourself as a tourist?
Frank: I already saw some countries and cities in the last years but I wish to see east Canada and the outback of Australia.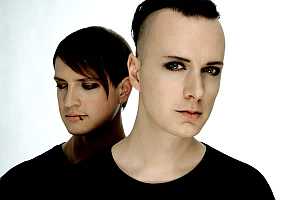 Sven: Well yes, Canada I'd like to see too and South America and Mexico. I think Japan would be fun as well… We'll just see, where this takes us. Next time we are in Russia or Ukraine we should definitely have more time for tourist things ;-) I'd really love to see much more of it!

RoD: Some reviews compare the music and lyrics of SOLAR FAKE with your personal diary, Sven. Do you have a real personal diary?
Sven: No, I haven't. I should have, just not to forget all the things happening, but no… I think I would not be able to sit down every day to write the entries…

RoD: Which music or bands do you like for the inspiration they give you? Which music and bands you don't like?
Sven: Oh, I think I should just mention the acts that I like… Well, that's PLACEBO, THE CURE, KEANE, EDITORS, INTERPOL, IAMX, HURTS as examples for pop music, in electro I love VNV NATION, COVENANT, GRENDEL, PROJECT PITCHFORK, WUMPSCUT, RABIA SORDA to name but a few, but I like many, many more. I think all of them are inspiring me together… All the time.

RoD: Sven, do you know that Russian fun club is currently working on a fan site about you and your music projects? I saw it a few days ago and can say that they have made a great job. What do you think about this?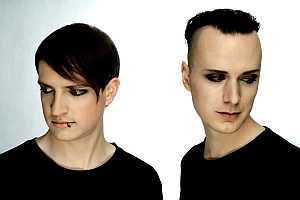 Sven: Yes, I know that and I've already talked to the person who is running the site. I very much appreciate it and it's really an honour for me! It's unbelievable, I hope I can give something back some day…

RoD: And now some common questions… How did it happen that you both had become vegetarians?
Frank: This is a long story. But in short: Just have a look to the conditions the meat is produced in. The overconsumption of meat has reached a really critical value. Both of us changed slowly our lives but finally we become vegetarians.
Sven: Yes, indeed. I realized that I don't like humans, but I do like animals. Not only cats and dogs… all animals… By now I never killed a human being. How can I kill an animal, which I like much more? I don't want to be part of this kind of system… You can easily live without eating meat or other things 'produced' from animals under horrible conditions.

RoD: If you wrote a book, what kind of book would it be? What it would be about? As for the main hero, what personality would he/ she have?
Sven: I don't know… I don't want to be readable for everyone… so maybe this book would have only white pages, but the letters written on them were only visible to a few people… So definitely not a bestseller.

RoD: If you were a song, what kind of song would it be?
Sven: Oh, I think I 'am' so many songs… as I have written so many… Every song I wrote is a part of me and all the songs together are something like 40% of my personality… maybe.
Frank: Dire Straits – Brothers in Arms

RoD: What melody do you have as a ringtone on your mobile phone?
Sven: The theme from Derrick… it's a German TV series I'm fan of…
Frank: Just vibration.

RoD: Tell us about the funniest situation that you had with your fans?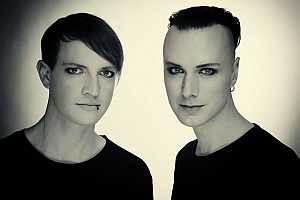 Frank: Damn, it´s really hard to say. It was at our first gig in Cologne. There were some funny drunken people who wanted signatures and photos. Hell, we had really a lot of fun. Every time when I saw them again we have to laugh about this evening… I´m sorry, but I can´t tell you more details.
Sven: Oh believe me, there are a lot. I remember one thing that happened after a ZERAPHINE gig… We usually organized a "Meet and Greet" with some fans before the shows. After a show in Potsdam (a city very close to Berlin where we all are based) we've invented another form of it "Meet and Load". We were talking to our fans outside of the venue and after that we had to go to our rehearsal room to unload all the equipment. Then we invited these fans to our rehearsal room, under the condition that they help us unloading the van and carry all the stuff into our room. So about 10 cars and our van went from Potsdam to Berlin and there we held the first and last "Meet and Load" in our history…

RoD: And the last thing: tell some words to your fans, Thanks!
Frank: Thanks for understanding our music.
Sven: Yes, and thank you all for being so open and so enthusiastic and so great! I am sure we will be back in the Ukraine soon!

Written by Daria Szegeda (Ukrainian Gothic Portal www.gothic.com.ua). The Russian version of the article is available here!