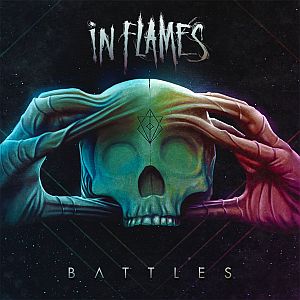 Artist: In Flames
Title: Battles
Genre: Alt-Rock
Release Date: 11th November 2016
Label: Nuclear Blast
Album Review

IN FLAMES is a Swedish heavy metal band, which was formed by guitarist Jesper Strömblad in 1990 in Gothenburg, Sweden. Along with the bands AT THE GATES and DARK TRANQUILLITY, IN FLAMES was originally a metal band responsible for developing the genre now known as melodic death metal. During the band's early years, they had a varying group of musicians recording with them, including many session musicians. By the release of 'Colony' (1999) the group had established a stable line-up. Their sixth studio album 'Reroute to Remain' (2002) showed the band moving toward a newer style of music that moved further away from melodic death metal and closer to alternative metal. This decision was criticized by fans of the group's heavier metal sound; however, it increased the band's mainstream audience and bolstered their album sales. As of 2008, IN FLAMES had sold over two million records worldwide. Since the band's inception, IN FLAMES have released thirteen studio albums, three EPs, and two live DVDs, their latest studio album 'Battles' in 2016. IN FLAMES has been nominated for three Grammy Awards. They won two of these nominations; one for Soundtrack to 'Your Escape' (2004) in the 'Hard Rock/Metal of the Year' category, and one nomination for their following album 'Come Clarity' (2006) in the same category. In early 2016, IN FLAMES began recording a new album in Los Angeles, and finished the recording in April.
On 25th August 2016, IN FLAMES posted a YouTube link to a new song entitled 'The End' along with a new profile picture with the IN FLAMES logo accompanied by the word 'Battles'. It was later revealed the same day that 'Battles' will be the title of their twelfth studio album, and was released worldwide on 11 November 2016 through Nuclear Blast. On 17 September 2016 the band announced on their Facebook page that Joe Rickard, formerly of American rock band RED, who performed session drums on 'Battles' is now the new permanent drummer, replacing Daniel Svensson. On 29th November, 2016, Peter Iwers announced the tour supporting 'Battles' would be his last with IN FLAMES. This leaves just Anders and Björn as the only members left in the band who have constantly remained in the line-up since the 1990s. Bassist Håkan Skoger, who previously worked with Fridén on his side project 'Passenger', played live with the band on their first UK tour date in Scotland. The band then recruited bassist Bryce Paul to play bass on their American tour.
So... Let's go deep into 'Battles'.
Melodically gloomy and sincere from the start, 'Drained' is a mix of passionate clean singing and emotional harsh/scream singing. The song ends abruptly and we move on to 'The End' which is not sad but full of life and energy, almost pop-metal it's so melodic. Then begins the so-beautiful 'Like Sand' where courage and sorrow are combined so perfectly, exposing the soul of metal - "what won't kill you makes you strong" – and again the music will stop abruptly. ´Truth´ is more like alt-metal than death or heavy metal, sounding like LINKIN PARK or 30 SECONDS TO MARS at times. This is ideal for live performances, crazy energy, crowds and applause. ´In My Room´ - no, not the DEPECHE MODE song - is sex, pumped up hands and a poisonous shine in the eyes. The show goes on and the passions are heating up.
On ´Before I Fall´, yes, maybe soon it will happen, your legs are tired, your voice feels torn, but the sound is perfect, the body moves in rhythm and the lips repeat the words. 'Through My Eyes', faster and faster... but then, with a second wind, you see with thousands of eyes, all fixed to the same place. In the next song, ´Battles´ is so male we share this understanding. On ´Here until forever´ and ´Underneath My Skin' the sound touches the very bones and it grows, despite the fatigue. ´Wallflower` is an intriguing song, with more light and dark textures than metal usually allows, and slowly the song calms down to an echo, further and further away... ´Save Me' is the finale, full of life and youth. This is not a prayer - it sounds victorious and fades away into the distance.
This album was definitely a pleasant surprise considering the fact that I'm more inclined towards electronic music.
Tracklist

01. Drained
02. The End
03. Like Sand
04. The Truth
05. In My Room
06. Before I Fall
07. Through My Eyes
08. Battles
09. Here Until Forever
10. Underneath My Skin
11. Wallflower
12. Save Me
Line-up

Anders Fridén
Björn Gelotte
Peter Iwers
Niclas Engelin
Joe Rickard
Website

http://www.inflames.com / https://www.facebook.com/inflames/
Cover Picture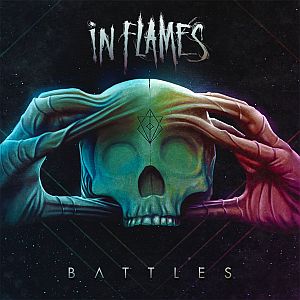 Rating

Music: 10
Sound: 10
Total: 10 / 10

See also (all categories):