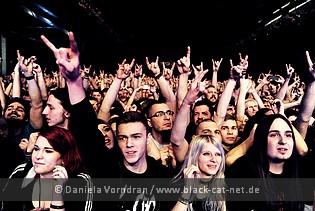 Palladium, Cologne, Germany
30th January 2015
KoRn & Qemists

Last year I had already the pleasure to see KORN live for the first time. As I really enjoyed the show I was quite happy to have the chance to see them again. Like last year the Palladium Cologne with a capacity of 4,000 guests was sold out again and after the show I learnt that there were die-hard fans who even travelled from Slovenia in order to see their favourite band.
The Qemists

Wikipedia describes the British band, originated from Brighton, at first as Drum and Bass band and then Electronic/ Alternative Rock. Well, I think this doesn't do justice to the band as you'll find that they offer an interesting mixture of styles which reminded me of the collaboration of several bands and musicians on the 'Spawn' OST. Dan Arnold, Leon Harris and Liam Black founded the band in 2004. Actually they started as a Rock band with drums, bass and guitar in the 1990's and toured already a lot in the UK and Europe and started to record their songs. But then they developed more interest in the Drum and Bass sound which influenced more and more their style. Later Matt Rose and Bruno Balanta joined them as singer and rapper. Up to now the band has launched three albums and twelve singles. Some of the singles were used for video games and films. On five dates the band supported KORN on their tour in continental Europe.
http://www.theqemists.com
/
https://www.facebook.com/theqemists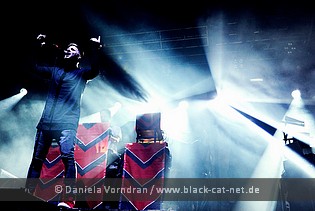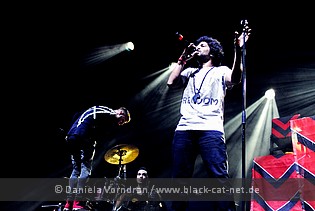 Music & Performance

Though it is surely hard to be opener for a band like KORN, this band convinced the audience quickly with their energetic show. Especially Matt and Bruno made a big party on stage, dancing, jumping and running from one side of the stage to the other, always addressing to the audience and inviting to party with them. Despite the former instrumental setting the bass was now replaced by a keyboard and a sampler. As just mentioned above their music with one guy singing, the other rapping, reminded me very much of the songs of the Spawn OST where bands of the Nu Metal/ Metal/ Indie- Rock genre collaborated with bands/ musicians of the Rap/ Hip Hop genre. But I had also the impression to hear some influences of THE PRODIGY in their sound. Between the songs we learnt that they had already performed in Cologne in 2009 and apparently the audience gave them a great welcome so that they were pleased to be back again.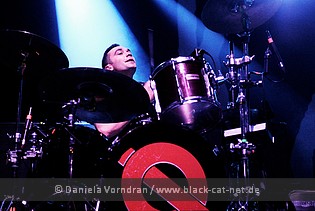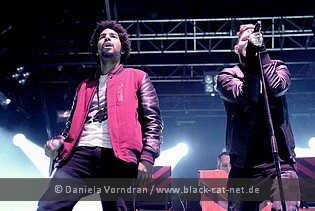 On this evening they presented furthermore two new, still unreleased, songs which is quite a risk if you only have such a short set to play. But it worked out brilliantly. Hopefully THE QEMISTS will come back again soon, probably with their own tour, as their powerful performance definitely convinced not only me.
Setlist

01. Lost weekend
02. Warrior sound
03. Dirty words
04. No more
05. Your revolution
06. Stompbox
07. Jungle
Rating

Music: 8
Performance: 8
Sound: 9
Light: 7
Total: 8 / 10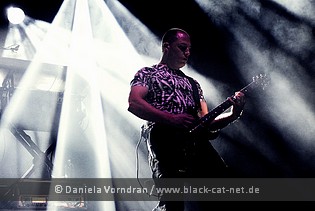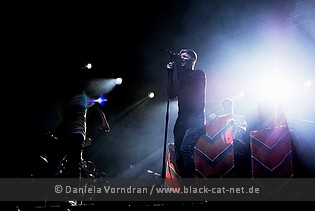 KoRn

I don't think that much need to be said about this US Californian band that influenced since 1993 as co- founder the Nu Metal genre. Throughout the years the guys toured also with such big names like DANZIG, HOUSE OF PAIN, MEGADETH, KMFDM, BIOHAZARD, MARILYN MANSON, OZZY OSBOURNE, LIMP BIZKIT, ORGY, RAMMSTEIN, ICE CUBE and ROB ZOMBIE, to mention only a few. Touring and collaborating with other bands and musicians had some influence as well on their sound and so KORN developed continuously with which the band gathered new, open- minded, fans who actually listen to other musical genres. Nevertheless the guys stayed true to their roots and with the characteristic voice of Jonathan Davis the sound is definitely recognisable. Many of their now 13 studio albums are critically acclaimed and reached high positions of the US American billboard charts but also in Europe. The release of the singles 'Got the life' and 'Freak on a leash' from their third album brought them the commercial success as the videos were frequently shown on MTV. Of course the 20 years career included a roller coaster ride and some changes in band members but fortunately KORN survived it all and hopefully continues to make music. KORN is Jonathan Davis (vocals, bagpipes), James "Munky" Shaffer (guitar), Brian "Head" Welch (guitar), Reginald "Fieldy" Arvizu (bass), Ray Luzier (drums).
http://www.korn.com
/
https://www.facebook.com/korn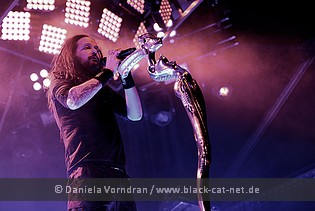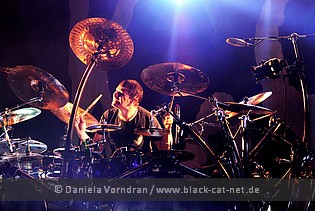 Music & Performance

In opposition to last year's show the rebuilding time didn't take so long and soon the guys entered the stage, were greeted loudly and immediately started to rock the place. This time black light was used frequently during the light show which created some cool effects as Reginald's bass had green glowing strings, the bridge of Munky's guitar was glowing pink and the front bass drum skin with the cover of the actual album 'The Paradigm Shift' had some cool glowing effects as well. The guys seemed to really enjoy performing on this evening and with the highly motivated audience they raised the roof in no time. Surely their show last year was amazing as well but somehow it was a bit too business like for my taste. This time I had the impression that Jonathan addressed more to the fans and so you could hear phrases like "I love you sweetie!" in direction to a young lady, too. Every now and then we were invited to sing the refrain with the singer or clap our hands to 'Got the life'. Jonathan's vocal quality could be admired live as well, as he has not only a range of four octaves, but screams, growls and performs with such energy that you cannot believe that he actually suffers from asthma. But knowing this one understands why he needs some extra air, inhaled with an oxygen mask, and that it's not a funny spleen.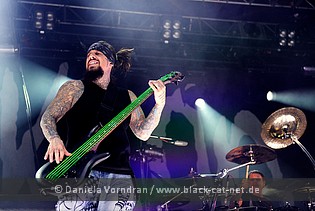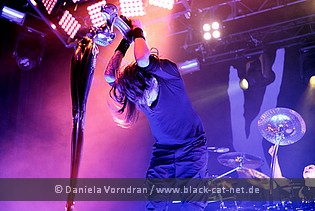 The setlist was a fine selection of their albums though this time there was none of the second last one 'The Path of Totality' maybe because it was heavily criticized for the Dubstep elements in some songs. Of course we haven't had to miss 'Shoots and Ladders' with Jonathan's bagpipe intro (though once again I was a bit sad that Jonathan was not wearing his kilt) and on this evening the song ended as a medley of the METALICA song 'One'. The band did also a PINK FLOYD cover of 'Another brick in the wall' but the lyrics of the stanzas were altered. Every now and then Reginald stood on a platform and I have to say he looked so casual the way he played his bass. He is such a cool cat. The main part of the show ended instrumentally where Jonathan played the tambourine before they all left the stage after he said "Goodbye!" to the audience. That the audience shouted for an encore was beyond debate and so Ray returned first and had his drum solo with all white lights on him before we got a short guitar solo. For the last song 'Blind' Jonathan asked the people to kneel down in order to jump up after the intro which most of the audience did and when they all did it was like a last explosion before the concert ended ultimately.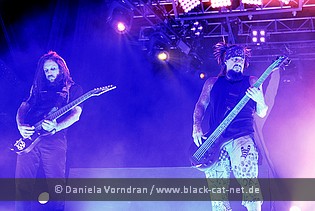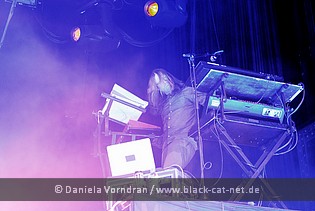 Once again a fantastic concert and I think I am not the only one hoping to see KORN soon again.
Setlist

01. Twist
02. Here to stay
03. Right now
04. Love & Meth
05. Falling away from me
06. Spike in my veins
07. Good God
08. Hater
09. Shoots and ladders (medley with METALICA's 'One')
10. Got the life
11. Did my time
12. Coming undone
13. Freak on a leash
14. Another brick in the wall (PINK FLOYD cover)
---
15. Drum solo
16. Y'all want a single
17. Blind
Rating

Music: 10
Performance: 10
Sound: 9
Light: 8
Total: 9 / 10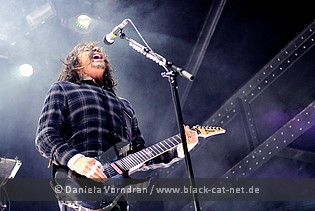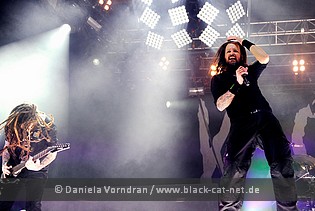 All pictures by Daniela Vorndran (
http://www.vorndranphotography.com
/
http://www.facebook.com/blackcatnet
)
See also (all categories):