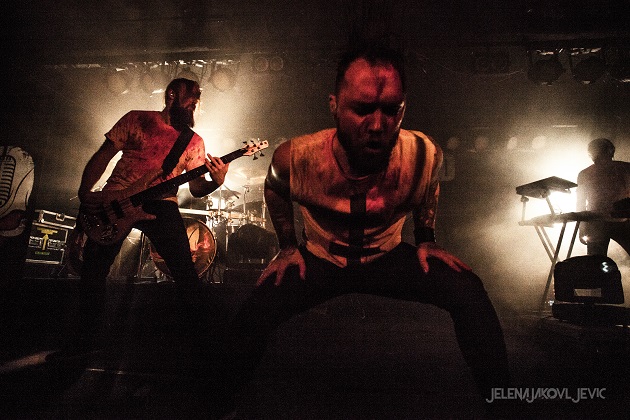 Rockclub Tapper, Tallinn, Estonia
17th December 2016
Goresoerd with Horror Dance Squad and Burn Still

In December 2016, Estonian Death Metal band GORESOERD released 'Antikeha' ('Antibody'), its fourth album. The poison green color and aggressiveness fulfilled with melodic vocals are just some of the characteristics which the new album has. 'Antikeha' has been nominated at Estonian Music Awards 2017 "Metal Album of the Year" category, last week. It was a good reminder to remove dust from the photos and tell you about great evening with GORESOERD, HORROR DANCE SQUAD and BURN STILL that happened in December. Listen to the 'Antikeha' album at
iTunes
and
Bandcamp
.
Burn Still

BURN STILL won the voting contest to be the opening band for PARKWAY DRIVE's 2008 Helsinki concert and tonight they are the opening act for GORESOERD! BURN STILL are Olev Ladva (vocals), Taavi Liinak (guitar), Martin Randalu (guitar), Martin Meisalu (bass) and Sulev Ladva (drums).
http://facebook.com/burnstill
Horror Dance Squad

HORROR DANCE SQUAD were selected as the winner of the Estonian Wacken Metal Battle competition, securing them a spot in the competition at the Wacken Open Air Festival in Germany. It was a stunning performance tonight, and thumbs up for Wacken! HORROR DANCE SQUAD are Ian Karell (vocals), Karl Mesipuu (vocals), Indrek Ulp (guitar), Mikk Peetrimägi (guitar), Sander Randorg (bass / electronics) and Henri Kuusk (drums).
www.horrordancesquad.com
/
https://www.facebook.com/HorrorDanceSquadOfficial
Goresoerd

The top of the evening was GORESOERD's recognizable style with retro props and "good boy" white t-shirt look covered in blood, an aggressive stage performance, and the powerful sound of the new 'Antikeha' album. In April, GORESOERD will support NAPALM DEATH in the Baltics, don't miss that!! GORESOERD are Eero "Nagy" Soomere (vocals), Stig Lindeberg (guitar & back vocals), Tõnis Noevere (drums), Janar Tiitus (bass & back vocals), Rasmus Tauk (guitar) and René Jõhve (turntables & sampling).
http://www.goresoerd.com
/
https://www.facebook.com/goresoerd
All photos by Jelena Jakovljevic, full galleries:
https://www.facebook.com/JelenaJakovljevicPhotography