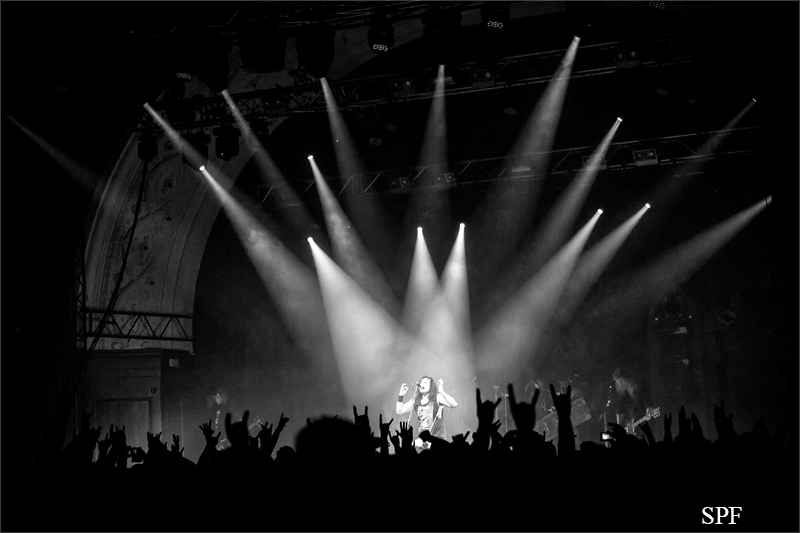 Haus Auensee, Leipzig, Germany
14th December 2018
Kreator, Dimmu Borgir, Hatebreed & Bloodbath - "The European Apocalypse"

Wow, that was a great concert at the Haus Auensee in Leipzig. First band on stage was the Swedish Death Metal band BLOODBATH. Support Band number two was the US Hardcore institution HATEBREED. That was the right time for crowd surfing. After the support bands it was time for the first headliner DIMMU BORGIR and they played an excellent show. I would like to see them with their own headliner tour and playing a full length set. Finally on stage was KREATOR and they played also a great set. "The European Apocalypse" really provided a very good line up for the fans.
Bloodbath

https://www.facebook.com/pg/bloodbathband
Setlist

01. Intro
02. Fleischmann
03. Let the Stillborn Come to Me
04. So You Die
05. Bloodicide
06. Outnumbering the Day
07. Chainsaw Lullaby
08. Eaten
Hatebreed

https://www.facebook.com/hatebreed
Setlist

01. Intro
02. To the Threshold
03. A.D.
04. Looking Down the Barrel of Today
05. Smash Your Enemies
06. Last Breath
07. Filth
08. As Diehard as They Come
09. Beholder of Justice
10. This Is Now
11. Doomsayer
12. Perseverance
13. I Will Be Heard
14. Destroy Everything
Dimmu Borgir

https://www.facebook.com/dimmuborgir
Setlist

01. The Unveiling
02. Interdimensional Summit
03. The Chosen Legacy
04. The Serpentine Offering
05. Gateways
06. Dimmu Borgir
07. Council of Wolves and Snakes
08. Puritania
09. Indoctrination
10. Progenies of the Great Apocalypse
11. Mourning Palace
12. Rite of Passage
Kreator

https://www.facebook.com/KreatorOfficial
Setlist

01. Run to the Hills (Iron Maiden song)
02. Intermission (Aphrodite's Child song) (The Four Horsemen / Intro)
03. Choir of the Damned
04. Enemy of God
05. Hail to the Hordes
06. Awakening of the Gods
07. People of the Lie
08. Gods of Violence
09. Satan Is Real
10. Mars Mantra
11. Phantom Antichrist
12. Fallen Brother
13. Flag of Hate
14. Phobia
15. Hordes of Chaos (A Necrologue for the Elite)
16. The Patriarch
17. Violent Revolution
18. Pleasure to Kill
19. Apocalypticon
More on
Kreator
,
Dimmu Borgir
,
Hatebreed
,
Bloodbath
All Pictures by Silvio Pfeifer