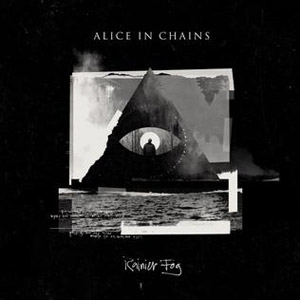 Two weeks before the release of their eagerly awaited album 'Rainier Fog', the American multiplatinum Rockers are once again increasing the expectation with their brand new single, 'Never Fade'! After 'So Far Under' and 'The One You Know', 'Never Fade' is already the third release from the upcoming album 'Rainier Fog'. All three tracks are available now, before the long-player is finally following on August 24th.
For all die-hard fans, the band has taken a very special action: On August 20, the big "ALICE IN CHAINS Night" including a sneak preview of the album will take place at the Safeco Field in their hometown Seattle. Before the game of the Seattle Mariners baseball team, there will be an exclusive listening party, where everyone present will be allowed to take home the CD, a T-shirt and other goodies.
It will also be exciting on 23 and 24 August: as part of the ALICE IN CHAINS pop-up shop is in the music club "The Crocodile", a retrospective of the cult band with rare photos, musical instruments and other memorabilia will be able to see. Even limited AIC merchandise will be on hand. On the 25th of August, Jerry Cantrell and Co. will perform live at the "Pain In The Grass" festival at the White River Amphitheater.
The trade press is full of praise and celebrates 'Rainier Fog' as a highlight of the band's history!
'Rainier Fog' was created under the aegis of producer Nick Raskulinecz, with whom the band has collaborated for the third time. For the mix, Joe Barresi (QUEENS OF THE STONE AGE, TOOL) is responsible. The album will be available as download, as CD and as Limited Edition in 180g vinyl.
After two successful tour parts (where the band made stops in Germany for two exclusive shows), singer/ guitarist Jerry Cantrell, singer/ guitarist William DuVall, drummer Sean Kinney and bassist Mike Inez recently announced the third part of their world tour which leads ALICE IN CHAINS from the Canadian city of Vancouver to the Brazilian city of Rio de Janeiro.
'Rainier Fog' is the sequel to ALICE IN CHAINS Grammy-nominated album 'The Devil Put Dinosaurs Here' from 2013, which finished as second in the Billboard Top 200, and a sensational 1st place on the Billboard Alternative Album, Top Rock Album and Hard Rock Album Charts, as well as in the iTunes Rock Charts. The first two single releases, 'Stone' and 'Hollow', each shot from the stand to #1 on the Billboard mainstream rock track charts, while the 3rd single, 'Voices', went into third place. All three singles could hold over 20 weeks in the hit parades.
Source: Press Release