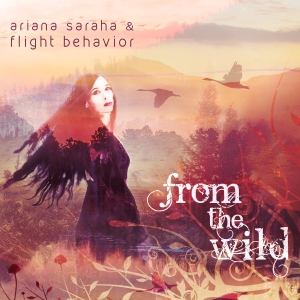 On the 19th of October, ARIANA SARAHA AND FLIGHT BEHAVIOR released the new video for the single 'The Last Days'. Shot in the evening sun of the Mojave Desert and produced, directed, edited by FX artist Tessa Shields, this is an "apocalyptic dream ballad" from their new album 'From The Wild'. And like the album, I like! To listen to the album please follow this link: https://flightbehavior.bandcamp.com/album/from-the-wild
The video starts with a low desert sun shining its early morning rays through the shadow of a cactus which sets the tone of warm chilliness that finds its way through the duration of the video. Everything about the music and the visuals has an easy lilt to it, no jarring moments, no stops and stutters or flashes of imagery that overwhelm the senses. What this does is calmly and without obnoxious bullying coaxes the viewer to go on a journey. One could say it's a journey of desolation. In one context a desolate desert can be welcoming, it encourages peace and tranquillity along with a dogged self-reliance.
On the other hand, it could imply how all the world could turn if we, the apex organism, don't mend our ways. Some will say that that will never happen, others are convinced it will. Time will tell but at least 'The Last Days' have posed the questions and sprouted the seeds of thought with easy drones, hypnotic Kalimba and a voice all floaty like the white scarf around bared shoulders. Here's the video, what do you think?
https://flightbehaviormusic.com / https://flightbehavior.bandcamp.com/