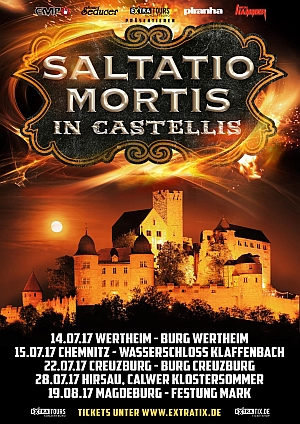 Wasserschloss Klaffenbach, Chemnitz, Germany
15th July 2017
Saltatio Mortis – "In Castellis 2017" – Support: Versengold

We are looking forward to announcing five very special shows today: SALTATIO MORTIS plays in the shadow of towers and battlements, surrounded by mighty castle walls, in unique and historical settings, which are worth a visit in themselves - or as the Latins would say: "In Castellis".
In the glow of the fire, together with friends and companions, the band will plunge into the past and weave the best from then and now to an exciting and new program. Come and celebrate with them this special train through castles and fortresses and enjoy the special ambience and, of course, an extra dose of SALTATIO MORTIS in warm summer nights. As a special guest this year, VERSENGOLD will be a part of the show. That will be fun!
Video "Wo sind die Clowns?": https://www.youtube.com/watch?v=7J6_YCLj5zg
Additional Concert Info

Doors: 6:30 pm
Starts: 7:45 pm
Tickets: are available for 41.65 + Charges
HERE
!
Info: https://www.facebook.com/saltatiomortisofficial / http://www.saltatio-mortis.com / https://www.facebook.com/Versengold / http://www.versengold.com
Facebook Event: https://www.facebook.com/events/1600242733612745/
Location: https://tinyurl.com/mw5299w
Buy Music and concert movies of SALTATIO MORTIS
Silvio Pfeifer