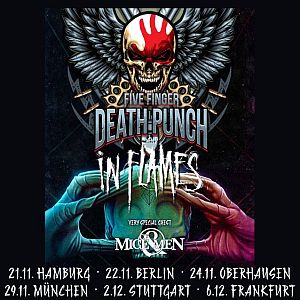 Festhalle, Frankfurt, Germany
6th December 2017
Five Finger Death Punch + In Flames + Support: Of Mice And Men

With the two modern metal-greats IN FLAMES from Sweden and FIVE FINGER DEATH PUNCH from the USA, one of the most exciting double headline tour packages of this year was created. Whether the heavy, thrash and groovy metal of FIVE FINGER DEATH PUNCH from Las Vegas, who were in the Top 5 with their last, sixth, album 'Got Your Six' in Germany and the USA, or the more playful, yet no less depressing alternative and death metal of the legendary IN FLAMES, who, with their twelfth album 'Battles' in 2016, have again reached the top ten of many nations: those who look forward to hearing and experiencing "state-of-the-art" modern metal music is absolutely right at this tour. In the course of their double headline tour, these two heroes of hardness will perform together in large halls of six German cities: between 21st November and 6th December, this unique double pack will be in Hamburg, Berlin, Oberhausen, Munich, Stuttgart and Frankfurt.
For over two decades, IN FLAMES, originally based to play Melodic Death Metal and now more strongly attributed to Modern Metal, convinced with a creative constancy that impresses. The Swedes are constantly developing, opening up to new genres and influences. These bold as well as unpredictable developments are demonstrated with their twelve albums, which they could sell around three million units worldwide. The beginning of IN FLAMES goes back to the year 1990. At that time, singer, drummer and guitarist Jesper Strömblad felt no longer comfortable with the sound of his band CEREMONIAL OATH and created IN FLAMES. After the first demos, the debut album 'Lunar Strain' was released in 1994, the only album in original line-up. Because already with the next album, 'The Jester Race', the band has gotten something moving on till today: Constant changes of line-up brought ever new sound approaches. In the meantime, no founding member is remaining. The creativity of the band is determined by Björn Gelotte, who joined the band later in 1995 as a drummer, and then as a guitarist, as well as the guitarist and singer Anders Fridén. Completed by three other musicians, they continually to rediscover the stylistic diversity of Modern Metal - and look at a constantly growing fan base all over the world!
For a decade, FIVE FINGER DEATH PUNCH from Los Angeles has been one of the spearhead of the American heavy metal scene. With their catchy and aggressive melange of brutal-cracking metal passages and melodic alternative rock, they serve their fans with sound that represents the Time Spirit and is also strongly rooted in the traditions of heavy metal. Despite their uncompromising hardness, their first three albums were successful and received gold awards for more than 500,000 units sold. Their most recent album, 'Get Your Six', was one of the most successful albums in the world. Band with Guitarist and founder of Zoltan Bathory, ex-GHOST MACHINE front man Ivan Moody, former WASP drummer Jeremy Spencer, and two other well-known musicians, skilled between the melodious moments of a powerful alternative rock and the eruptive anger and tempestuous brute force of contemporary Heavy metal music.
Tour Dates

21.11. Hamburg – Barclaycard Arena
22.11. Berlin – Velodrom
24.11. Oberhausen – König Pilsener Arena
29.11. Munich – Olympiahalle
02.12. Stuttgart – Hanns-Martin- Schleyer-Halle
06.12. Frankfurt – Festhalle
Additional Concert Info

Doors: 5:30 pm
Start: 7:00 pm
Tickets: are available from 64.15 (plus charges pre-sale)
HERE
and via
Ticketmaster
Info: Festhalle - https://goo.gl/9ftaA5 / Livenation - https://goo.gl/9U1wR3
Facebook Event: https://www.facebook.com/events/1689071208068840/
More on
Five Finger Death Punch
,
In Flames
&
Of Mice And Men