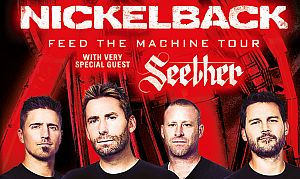 Sparkassenpark, Mönchengladbach, Germany
6th June 2018
Nickelback - "Feed The Machine" 2018 European Tour - Special Guest: Seether

NICKELBACK announced the "Feed The Machine" 2018 European Tour with the very special guests SEETHER! The Platinum awarded rock band NICKELBACK, who has received countless No.1 hits worldwide, will embark on an extensive European tour with six dates in Germany in 2018. The European tour starts in Glasgow on the 3rd of May and ends on the 25th of June at the Ziggo Dome in Amsterdam. The rock icons NICKELBACK will be appearing in 23 European cities, and the "Feed The Machine" 2018 European Tour is their biggest, most elaborate and boldest production to date.
NICKELBACK have finished their North America tour of 45 cities where they played in front of 600,000 devoted fans. The "Feed The Machine" Tour will be the triumphant return of NICKELBACK to Europe. In their luggage they have their energetic, eponymous ninth album released on BMG, without question one of their best since the breakthrough with 'Silver Side Up', full of wit and sophistication.
Founded in 1995 in Alberta, Canada, the globally acclaimed NICKELBACK has cemented its reputation as one of the most important rock acts of the past two decades with multiple platinum awards. Worldwide sales of more than 50 million recordings solidify their status as the No. 11 in the eternal bestseller ranking of music acts and as no. 2 of the best-selling foreigners in the US of the 21st century. Their irresistible world-hit 'How You Remind Me' was voted Billboard's Top Rock Song of the Decade and was No. 4 in the Top Ten ranking list of the songs of the 2000s. With more than 23 No.1 hit-singles and a loyal fan base around the world, NICKELBACK has been able to sell-out 12 consecutive world tours and play in front of more than 8 million diehard fans.
Additional Concert Info

Doors: ca 17:00
Starts: 18:30
Tickets: Tickets are available from 64.25 € (pre-sale plus fees)
HERE
and at
Ticketmaster
Info: https://sparkassenpark.de/nickelback/
More on
Nickelback
&
Seether
x