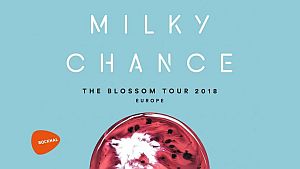 Rockhal, Esch sur Alzette, Luxembourg
19th May 2018
Milky Chance

The Rockhal team and the management of the band are glad to announce a new date for the show of MILKY CHANCE, initially planned for November 23th, 2017. Due to the singer's illness, the band wasn't able to continue their show back then. The gig will now take place on Saturday 19th May 2018. All tickets bought for the original show remain valid. Clients who will not be able to accommodate the new date will get their tickets refunded at their point of sale.
It was a Hessian fairy tale: The story of how MILKY CHANCE, the do-it-yourself project of two high school graduates from Kassel, gradually became a global pop phenomenon is not only unprecedented for German pop. Rehbein and Dausch toured the USA for months, performed on festival stages in Australia and South Africa, played in the legendary open-air stage "Red Rocks" or on the main stage of the "Coachella Festival", were guests of late-night talker Jimmy Kimmel, were awarded an "Echo" award at home and gold for their album debut 'Sadnecessary'.
Not only in Germany but also in countries such as Canada, Australia and France. The first single from this album, 'Stolen Dance', has over 350 million hits on YouTube. It hit the charts of almost every pop country, sold two million copies in the USA alone and its follow-up singles 'Flashed Junk Mind' and 'Down By The River' developed into international hits, also gilded several times. MILKY CHANCE have been streamed over 500 million times on Spotify and are one of the twenty most sought-after artists of all time on Shazam, a small circle of musicians including DAFT PUNK, BRUNO MARS and MACKLEMORE & RYAN LEWIS. Celebrity fans like Miley Cyrus and Jessica Alba have already publicly recognized themselves as fans of the band in the past.
And because good fairy tales need a sequel and part one of the MILKY CHANCE story has been so much fun, Clemens Rehbein and Philipp Dausch simply carry on. With 'Cocoon', they succeed in creating an international Pop that brings together Reggae, House, Flamenco, Pop, Singer-Songwriter and Folk. This music reaches its ingenious element not least through the combination of the deep organic warmth of the instrumentation with Clemens Rehbein's streetwise, scratchy voice. And when Clemens sings "But there's so many things we could do / And all we need is escaping", you want to do just that: Just run away, preferably travel the world directly with MILKY CHANCE. Because they make music that does not accept heaven as a border - and at the same time is completely with themselves and their themes.
Additional Concert Info

Doors: 20:00
Start: 20:30
Tickets: 34€ + 3.40€ presale fee
Info & Tickets: http://www.rockhal.lu/agenda/rock-pop/show/detail/milky-chance-1/
Facebook Event: https://www.facebook.com/events/716859648508130/
More on
Milky Chance