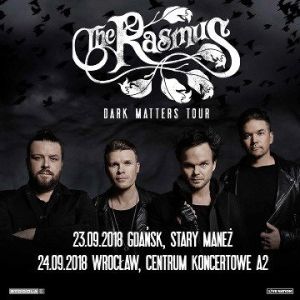 CKA2, Wroclaw, Poland
24th September 2018
The Rasmus, The Shiver, Overlaps

THE RASMUS are back in Poland after a short break! They are coming to promote the newest single, 'Paradise', which was recorded and mixed in Stockholm (produced by The Family). One of the top Finnish bands, THE RASMUS, are acclaimed worldwide though their biggest success came with the fifth album the single, 'In The Shadows', which became a hit in the whole world.
In 2012, after releasing three subsequent albums and touring round the world, the band members Lauri Ylönen, Pauli Rantasalmi, Eero Heinonen and Aki Hakala decided to take a break from THE RASMUS and look after their private lives for a while. At that time the vocalist moved to Los Angeles - the change definitely had a positive impact on the band's artistic output. What Lauri says about the new single of THE RASMUS, 'Paradise', is
"Paradise is a relative thing. What can be heaven for one person will be hell for another."
THE SHIVER was formed in 2005; their music can be described as a combination of Alternative Rock Metal and Electronic Music. The band have been performing round Europe supporting bands such as: Misfits, The Ark, Papa Roach, God Is An Astronaut, Negramaro, Perturbazione. OVERLAPS is a Rock band from Italy; the five members of the project vary in everything but they complement in order to produce a catchy, strong and multidimensional rock sound.
Additional Concert Info

23.09.2018 Gdańsk, Stary Maneż
24.09.2018 Wrocław, Centrum Koncertowe A2
More info: https://www.livenation.pl / https://www.facebook.com/events/1917113678537882