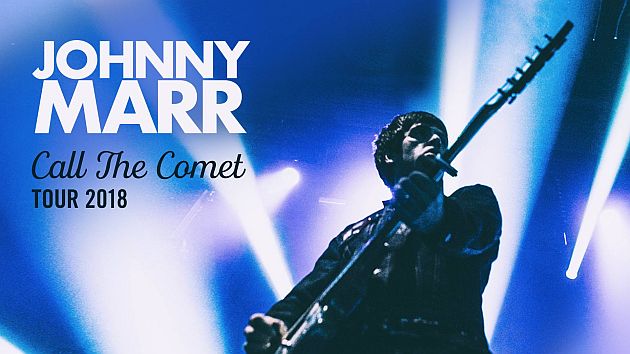 Gloria, Cologne, Germany
3rd Dezember 2018
Johnny Marr - "Call the Comet" Tour 2018
"There is a light that never goes out. Not only THE SMITHS are immortal, their guitarist is too" (MusikBlog). JOHNNY MARR is now a celebrated solo artist and has just released his new album, 'Call The Comet' (released June 15, 2018 | New Voodoo Records / ADA). After 'The Messenger' (2013), 'Playland' (2014) and the live album 'Adrenalin Baby' (2015), 'Call The Comet' is his fourth solo album. Together with his band, Marr recorded the album at his own Crazy Face Studios in Manchester.
"'Call The Comet' is my own magic," says Marr. "It's set in the not-too-distant future, and is mostly concerned with the idea of an alternative society. The characters in the songs are searching for a new idealism, although there are some personal songs in there too." 'Call The Comet' is a vibrant, gripping and brilliantly stirring album that picks up the core and spirit of its predecessors, but evolves and rebalances the atmosphere and drama. In response to the troubled and uncertain times we find ourselves in, JOHNNY MARR seeks in many songs for ideas of an alternative societies and utopian future scenarios. At the same time, the album retains a crucial openness with almost mystical features. JOHNNY MARR is one of the most unique artists writing songs in which the foundations of fabulous music are woven together with a comprehensive imagination and substance into a large, harmonious whole.
In December we can look forward to the live implementation of the new album and certainly one or two THE SMITH songs.
Tour Dates

02.12. Munich, Technikum
03.12. Cologne, Gloria Theater
05.12. Hamburg, Gruenspan
Additional Concert Info

Doors: 19:00
Start: 20:00
Tickets: 27.00 € plus fees via
KÖLN Tickets
and for other shows via
Eventim
More Info: http://gloria-theater.com/programm/03-12-2018/johnny-marr
Facebook Event: https://www.facebook.com/events/210522382932636/
More on
Johnny Marr