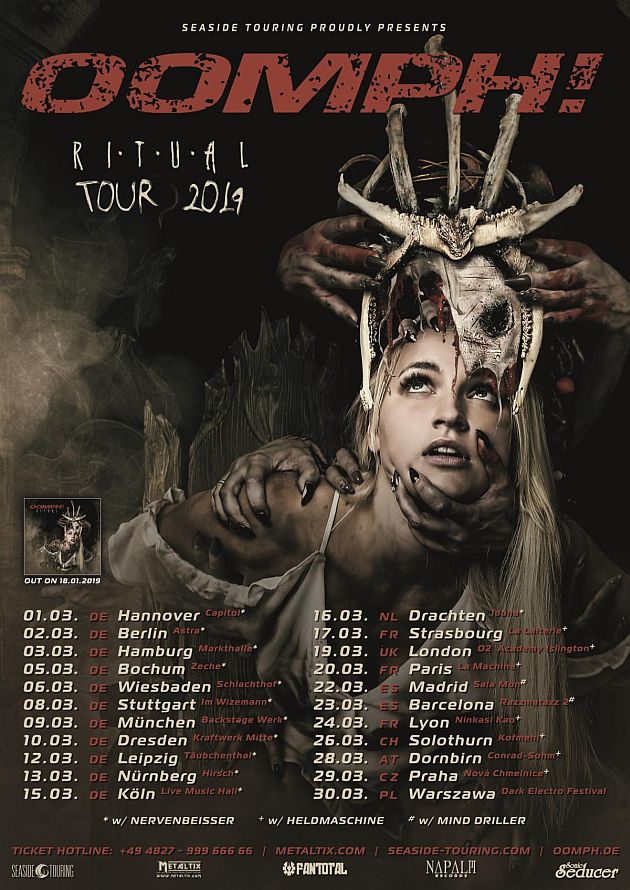 Markthalle, Hamburg, Germany
3rd March 2019
Oomph! - Ritual Tour 2019 - Special Guest: Nervenbeisser

OOMPH! are back as dark and loud as ever. The new album 'Ritual' is almost out (release date: 18th January 2019) and the first previews sound more than promising. The first song that was released to the public along with an official lyric video is 'Kein Liebeslied'. Dark, sarcastic and including some unexpected turns as we know and love them from the legendary trio - Dero, Flux and Crap.
Along with the album release of 'Ritual' OOMPH! are going on a very extended tour in more than 20 cities - in Germany, Spain, France, Poland, Netherlands and some more. Just at the beginning the tour brings them to Hamburg where they are going to present the brand new album on the 3rd March 2019.
To hear many of the new songs as well as the old hits like 'Augen auf!', 'Niemand', 'Gott ist ein Popstar' or 'Träumst du?' and experience the incredible live energy of this trio that is dominating the music scene between Neue Deutsche Härte, Industrial Rock and Crossover since 1989, you better don't miss this opportunity and get your ticket as long as it's not too late.
Get a first appetizer of Ritual with the teaser of the upcoming single 'Kein Liebeslied' here:
Additional Concert Info

Doors: 19:00
Start: 20:00
Tickets: are available for 34.05 € plus charges (pre-sale) via
EVENTIM
Info: https://markthalle-hamburg.de/konzerte/oomph/
Artist: https://www.oomph.de / https://www.facebook.com/oomphband
More on
Oomph!
and
Nervenbeisser