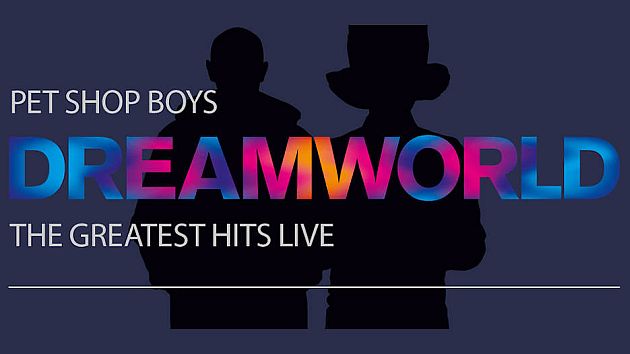 Attention: due to the Corona crises, this tour is rescheduled from spring 2020 to May/June 2021 and further to May/June 2022. Tickets remain valid!
"Fashion changes, but style endures." With this quote, Coco Chanel for sure did not describe the PET SHOP BOYS; nevertheless, it's the perfect slogan for the long career of UK's most successful music duo and the upcoming "Dreamworld - The Greatest Hits Live" tour, that includes some gigs in Germany. Neil Tennant and Chris Lowe have always been the combination of electronic music pioneers and kings of Pop, adored by their fans, reviewer favourites, stage hogs, and gentlemen. Again and again, they were influenced by musical trends, but never left their own style behind.
From their first single 'West End Girls', that immediately peaked the British Charts, till the latest release 'Dreamland', the 40-year-career of the PET SHOP BOYS is pervaded by success, and here is the reason why: the two always remained true to themselves and kept their elegant style. The songs are distinctive despite all the musical changes, and it's not only the characteristic voice of Neil Tennant, but also that unique and clear kind of production.
No matter if Pop hymns of the early years, cool cover versions, their work as composers and producers for artists like KYLIE MINOGUE, TINA TURNER, or DAVID BOWIE, their cooperation with the Dresden Symphonic Orchestra to create the soundtrack for Sergej Eisensteins' path-breaking silent movie "Panzerkreuzer Potemkin", Disco, House, or Techno: the PET SHOP BOYS almost always have done everything right, the most of it with fun and humour. They even performed as support act for TAKE THAT during their 2011 tour and recorded a duet together with ROBBIE WILLIAMS.
The PET SHOP BOYS style includes humility and self-irony as well as the big performance at the right time live on stage. That's why their tours are legendary, surprising, exciting. So now, the time has come looking forward to new music: in January, they release their 14th studio album, 'Hotspot', which was produced in Los Angeles and Berlin. That is exactly where the big Europe tour of the PET SHOP BOYS starts and then comes to six other big venues here in Germany. Tennant and Lowe attach great importance to the fact, that for the first time in their career, there will be a best-of set list during their "Dreamworld - The Greatest Hits Live" tour, and they will perform it elegantly - that goes without saying.
German Tour Dates

May 14, 2022 – Munich, Olympiahalle
June 2, 2022 – Frankfurt, Jahrhunderthalle
June 4, 2022 – Oberhausen, König-Pilsener Arena
June 5, 2022 – Hamburg, Barclaycard Arena
June 7, 2022 – Leipzig, Arena
June 10, 2022 – Stuttgart, Porsche Arena
June 11, 2022 – Berlin, Mercedes-Benz Arena
Ticket sale starts on Wednesday, November 20, at 10:00 a.m. exclusively via
Eventim
(ticket price EUR 45.00 plus fees). As of Friday, November 22 at 10:00 a.m., tickets are available at all known CTS ticket shops and by hotline +49 (0) 1806 - 853653 (20 cents/call, mobile max. 60 cents/call, via fkpscorpio.com and eventim.de.