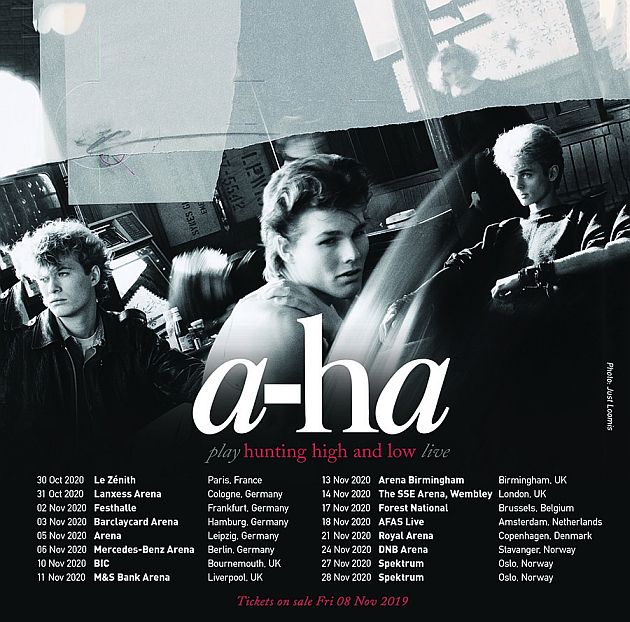 Lanxess Arena, Cologne, Germany
15th May 2022
A-ha - "Play hunting high and low" live

Attention: due to the Corona pandemic, the concert is postponed from October 2020 to May 2021 and further to May 2022. Tickets remain valid!
A-HA always seek for challenges. In 2018, during their MTV Unplugged Tour, they have shown that their songs work perfectly within a very different frame and that new levels can be reached. During their autumn tour in October and November 2019, Magne Furuholmen, Morten Harket, and Pål Waaktaar-Savoy tried something new: a concert at the legendary "An evening with…" format, consisting of two very different parts interrupted by a break.
The first concert part was a mixture of new and old, very famous and less famous songs and hits. After the break, a-ha performed all songs of their 1985 album 'Hunting High And Low' - exactly in the same order of the original album! So far, A-HA performed the entire 'Hunting High And Low' album just two times: in October 2010 at the Oslo Konserthus, and at the Royal Albert Hall in London - two very special concerts for fans and the band.
Finally, there will be another unique chance to experience a live performance and new interpretation of the debut album, which is far more than just a debut album. The ten songs 'Take On Me', 'Train Of Thought', 'Hunting High And Low', 'The Blue Sky', 'Living A Boy's Adventure Tale', 'The Sun Always Shines On T.V.', 'And You Tell Me', 'Love Is Reason', 'Dream Myself Alive' and 'Here I Stand And Face The Rain' totally grabbed the heart and soul of a-ha and their fans all around the world! Ticket sale started in November 2019. Check Eventim and all known ticket shops to get yours!
"To play 'Hunting High And Low' live was a great experience for us," Pål remembers the concerts in 2010, and he explains, how Magne, Morten, and he feel right now. "There is no song on the album we are not excited to play live. At that time, there were different versions of every song, before we made the final records. All versions had great fragments and cool ideas, and we are very excited to include them to the new show." "When we recorded Hunting High And Low, a lot of things were predetermined for us, and it was an exciting time for our career and our team work", says Magne. "To now rework these songs - more than 30 years later - definitely is more of an inspiration than compulsory exercise. I think I have to dust my old synths a bit…" he grins.
"The selection of songs and the predetermined set to play the songs in the same order as they are on the original album, turn the show into something completely new, it is different to everything we have done before", adds Pål. He further says, that with this tour, "a-ha- wants to bring back the atmosphere and thoughts of the time when Hunting High And Low came into existence. For us it was a time, when all three of us lived in tiny apartments in London, and when we worked on our songs 24 hours a day, 7 days a week. Until the moment, where the album finally was released, it was a long and partially hard time. We all added our lifeblood to the album, because it might have been our only chance."
Almost exactly 35 years to the day, the tour will celebrate the 35th anniversary since release of the original version of 'Take On Me' on October 19, 1984 in England; a song that initially was sold just 300 times. The re-recorded version then was released in April 1985 with a bit more success, but after the release in America together with the legendary video, it finally became a huge success. In September of the same year, the song was re-released in England, and it went big. The Hunting High And Low album was released in America in June 1985, and in England in October 1985.
Until then, it was a long way to go. Two years ago, the three a-ha band members recorded demo versions with a four-track reel-to-reel cassette recorder at the summer house of Pål's family in Nærsnes close to Oslo. Pål tells that their way to Hunting High And Low was indeed full of confusions and turns, and the only prospect of success was their self-belief. In case the label would not have made the decision to record and release a new version of 'Take On Me', most probably a-ha came to an end - nothing was cut and dried.
Even after 'Take On Me' became that big hit, no one could have suspected, that this band will become one of the most established and popular bands in the world. a-ha remained persistent, changed their perspective, and in the end, their self-confidence helped them to take advantage of more than just one chance. When the time was right, they knew that they need those ten, perfect songs that captured everything a-ha is accounted for - until the present day. Then songs combining longing melodies and drama, connecting immediacy with intimacy, like just a handful of bands is capable of doing so.
When A-HA will perform 'Hunting High And Low' live on stage, it is not only about that ten, popular songs; it is also about their long way to London: the recognition to never stand still. 'Take On Me' and 'Hunting High And Low' are alive in the same amount as they were in the moment of their original recording and release. Go to a concert and experience, why.
Additional Concert Info
Doors: tba
Start: 20:00
Tickets: are available from 57.95 euros (plus charges pre-sale) via
Eventim
Info: https://www.lanxess-arena.de/events/detailansicht/datum/2128.html. For further information, please visit www.a-ha.com and www.prknet.de
More on
A-HA