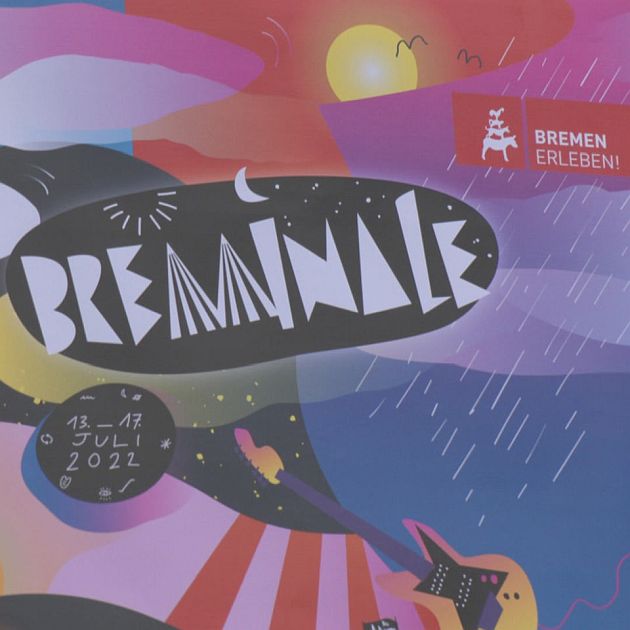 Osterdeich, Bremen, Germany
13th to 17th July
Breminale festival 2022 with 24/7 Diva Heaven, Bitch Boost Bunny, Call Me When You're Lonely, Grausame Töchter, Sarah 4K, STRUNZ, Teenage Kicks, Tropikel Ltd., Troy Petty, Twins in Fear, WIRFÜRWEN and many more

The Breminale is a five-day open-air festival on Bremen's Osterdeich, taking place every summer. The festival offers a wide-ranging programme for everyone. The programme includes live music in circus tents, art, jugglers and jesters, games for kids, as well as theatre, dance and readings. Numerous food stands sell delicious international specialities.
Since the first Breminale in 1987 - which took place on the market square in the city centre - the festival has grown remarkably. With its combination of great music and cultural activities, it has grown to be one of highlights of Bremen's cultural scene. Now, as many as 220,000 visitors come to enjoy this event every year.
The music programme is multi-faceted. Over 100 Bands play on various stages. The festival grounds stretch out for nearly a kilometre along the Osterdeich and the lawn behind the Kunsthalle. The music programme has fantastic talent and the cultural programme held on the lawn invites you to linger, enjoy, and relax. You may not find the big names headlining huge summer festivals. Instead of that you have the opportunity, to discover many local bands and other artists. With its mix of music, theatre, film, and comedy, as well as plenty of hands-on activities for kids, everyone, young and old can find appropriate entertainment.
Throughout the festival grounds, in between the tents with their throbbing music and dancing crowds, are food stands with delicious international specialities. Find a quieter place along the dike to kick-back, relax and enjoy your treat. Together with art and music, there is special cuisine in the "Eco Village", and every year on Sunday during the Breminale a "Dike Banquet" is held. Over 250 people share a table and enjoy a three-course meal of regional bio produce.
Additional festival information

Tickets: free entrance!
General information: https://breminale-festival.de/programm
Location: At the Osterdeich and in the meadow behind the Kunsthalle