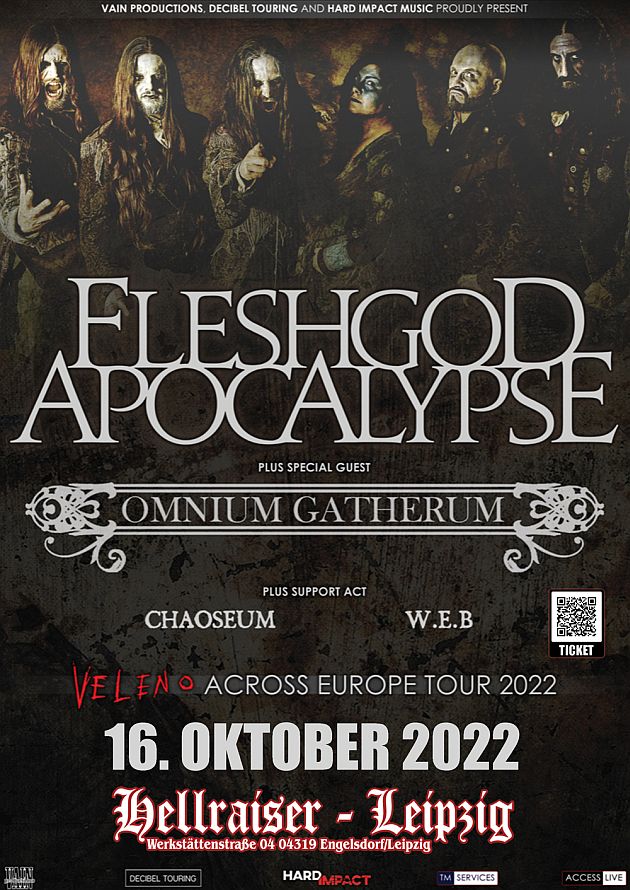 Hellraiser, Leipzig, Germany
16th October 2022
Fleshgod Apocalypse - "Valeno acros Europe Tour 2022" - Special Guest: Omnium Gatherum - Support: Chaoseum and W.E.B.

2019 Italian orchestral Death Metal giants FLESHGOD APOCALYPSE unleashed their highly-praised 5th album, 'Veleno', unto the world through Nuclear Blast. After storming European stages as part of the "MTV Headbanger's Ball Tour" alongside label mates KATAKLYSM as well as WHITECHAPEL and DYSCARNATE in November / December 2019, the time has come for the band to once again return to our clubs as headliners in autumn 2020. But we all know that this was not possible at this time because off the covid restrictions.
This time in 2022, the sextet will be supported by OMNIUM GATHERUM from Finland and CHAOSEUM and W.E.B. You will see four bands for a fantastic price! So, you should buy your ticket asap and support the band and also the location after this two lost covid years.
Additional Concert Info

Doors: 17:30
Start: 18:30
Tickets: can be bought for 23.90 + charges (pre-sale) via
Eventim
Info: https://hellraiser-leipzig.de/produkt/ticket-fleshgod-apocalypse
Facebook Event: https://www.facebook.com/events/470734730298308