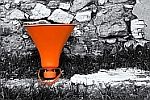 DEPECHE MODE has always known how to manage their visual aspect through some strong visual symbols that their fans could easily identify with and could be also easily identified by the large masses of music addicts. Through the years, emerged their own visual universe thanks to the talent of the famous Dutchman director and photographer Anton Corbijn.


Among all those strong symbols, a big orange speaker appeared in 1987, first on the 'Strangelove' sleeve and then on the cover of the 'Music for the Masses' album and all singles of this era. And by the way, this creation was not an Anton's one but Martyn Atkins, even though Anton embraced it and used it, logically, in promo videos of the 'Music For The Masses' campaign. At that time and since then, it became one major sign and symbol of the band under the nickname "Bong". For the record, it's good to refresh devotees memory on the origins of the term Bong.

It first appeared as the catalogue number of each DM release, and that, since 1982's 'Leave In Silence', referenced as "Bong 1". It was also the name of the Official Fan Club's magazine that lasted from 1988 to 2002 and issued 52 numbers. Having said that, in most of DM fans mind, Bong is the name given to those orange speakers and today, it still remains one of most iconic symbols of the band.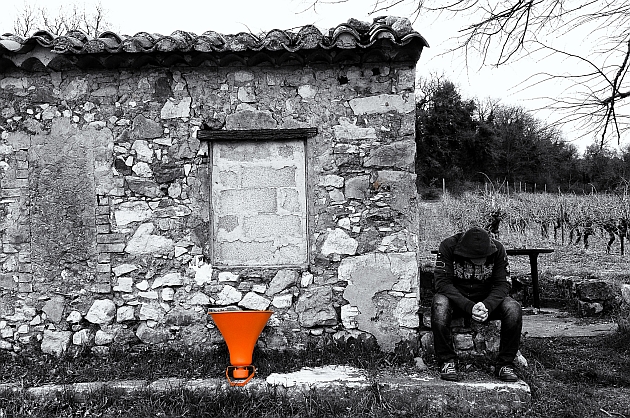 Cyril Pariaud, a French talented photographer being also a fan of DEPECHE MODE for many years, has set up a very interesting project for a couple of years: Travelling around with his own orange bong and picture it, wherever in strange locations or, when on a DM tour for example, photographing fans with the object. As Cyril says: "This speaker, an ordinary object, can project you through the imagery of the Eastern European countries, but it has also another meaning today, showing you people nowadays who have hard time being heard or being able to express themselves. A voice through the picture and that's exactly this particular idea I'm trying to put on my pictures."

You can see the all collection here: http://www.flickr.com/photos/cilou101/sets/72157627317939979/with/8573071090/