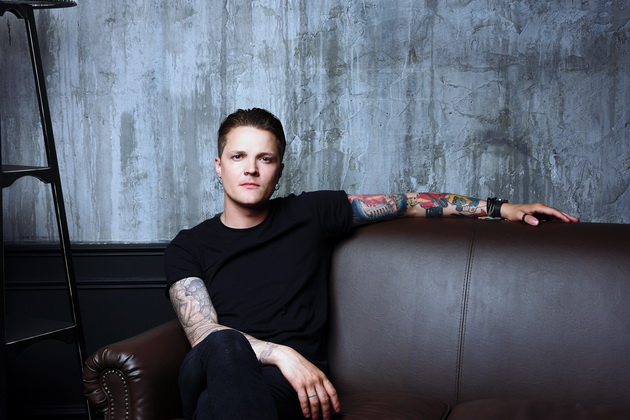 Our Project is going already more than ten months and today I am very happy to present you our first guest from Ukraine. Like many other people who watched the Eurovision Song Contest I was really impressed by
O.TORVALD
's beautiful performance. Besides, when I saw Jenia's beautifully tattooed arms, I was looking forward to asking him to be a part of our project. And luckily everything came exactly as I wanted it to be. Thanks to our team in Kiev for good cooperation, to the management of the band and Jenia himself, we can enjoy this great interview now and look at his tattoos in detail. And believe me, there is a lot to see there.
Reflections of Darkness [RoD]:
The first question does not concern our project but is rather a general one. I know that you are currently often asked about this now, but how is the life after the ESC?
Jenia:
Same as it was before and during ESC. Nothing has changed – we have much work in studio, we have many festivals and shows. But I am often recognized on the street by the people who have never recognized me before, especially older people and children. And maybe that's all, nothing else has changed except the fees.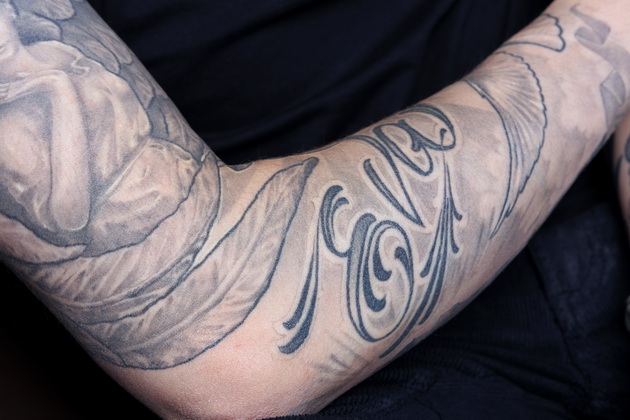 RoD:
I have already told you a little bit about our tattoo-project. How do you think, could tattoos be considered Art?
Jenia:
For me it's a way of self-realization or a way to decorate your body. Of course, this is art. But for me is more important what I have on my skin. I like what other people do on themselves, I understand which styles there can be and so on. And lately tattoos evolved very much. There are many tattoo artists which are creating a real masterpiece. But for me tattoos are the way to present on my body some situations and stories from my life.
RoD:
When did you get your first tattoo and what was it? Did it take much time until you decided to get it done?
Jenia:
In 2001, when I was 17. And that time, in 2001, one tattoo for a school boy in Poltava was too much. I was the first one who got a tattoo among my friends.
RoD:
And what did your parents say about this?
Jenia:
My mother brought me to her friend who made lips and eyebrows tattoos and so on. I persuaded her to make me a tattoo. It's the most extraordinary tattoo on my body.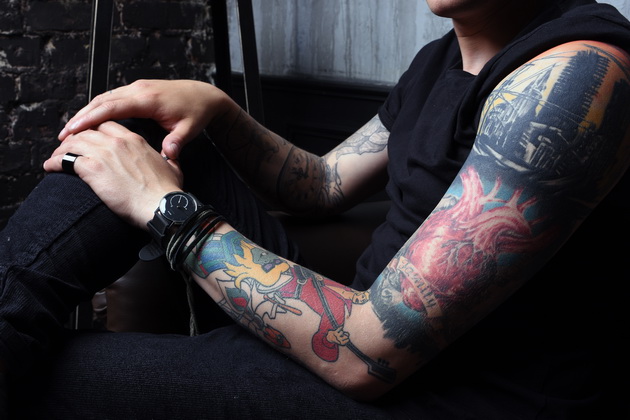 RoD:
How many tattoos do you have? Or it's already not possible to calculate them?
Jenia:
It's already difficult to count them, many, I can say. I cannot keep them apart, but I think 25 or more. If you want to calculate them by my visits toTattoo Studio, then it will be near 25.
RoD:
Could you please tell us their story? For most people tattoo always has a special reason.
Jenia:
Yes, but I will not generalize this for all. Many people make tattoos only to look cool. But when we are speaking about my tattoos, they all have their story, starting from my first tattoo, which I made in 2001. I don't know what it means, but in the catalogue of the lips and eyebrow tattoo artist, it was the only one. And later I made a framework around it and wrote «My first Tattoo», although I could have just covered It and do nothing with it. Underneath I have an angel with heaven, this is my guardian angel, which means very much for me. And I believe, that he is always on my side and he protects me. Under them, I have a clock which shows the time of my birth - 7:50 am and next to it a text - "All in good time". Under it I have a text "Eva" - it's the name of my daughter. Under it I have a Dove of Peace, I made this tattoo when the war started on the east of Ukraine. My biggest wish is that it will stop. To extend this theme, I made lighthouse tattoo. It means hope for me, and under it is written "Faith". That's all what I have on my right arm.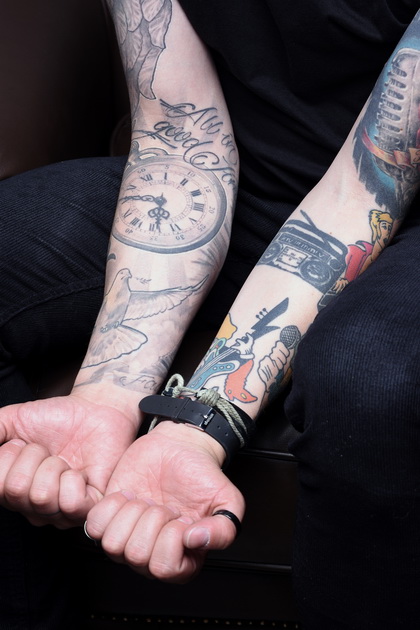 On the other arm, I have drawing of Kiev, the city which I moved for some time to, city in which I feel myself as at home and which has become one of my favourites cities of the world. It's Tatarka district, where we lived. There are two buildings which are not finished yet and which I always had before my eyes when I lived there. On the left side near this buildings I have a drawing of the only one Catholic church in Kiev, which I know. This tall building makes me in scary in some way. Maybe I have a kind of phobia. Below it there is a tattoo made by Sascha Suvorov – Shure microphone with a heart and guitar connected with the band on which stay "Family". This tattoo stays for everything I do. And below I have a boom box radio on which all radio frequencies are marked where I worked : radio, television and the date when I started all this: March 14, 2004.

On my pulse, I have a letter "V" (Valeria) and over it small "L" (Lera) – it's a name of my wife. And I have there cartoon characters called "The Bremen Musicians", there is the full line up of the band – troubadour, donkey, cock, dog and cat. I started to make music because of this cartoon. This is also a favourite cartoon of my daughter; she watches it every day. On my chest, I have the words "Big little Brother". I have brother; he is 4.5 years younger than me and 4 times bigger than me. I also have a tattoo on my back but it's not finished yet. It's a drawing of my car, it's called Mikky and was made in 1979. And I have one more tattoo behind my ear - "O.torvald". I did It when we were working on our record 'Наші люди всюди' (Our people are everywhere). I think these are all my main tattoos.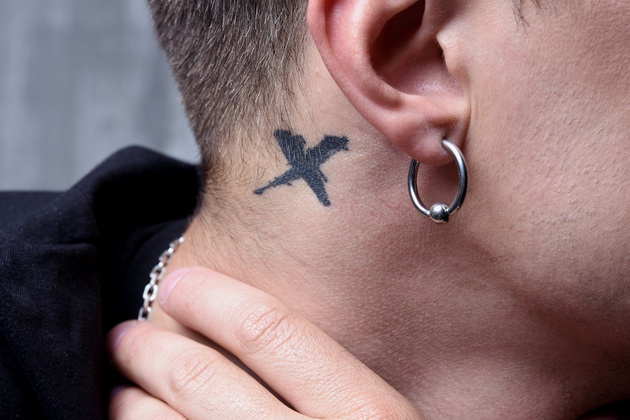 RoD:
Super, but you don't have tattoos on your legs, right?
Jenia:
Not yet, but it will be changed this summer.
RoD:
And now comes one more question: What tattoo do you want to do next?
Jenia:
I want to make a tattoo dedicated to the birth of my son.
RoD:
When your daughter is grown up and comes to you one day with the wish to make a tattoo, what will you tell her?
Jenia:
I will try to explain her that people are changing with time. And even if she wants to get a tattoo now, it's better to left yourself some time to understand how big your wish is to make this tattoo. Now many young people make some tattoos on their faces, arms, legs, necks and so on. But for them it's only drawing, nothing more. And it's strange for me to observe such people. For example, I am musician and I don't plan ever to change this. For me the tattoos - is a kind of lifestyle.
RoD:
It's clear for me from our conversation that you did not make all your tattoos by one tattoo artist. How do you find a right tattoo artist for you?
Jenia:
I get to know people. I'm trying to make something together with them. By the way, our former bassist Nikita is a professional tattoo artist. He left the band and moved to Germany. He was invited as a very expensive and highly qualified master. For him, the band was never on the first place. He was always a tattoo artist. On our next show with the new bassist, the girls become hysterical. Although, I'm not sure who is better, Nikita or our new bassist Jenia Straus. Perhaps you know him, a great, handsome, perhaps more handsome than Nikita. (Laughs)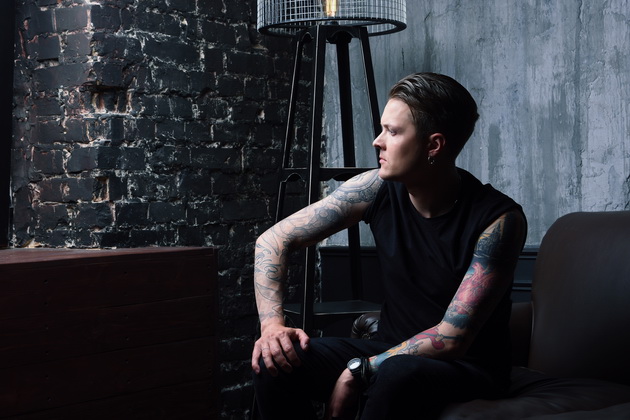 RoD:
Getting tattooed hurts, how do you cope with the pain during the sessions?
Jenia:
I am crying
RoD:
Loudly?
Jenia:
Very loudly. Last time when my tattoo was made it was the most painful thing I had ever had. Oh, yes, and I drink something.
RoD:
Generally, or only during tattoo sessions?
Jenia:
Generally (Laughs). Yes, during the sessions. And you see, I have free skin under my arms. These are very painful spots. At the moment, I forget about them to not making tattoo there.
RoD:
But maybe you will change your mind in the future?
Jenia:
Maybe.
RoD:
Do you regret getting tattooed sometimes?
Jenia:
No. I currently have an idea for a tattoo, but I do not want to make it yet. I put this idea on hold and wait to see if I can still explain it to me after some time.
RoD:
What is your taboo in terms of tattoos? What kind of tattoo would you never get done to you?
Jenia:
Never say never. For example, I have never thought that I will make a tattoo on my head. But later I have made a tattoo behind the ear. I wanted to make my arms, I currently thinking about this. There is no taboo. Maybe some tattoos in Intime places, I think it will be too painful.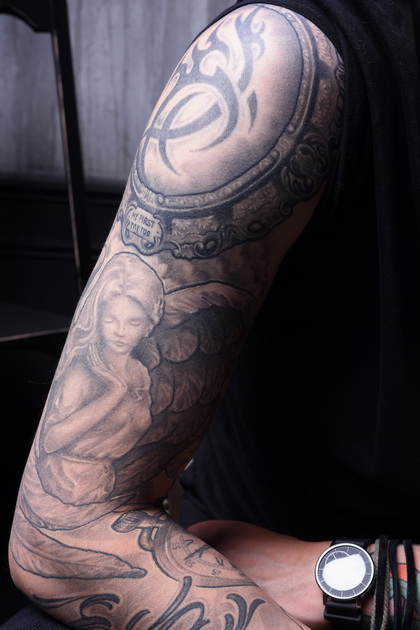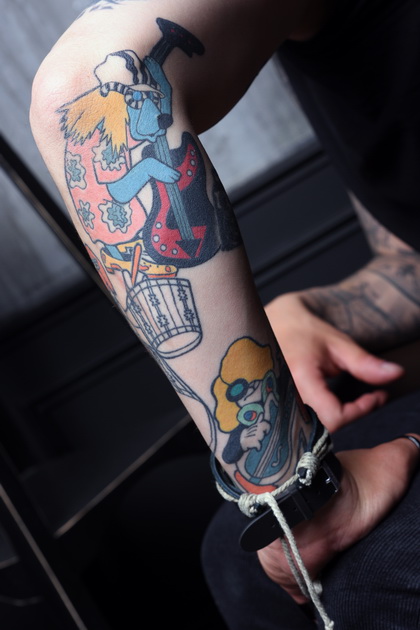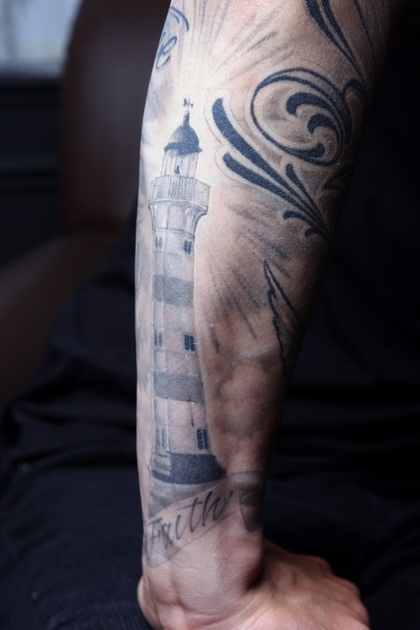 RoD:
And what do you not like to see on other people?
Jenia:
Tattoos without sense, which can be on each place - face, arms, legs and so on. When people make tattoos of hieroglyph on their body, but it does not mean anything except that it is a simply beautiful symbol. It's not normal.
RoD:
Some people say that the drive to acquire body art is addictive while others say it fails to meet the true definition of an addiction, simply calling it a passion. Is it really impossible to stop?
Jenia:
Yes, it's true. If you have made one tattoo, after some time you want more.
RoD:
Currently, tattoos became a new trend…
Jenia:
Yes, as I said already, many people don't think what this tattoo means for them and how it will look like in the future. They simply make it and that's all.
RoD:
What do you think we can do about it?
Jenia:
I never interfere with the lives of other people. If they like it, let them do it. But it would be strange if a person makes a tattoo on his face and later wants to become a diplomat or something like this.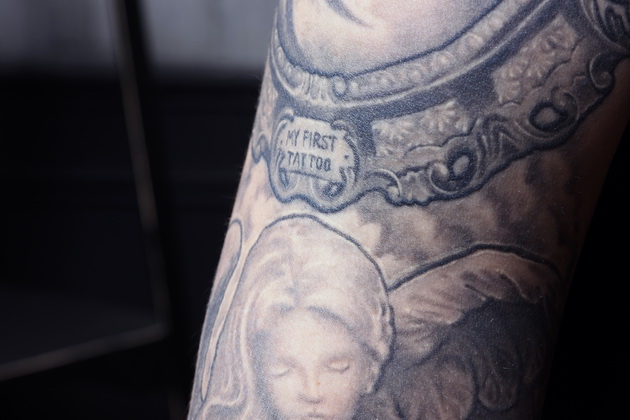 RoD:
This is our next question. Previously, many people believed that if you have a tattoo, you will be never be successful and will not find a "good" job. Have this state of mind and people's perceptions changed or are these prejudices still alive?
Jenia:
Recently, this has actually become easier from both point of view from employers and general public. The problem is that young people make tattoos without thinking, as I told you previously. And this often brings older people out of balance, when they see 17 years old boy with tattoos on face, arms, legs, nose and so on. It's fine when you are tattoo artist or rock musician or you do some art, it's your decision. But if that's all is done only to be cooler as you friends are, then it's terrible.
RoD:
Which advice would you give to people who are going to get their first tattoo? How to choose a tattoo artist? Colour or black and white? Any practical advice?
Jenia:
I would advise them to wait a little bit. If you want your first tattoo, ask somebody to paint it with henna or marker. Run around a bit, get used to it and think if you really want this.
Project by Daria Tessa and Daniela Vorndran, Interview by Daria Tessa & Iryna Kalenska
Photographer: Igor Radchenko
Make up: Inna Mokrova
Photo editing: Iryna Kalenska