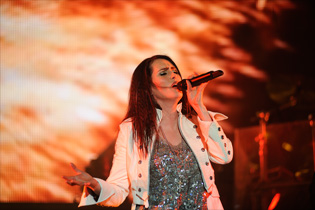 Kaapelitehdas, Helsinki, Finland
26th February 2014
Within Temptation

The last summer's visit of famous Dutch gothic band was held in a medium-size club, and only thanks to MUSE gig same day it was not packed. Earlier this year, a new material from the band came out, called 'Hydra', and Helsinki was chosen to start off the global tour in the album's support. Anticipating the large interest, a new venue was chosen - the largest indoor performance place in the city, called Kaapelitehdas, aka Cable Factory.
http://www.within-temptation.com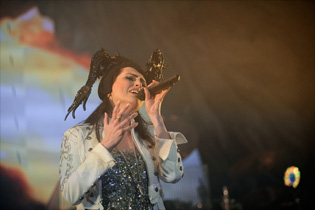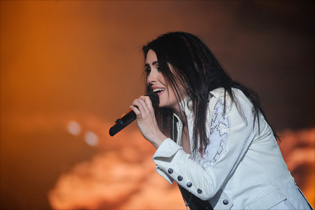 Music & Performance

The venue has a width of a large club and is a very "long" one, so many people can watch the show from afar and some, from atop too. The show indeed was very crowded. As a support tour for 'Hydra' album, the gig ought to be featuring a lot of new material. The show decorations featured rather complex stage constructions and a large screen behind the stage. The visual part was largely dominated by video-projections, and, in fact, that was it. The light on artists themselves was surprisingly strange. There were plenty of light devices that produced a great deal of moving light; yet there was no reasonable order or "artistic" quality to the light. Forget layered light that does wonders. It was done to present a brightly shining stage and not to light musicians. In fact, most of them were hidden in shadows and Sharon del Adel, the singer, was lit by a "light cannon" with white, constant and one-dimensional light.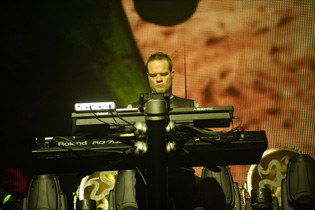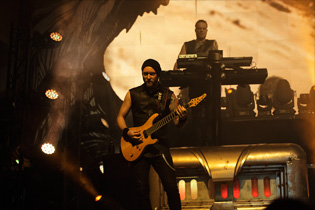 Providing that stage was full of smoke, the whole thing was more like a shining, colourful cloud, but without a chance to see something theatrically beautiful. Which is surprising, giving the resources the band has, and comparing to EPICA's show last year which incorporated considerably better lighting job with, apparently, lesser budget. During the first song Sharon worn an indistinct black headpiece meant to be a hydra, but by the time of second one it fortunately disappeared. Despite being a big venue, and rather successful gigs that took place here earlier, the sound was surprisingly strange too. The 'Hydra' material clearly features overproduced sound, that meant to be complex and provide a contemporary complex sound. Indeed, in recording it works just fine, but even from the place right in front of FOH stand it sounded... strange enough, with clear high frequencies and profound lower ones, and with an indistinct mixture in the middle.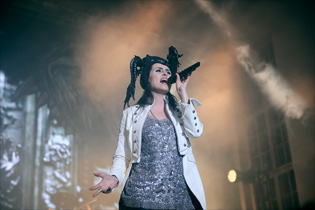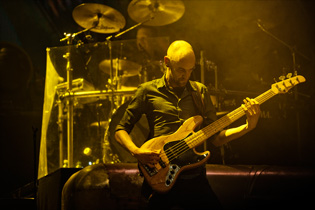 Do not know who is to blame here, venue or sound engineer, but this did not looked good. Things however get better on the second part of the gig, when it was time for old and famous songs. Still, these sound much better that night that the new material, and simple yet elegant melodies worked better with the acoustics. Let's hope that bad sound was there because of first gig of the tour and due to venue's acoustics, and will not repeat itself in other gigs. Also it would be disappointing if WT in future will sacrifice the show value towards pop-like solutions, where nobody care whether the show produced carefully or not, as the spectators will come to show anyway to see their idol. Being a huge fan of old masterpieces of the band, and looking forward to descent listening of new album, I hope the band will not go some wrong way.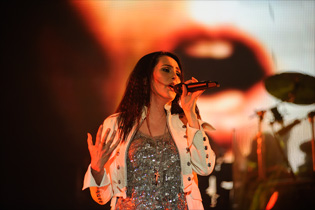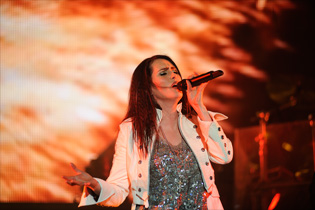 Setlist

Dragon (Short Movie)
01. Let Us Burn
02. Paradise (What About Us?)
03. Covered By Roses
04. Silver Moonlight
05. Edge of the World
Mother Maiden (Short Movie)
06. Faster
07. In the Middle of the Night
08. Shot in the Dark
09. Dangerous
10. Tell Me Why
11. And We Run
Elements Intro
12. See Who I Am
13. Stand My Ground
14. Our Solemn Hour
15. Angels
16. Mother Earth
---
17. Memories
18. What Have You Done
19. Summertime Sadness (Lana Del Rey cover)
20. Ice Queen
Rating

Music: 8
Performance: 5
Sound: 5
Light: 5
Total: 6 / 10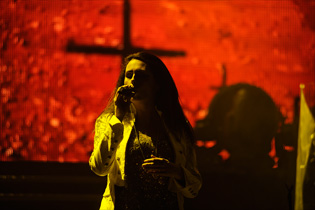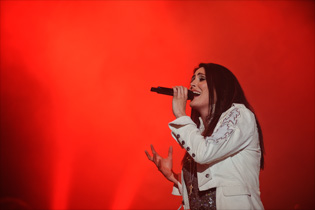 All Photos by Askar Ibragimov