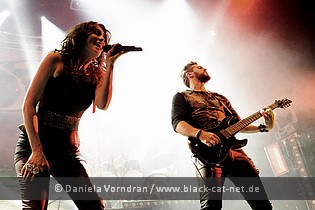 E-Werk, Cologne, Germany
17th November 2011
Within Temptation, Anneke van Giersbergen

The day before, WITHIN TEMPTATION already played a sold-out show at E-Werk in Cologne. The demand was that big there had to be a second date at the venue which was packed as it can be with fans wanting to enjoy themselves. Also this show was sold-out long before…



Anneke van Giersbergen

ANNEKE VAN GIERSBERGEN is most notable for being the singer of Dutch band THE GATHERING she left in 2007 to work with her own band AGUA DE ANNIQUE with whom she soon released the first album 'Air' the same year. 2009, it was mutually decided to put her more into the spotlights of everyone. That's the reason why the second album 'Pure Air' carries her name. The next and third album by the name of 'In Your Room' came out the same year. http://www.annekevangiersbergen.com / http://www.myspace.com/annekevangiersbergen / https://www.facebook.com/pages/Anneke-Van-Giersbergen/17778084215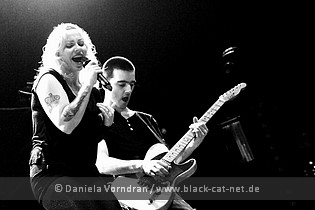 Music & Performance
Although I'd have loved to see an acoustic performance of Anneke, she brought her band this time and after a little intro they kicked it right off with the upbeat 'Fury'. While on stage there was a lot of movement to spot you couldn't really say the same about the audience. Or so it seemed. Hardly any reaction from where I was standing. Perhaps they were all stunned by the amazing voice. The rather contemplative 'My Boy' continued in the upbeat realm and gradually some people in the crowd were being infected by the fun all the band members obviously had on stage. 'Feel Alive' had a little more punch in stock for the people before 'You Want To Be Free' and 'Witnesses' ended the rather short set.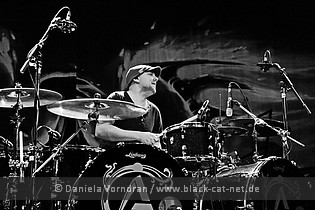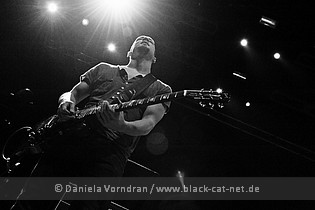 Setlist
01. Intro
02. Fury
03. Saturnine
04. My Boy
05. Feel Alive
06. You Want To Be Free
07. Witnesses

Rating
Music: 7
Performance: 9
Sound: 7
Light: 7
Total: 7.6 / 10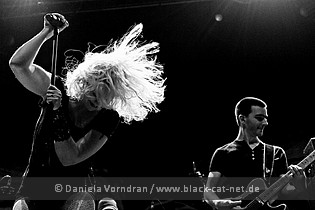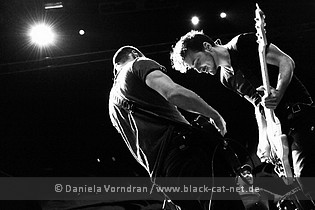 Within Temptation

WITHIN TEMPTATION is not a band that needs much introduction. The Dutch Symphonic rockers have wowed enough audiences out there already and it can be safely said that they are one of the representative bands of the genre. Founded 1997 in Dutch Utrecht, WITHIN TEMPTATION released the debut album 'Enter' already one year later. With their bombastic Goth Metal, the band immediately conquered the hearts of people all over Europe. This year they added 'The Unforgiving' to their achievements, released in March 2011. After a break since Sharon gave birth to another baby, the full headliner tour was finally now following. WITHIN TEMPTATION is Sharon den Adel (vocals), Stefan Helleblad (rhythm guitar), Ruud Jolie (guitar), Jeroen Van Veen (bass), Martijn Spierenburg (keyboards) and Mike Coolen (drums). http://www.within-temptation.com/ / https://www.facebook.com/wtofficial / http://www.myspace.com/withintemptation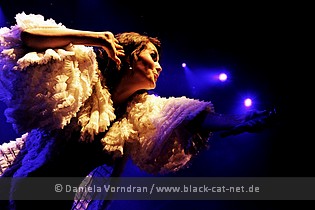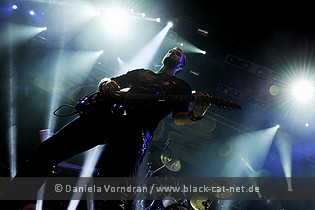 Music & Performance
From there it was just a few more minutes of waiting time to the main act. Having a very successful new album out with 'The Unforgiving' the emphasis was on tracks from that album. Starting with a creepy introduction short film to get the folks in tune, 'Shot In The Dark' saw the band entering under tumultuous applause, highlighting Sharon's trademark vocals. The main point of criticism: The vocals many times were jarring and flat. Don't know if it was too little practicing or a cold. A band with so much emphasis on the female vocals should be exercising a little more care with that though. Couldn't be too good for the vocal chords either if it really was a cold. Back to the show now. No complaints in that department.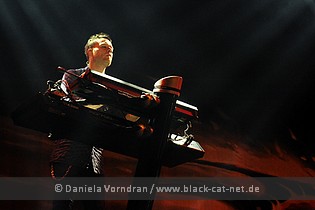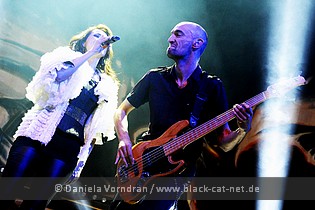 The band showed they were totally up for it and so did the audience, which needed very little encouraging to freak out here or sing along loudly at another point. But even in a situation like that which is ideal in a live setting, there's still a chance for a boost. Quite frankly I didn't expect the mood to up the way it actually did. Especially for 'What Have You Done' or 'Mother Earth' that did close the main set that evening they were almost literally blowing the roof off the building. Even though the reactions were excited to say the least there was just a "little" encore block granted. 'Stairway To The Skies' made a worthy closer to the second of two shows at Cologne's E-Werk.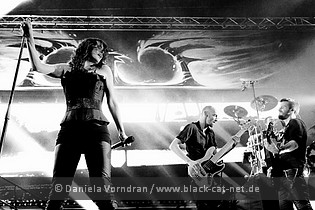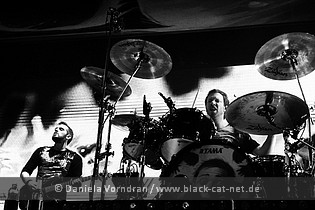 Setlist
01. Shot In The Dark
02. In The Middle Of The Night
03. Faster
04. Fire And Ice
05. Ice Queen
06. The Howling
07. Our Solemn Hour
08. Stand My Ground
- Sinéad (Short Movie) -
09. Sinéad
10. What Have You Done
11. Iron
12. Angels
13. Lost
---
14. See Who I Am
15. Mother Earth
---
16. Stairway to the Skies

Rating
Music: 8
Performance: 7
Sound: 8
Light: 7
Total: 7.2 / 10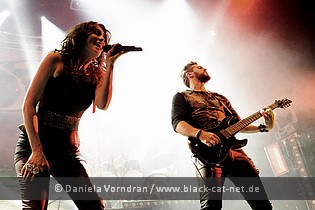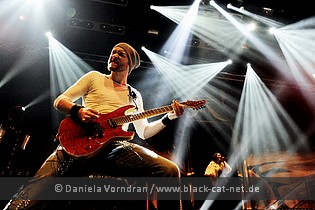 All pictures by Daniela Vorndran (http://www.vorndranphotography.com / http://www.black-cat-net.de/ / http://www.myspace.com/vorndranphotography / http://www.facebook.com/blackcatnet)



See also (all categories):