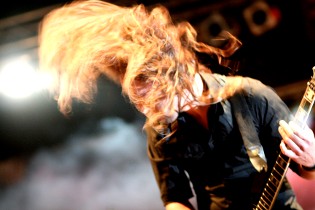 Dessau, Germany
21st - 23rd May 2009
Legacy Fest Day 1: Hellsaw, Varg, Keep of Kalessin, Sabaton, Misery Speaks, Kataklysm, Excrementory Grindfuckers, Die Apokalyptischen Reiter and Satyricon


When we arrived on Wednesday late in the afternoon, we found to the place of event without any difficulties (not like non-local visitors who didn't knew the surrounding that well and unfortunately the organizers didn't think of putting signs up) and lined ourselves up into a three-lane row of cars. A little more than an hour later we finally passed the gates to the camping ground, although the lines weren't that long. The reason was the very strict inspection of every vehicle's interior and trunk for any traces of glass-items which had to be left at the entrance. And of course, they didn't left us out and so, our beer had to stay out off the festival.


Finally being on the camping ground, we searched for a place free of sheep fences and started unpacking. The site in general wasn't that big, so you didn't have to walk more than 5 minutes from any point to the festival entrance. After that we put our tent and the pavilion up which was necessary because the weather really didn't like us. Soon, the biggest thunderstorm I have ever seen in my life started right over us. And like it wasn't enough, our tent had some lacks and turned into a little lake. Really nice... but we still managed it to survive the first night. After getting some information about the upcoming weather next morning, we decided to stay there, get a new tent and see some nice bands.
Hellsaw

HELLSAW emerged in 2003 from the minds of two friends who still today form the nucleus of the band: Aries on vocals, bass and guitars, and Svart on drums. In 2003, the band's first demo, 'Sins of Might', was released to very good reviews, and was followed up by the release of the CD a few months later. 'Spiritual Twilight', the first full-length album from the band, appeared in 2005 and firmly established HELLSAW's place in the European Underground. The band continued to build on its success over the following months by touring all over Europe. HELLSAW signed to Napalm Records in 2008, and the band's third full-length album 'Cold' was released in February 2009. The band continues to play live regularly both in venues and at festivals.
http://www.hellsaw.com/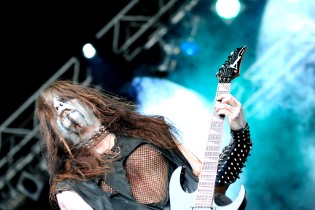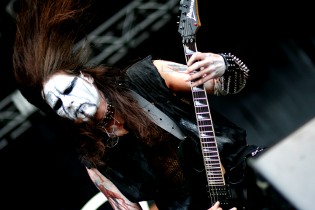 Music & Performance

With only 30 minutes to fill, the Austrian Black Metal combo HELLSAW became our first impression of what this festival had promised to offer and as always when a band has such limited amount of time, it has to convince the audience from the start - and so did HELLSAW. I have to admit that I absolutely wanted to see this band, because the albums they created with 'Phantasm' and 'Cold' are two of the black metal outputs I enjoyed the most recently. But the CDs lack of cause the optical element of five corpsepainted guys entering the stage with a pissed-off attitude, armed to the teeth with spikes and leather, ready to play and pose. With a spat out "Black Metal" they started their raw, but overall atmospheric journey. Especially the song 'Ache' stood out as superb example of the second aspect mentioned. Unfortunately the gig ended too soon, leaving no great impression regarding stage action but musical quality and it's execution.
Setlist

00. Intro
01. ---
02. Der Harzwald
03. The Inner Revenge Of Nature
04. Moonrites Diabolicum
05. Ache
06. I Saw Hell
Rating
Music: 8
Performance: 7
Sound: 6
Light: - (daylight)
Total: 7.3 / 10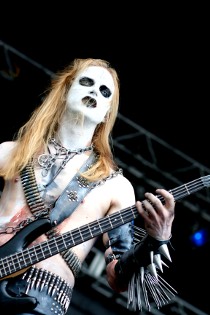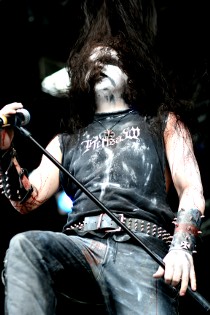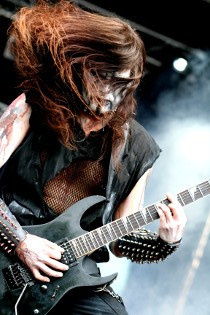 Varg

The Viking Metal band VARG was founded in 2004 and passed through some line-up changes up to 2007. In June 2007, they released their first album 'Wolfszeit' which is also the name of their festival which was established in August 2007. It developed to the first Viking/Black Metal Open Air in Germany and with bands like FINNTROLL, HELRUNAR, THYRFING and FINSTERFORST it definitely became one of the best festivals for Pagan Metal fans during the summer.
http://www.varg.de/
Music & Performance

After a short two-band-break we left the camp on time to see some always welcome Pagan Metal. But since we were not the only ones who thought so, we had to enqueue again to wait for the full-body-scan by the securities. As you might guess at this point: There was no press entrance which was a big flaw in organization, but the lines usually weren't that long, so we stood it. The next deficit was more grave: As we finally got to the main stage, we theoretically still had 5 minutes till the band should have started, but for any reason they just finished their first song the moment we were able to have a look at them.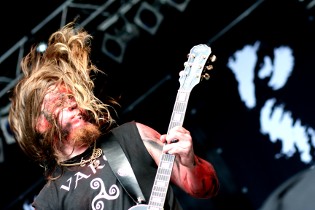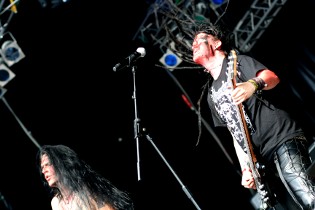 Anyway, VARG seemed very motivated to delivered a great performance - which was underlined by several torches and dislays - and put a lot of energy into it. Somehow grouppainting one's bodies must be some kind of fascinating activity, so after black and white pandas (HELLSAW) we now had to face the infamous red and black "Battle Paint", which I consider the more ridiculous one. Because of the exit of singer, guitarist and songwriter Morsan I was skeptical but excited to hear and see the old songs performed on stage, but the new formed band did a really good job on these ones (unfortunately not with Ingo Tauer in 'Donareiche'), as well as the new from the 'Schildfront' split with Minas Morgul. Except from two little timing issues, VARG delivered a very enjoyable gig. Thank you.
Setlist

01. Schildfront
02. Skål
03. Donareiche
04. Wolfszeit
05. Das Alte Feuer
Rating

Music: 8
Performance: 8
Sound: 6
Light: - (daylight)
Total: 7.7 / 10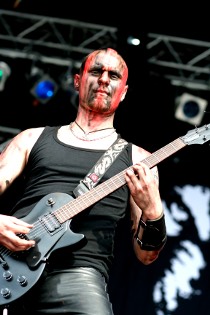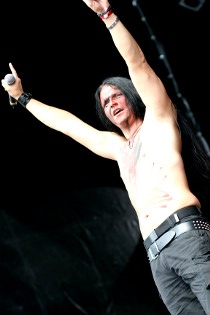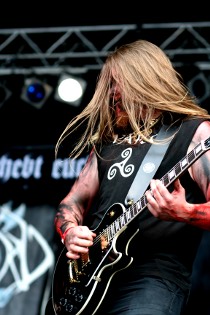 Keep of Kalessin

KEEP OF KALESSIN is a black metal band from Trondheim, Norway formed in 1993. The group's early lineup consisted of Ghash on vocals, Obsidian C. on guitars and keyboards, Warach on bass, and Vyl on drums; they released two albums under this line-up in 1997 and 1999 before splitting up.
Obsidian C. then toured with SATYRICON, but revived the KEEP OF KALESSIN name for a 2003 EP. In 2006 he reconstituted the group with a new lineup and released a third full-length, 'Armada'. Their fourth album 'Kolossus' was released on June 6, 2008. They take their name from Ursula le Guin's 'Earthsea' series of books, where Kalessin is the name of the arch-dragon who is the bearer of the Earthsea world.
http://www.myspace.com/keepofkalessin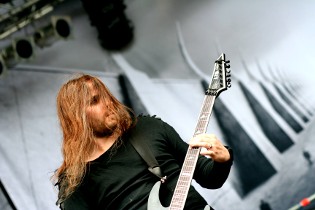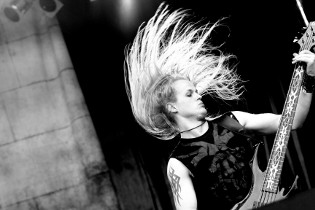 Music & Performance

I have to admit I didn't knew KEEP OF KALESSIN that well before the live experience that day, although they already have four highly praised full-length albums in their back catalog. So the four Norwegians had to convince me of their quality by their live performance. The stage setting was well thought through with similar appliqued clothes, a full-stage backdrop artwork matching their latest release 'Kolossus' and a fan near the center microphone turned on, guaranteeing an always fine look by flying hair. The aural impression was great as well. In the beginning I thought I would miss the second guitar mostly providing a richer sound, but it was no need for one here. The next 45 minutes contained some great pieces of technical black metal with vocals sometimes performed by all three front-row members. To the end of the gig time seemed to run out. They announced to have "only 5 minutes for a 7-minute-song" so they would play it "twice as fast". Maybe mathematically unreasonable, but technically excellent with some guitar-solo-played-behind-head-action and a very decent drum solo. Conviction succeeded.
Rating

Music: 8
Performance: 8
Sound: 6
Light: - (daylight)
Total: 7.7 / 10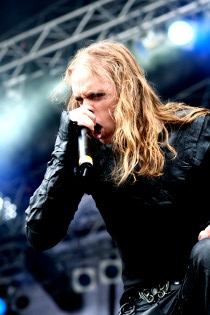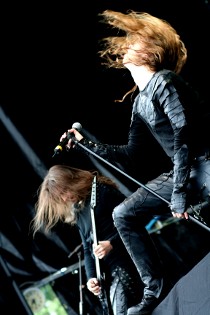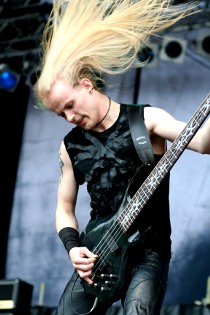 Sabaton

SABATON was formed in 1999. The band decided to sign up for an Italian label who internationally released the promo CD 'Fist of Fight' - including cover artwork by the legendary Ken Kelly (MANOWAR) - with the intention to promote forthcoming releases. As a follow up to 'Metalizer' (2007), in May 2008, SABATON released 'The Art of War'. An album inspired by the influential book by Sun Tzu. The album contains the singles 'Cliffs of Gallipoli' and 'Ghost Division'. The album has received extremely positive reviews so far.
http://www.sabaton.net/
Music & Performance

Next stop: World War 1, 2 and 3! Actually a too serious subject for such great music SABATON have banned on CD and which was waiting to come alive next. Corresponding to the topic the Swedish stormed the stage dressed in camouflage and armed with their instruments. Especially singer Joakim Broden, who looked to most military with his flat Mohawk haircut, protection vest put on and mirrored sunglasses, seemed so energetic and hyped, as if he was looking forward to this one special gig for the last 10 years - and this was transferred to the audience and supported by his announcements which made a lot of fun and resulted in a lot of praising of the German beer culture and such great lines like "The next song is about war..." and "The next song is about the guy that wakes always before me.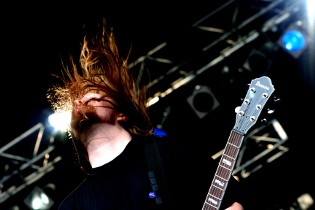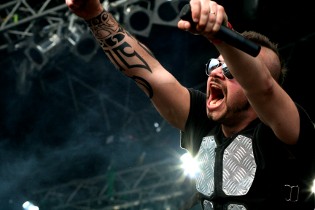 It's a song about my penis and it's called: The rise of evil". And these songs were performed very well. The keyboard, which in my ears is a very sensitive instrument when it comes to the fine line of "barely audible" and "way too dominant", was just right and mixed in with the guitars, the bass, and the drums (which toms were cut down to a minimum of one stand tom) perfectly (At least at my position in the center of the 4th row, of which more later). SABATON also had to finish sooner than they thought with a sped up combination of their songs 'Metal Machine' and 'Metal Crüe'. For me, this one hour gig was the best of this day, if not of the whole festival.
Setlist

01. Ghost Division
02. The Art Of War
03. 40 : 1
04. Cliffs Of Gallipoli
05. Attero Dominatus
06. The Price Of A Mile
07. Into The Fire
08. The Rise Of Evil
09. Panzer Battalion
10. Primo Victoria
11. Metal Machine/Metal Crüe
Rating

Music: 9
Performance: 10
Sound: 6
Light: - (daylight)
Total: 8.8 / 10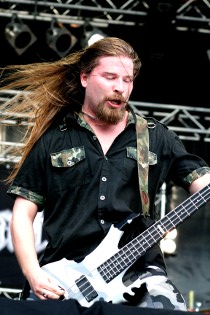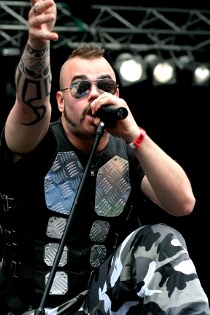 Misery Speaks

MISERY SPEAKS unleashed their self-titled debut album in summer 2006, immediately sparking the interest of fans and media alike in a hopelessly flooded market. Following numerous shows, with luminaries of the scene, such as CALIBAN, HEAVEN SHALL BURN and NEARA, and an intense song-writing process, January 2008 has seen the arrival of their second album, 'Catalogue of Carnage', set to take MISERY SPEAKS to a higher level. Backed by their new label, the renowned label DRAKKAR, the band from Münster / Germany present themselves more confident and convincing than ever and have come up with an album that you'd expect to hear from a Scandinavian rather than a German act! The sound speaks for itself and says more than a thousand words: melodic death metal in perfection!
http://www.miseryspeaks.com/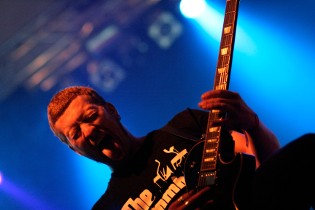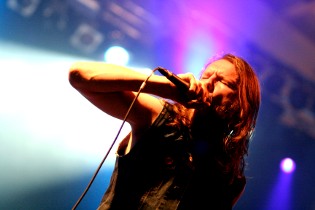 Music & Performance

Since I really liked this band when I saw them last year at the With Full Force Festival, MISERY SPEAKS was definitely one of the bands I was looking forward to. The growls were pretty deep and strong and the guitars just matched perfectly. At the beginning of the gig, the band just stood on stage doing some stuff and I thought "Hmm, where did their great and enthusiastic performance go?" And I was relieved when they finally started moving on stage. After the first couple of songs, they were back in shape and just great to watch. The sound was pretty ok which was surprising since they played on the smaller stage in an old barrack. Although it was already 7 p.m., only a hand full of people stood in front of the small so-called "Stardust Stage" which was supposed to support newcomers. If you ask me, it was a pity because a lot of people missed a great young band.
Rating

Music: 9
Performance: 8
Lights: 7
Sound: 7
Total: 8.1 / 10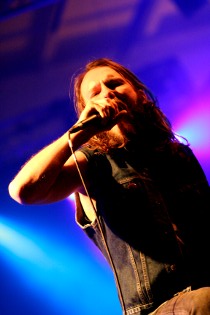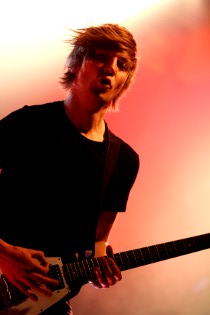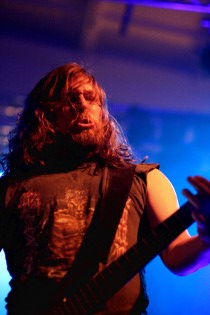 Kataklysm


KATAKLYSM is a Canadian death metal band. They come from Québec and were signed to Nuclear Blast in 1993. Ever since they have been re-signed there for four times and released eleven albums, two of them live and two of them at Hypnotic records. They are best known for their aggressive drum parts.
http://www.kataklysmrocks.com/
Music & Performance

KATAKLYSM always impressed me with an excellent and tight interaction of guitars and above all drums, packaged to several great and grooving death metal outputs with a great production. With high expectations I looked forward to this gig and I got really disappointed. First of all and mostly to blame was the sound experience. As mentioned above everything sounded fine, as long as you were happy to stand in the first third of the FOH from the stage - generally a bit to quiet but the guitars were sharp and differentiated and the bass drum was clearly audible.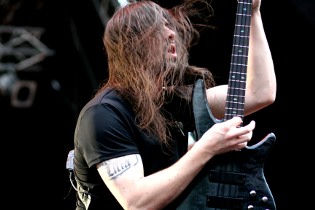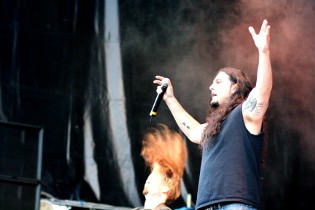 But since I was not the only one who wanted to see the Canadians this day, I placed myself in the second third which turned out to be a fatal decision. The more you got to the back, the more washed-out and mushy became the guitars (and it was only one there) and the less hearable the bass drum, if no trigger was used. So the audio experience was flawed. But that's not the only thing that bothered me. After all the energy I noticed on the last non-studio output 'Live In Deutschland', I found it quite boring what these four guys delivered on stage. They are very skilled and the usual tightness was present as always but I have to admit the songs aren't that interesting without the high-fidelity quality, although some of my favorites like 'In Shadows and Dust' were played. In my opinion Maurizio (voc.) could make up for it by all his energy he put into the vocal performance and the encouragement to form some mosh-pits and walls of death in the audience. But those who obliged had their fun, I preferred to visit the EXCREMENTORY GRINDFUCKERS on the Stardust Stage.
Rating

Music: 6
Performance: 5
Sound: 6
Light: - (daylight)
Total: 5.7 / 10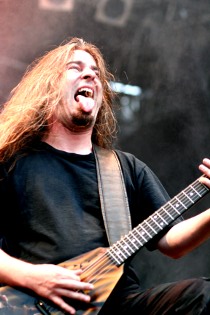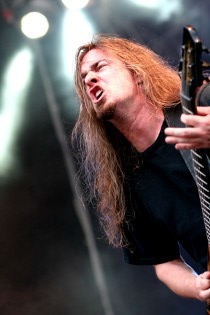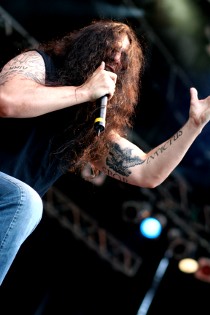 Excrementory Grindfuckers

The EXCREMENTORY GRINDFUCKERS was originally created of H!M (vocals) and Rob (guitar) in 2001 as a recording project. They describe their music as followed: "Excrementory Grindfuckers are a band which doesn't take anything seriously especially the band itself. If you want to listen to pure grind and nothing but grind, you can check out one of those 3359583 grindcore-bands out there. If you like music that is just meant to be strange, entertaining or at least funny, there's a chance you might like us."
http://www.excrementory.de/
Music & Performance

Shortly after KATAKLYSM I changed the stage to see one of the funniest bands I know: EXCREMENTORY GRINDFUCKERS. My luck: I was there early, in fact almost 20minutes. They started their first song 15minutes too early and their first 3 songs consisted of about 7minutes of music. So, all the photographers who showed up in time missed the time to take pictures completely.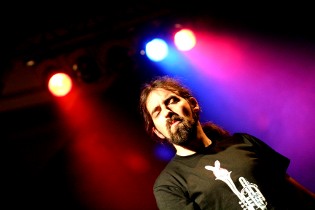 Like I thought before, they showed some fun on stage, at least most of the time. But sometimes I thought, they were just arrogant, especially during the beginning of the show. Later, their attitude changed into just fun which was great to watch since the audience had at least as much fun as the band itself had. With classics like 'Looking for Grindcore' and 'Final Grinddown' they showed some of their older stuff and gave the fans a chance to sing along. With 'Heimscheißer' and 'Halb&Halb' they also played some of their own songs which was nice since most people only know their covers of famous songs.
Setlist

01. Back in Anal / Wieder da
02. Excrementory Grindfuckers
03. Karamba
04. Nein, kein Grindcore
05. Du hörst kein Grind
06. Looking for Grindcore
07. Heimscheißer
08. Halb & Halb
09. Samballerei
10. Grindin'
11. Grindcora
12. Vater Morgana
13. Das bisschen Grindcore
14. EIn bisschen Grind muss sein
15. Picknick im Zenit metaphysischen Wiederscheins der astralen Kuhglocke
16. Final Grinddown
17. Staatsgrind Nr. 1
18. Es gibt kein Grind auf Hawaii
Rating

Music: 9
Performance: 8
Lights: 7
Sound: 7
Total: 8.1 /10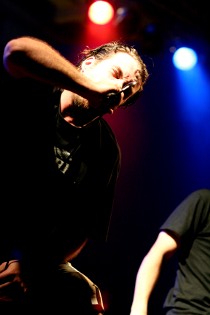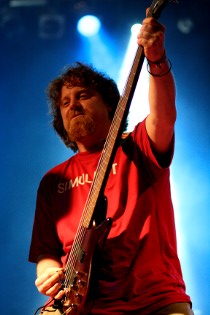 Die Apokalyptischen Reiter

DIE APOKALYPTISCHEN REITER is a Weimar, Germany based heavy metal band signed to the Nuclear Blast label. Their name translates to "Horsemen of the Apocalypse". Their original style (featured on their releases up to and including 'Allegro Barbaro') consists of death/thrash metal blended with melodic compositions establishing a more epic mood than usual in traditional death metal. In later albums, the death metal influence has declined, resulting in less chaotic composition (often centred around a verse and chorus with a bridge and solo), more constant tempo, longer songs and clean vocals (although not exclusively), resulting in a more polished and accessible sound. They use lyrics in both English and German with a shift from mainly English songs to more German ones on recent albums.
http://www.reitermania.de/
Music & Performance

The first thing I noticed when they entered the stage was that Lady Cat-Man (former guitar) was gone. I asked myself "What happened? Why is she already gone?" Up to now, no one could give me an answer to that. On their website is only stated that they have a line-up change. Ady, their former guitar-engineer, now replaced Lady Cat-Man. After the first surprise, they started with the opener from their current album 'Licht' which is also called 'Licht'. At this point, my only hope was basically that they won't play the complete set from the album but the second song 'Revolution' threw all my concerns away.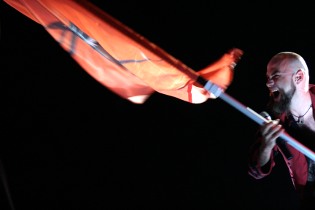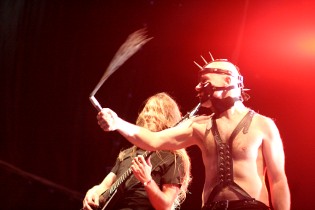 And even became better with songs like 'Riders on the Storm' and 'Seemann' which are some of my favorite songs of this great band. Those were also the ones where the people sang along the most. Even from far away at the camping ground you could hear the people how they sang the words of the songs. After the show I thought of the last time I saw the band. It was during their "Licht"-Tour last fall. And then, I noticed it was basically the same: same songs, same outfits, same show but: new guitarist. All in all, it was a good performance (like they always do) with some nice songs and a great mood. And after some issues with the sound at the beginning, it got better during the concert and since they were one of the few bands with a trigger, the sound actually became pretty good.
Rating

Music: 8
Performance: 8
Light: 6
Sound: 6
Total: 7.4 / 10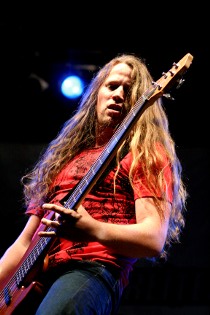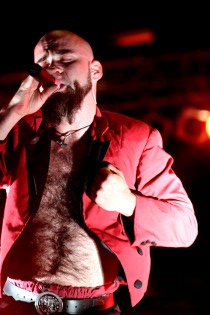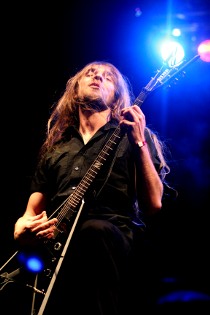 Satyricon

SATYRICON was founded in 1990 under the name ECZEMA. They aroused attention with their debut album 'Dark Medieval Times' combining Black Metal with acoustic guitars and flutes. The next two albums 'The Shadowthrone' and 'Nemesis Divina' turned to more traditional Black Metal, SATYRICON were one of the first Black Metal Bands to sign a deal with a major label. With their already sixth studio album 'The Age of Nero' they now return to the scenery.
http://www.satyricon.no/
Music & Performance

The last band of the day and also headliner of the festival was SATYRICON. With a whole of six people the actual duo entered the stage to spread some coldness in the form of black metal. Guitarist Satyr confined himself to providing to vocal part and let the others do the parts on the strings, Frost whereas did his usual part on the drums - yet the attention was not divided equally: While Satyr had a spotlight following his every move and gesture, Frost got the attention not even during his drum solo and had to remain in the dark. However, atmospherically fitting the night was enlightened in cold blue as they started their journey through their musical work, with focus on their recent album 'The age of nero'.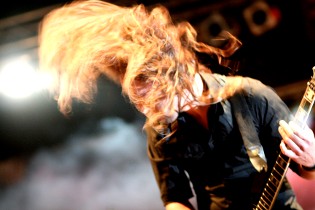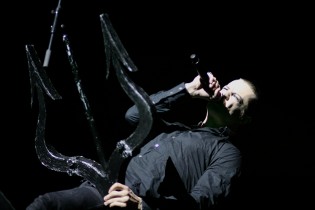 As much as I like the music of SATYRICON, if I didn't knew better, I would have asked myself why they played the same song several times since this material often follows the same structural patterns. The audience agreed with me so far that they always were cheering when an older song was announced and were probably also waiting for their greatest hit 'Mother North', to which we had to wait, of course, 'til the encore. For one and a half song Satyr even traded his Satyricon-Y-shaped microphone stand for a guitar to support the others in the song 'The pentagram burns' which also can be considered as one of the highlights. Overall SATYRICON made a very good appearance on the Legacy Fest with a nice set of 75 minutes of more or less black metal.
Setlist

01. Repined Bastard Nation
02. The Wolfpack
03. Black Crow On A Tombstone
04. Now, Diabolical
05. Filthgrinder
06. Forhekset
07. The Rite Of Our Cross/The Sign Of The Trident
08. Die By My Hand
09. The Pentagram Burns
10. K.I.N.G.
11. Fuel For Hatred
12. Mother North
Rating

Music: 8
Performance: 8
Sound: 7
Light: 6
Total: 7.6 / 10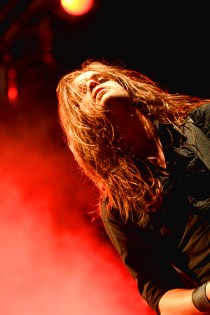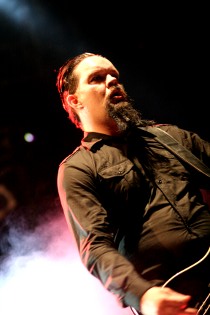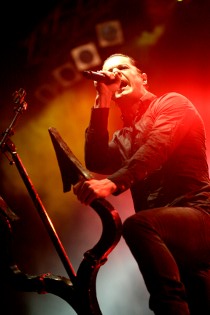 All pictures by Anne Kuhfuß
{jos_sb_discuss:18}