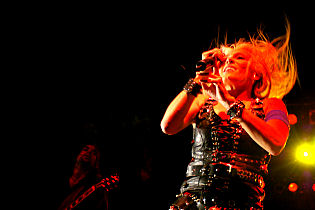 Neue Stadthalle, Langen, Germany
19th December 2009
Noisegate Metal Christmas: Doro, Grave Digger, Saltatio Mortis, Krypteria, Sister Sin, Ingrimm, Cast In Silence, Dead Means Nothing

It was freezing cold on this Saturday afternoon. Thus, 17 degrees below zero and constant snowfall prevented many fans from arriving too early at this year's NOISEGATE CHRISTMAS METAL festival which should take place at the community hall in Langen. According to the organisers, the admission should be proceeded at 3pm, but there was a 30-minute delay. In the meantime, the attendees gathered in the foyer and had a look at several merchandise stands selling shirts, jackets, belts, records and all that stuff. Fortunately, a further stand offered various drinks and hot coffee I couldn't resist. When the doors were finally opened at 30 minutes past 3pm, the small crowd was pouring into the hall that came up with an impressive stage including a lot of equipment and a promising lighting system. Within some minutes, the first act DEAD MEANS NOTHING appeared on stage - it was the guys´ turn to let the show begin.
Dead Means Nothing

The three-piece originally consisted of Mickey Rude (vocals, guitar), Mick O'Cain (bass, vocals) and Django (drums). Actually, lead singer Rude used to be a drummer, but he became responsible for the vocals and guitars after his motorbike accident in 1996. In 1998, they delivered the debut recording `Make It Evil´ and went on tour. One year later, DEAD MEANS NOTHING broke up and was revived in 2006. Their second long-player entitled with `Nothing Of Divinity´ was released in this year's spring.
http://www.saol-music.com/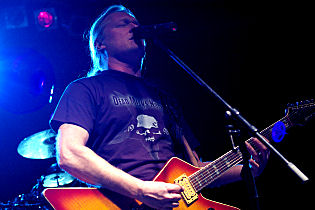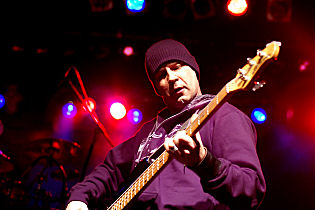 Music & Performance

If the band was frustrated due to the only three rows of listeners and the fact that their set had to be abbreviated, they didn't let it show. Instead, they tried their best to provide an entertaining opening programme with dirty old-school metal including some Rock'n'Roll-influences in the style of MOTÖRHEAD. Songs such as `Back in Town´ and `Loud'n'Proud´ didn't make the sparse audience go wild, though the formation received decent applause. Perhaps, it was simply way too early in the afternoon to create a worthy concert feeling.
Rating

Music: 6
Performance: 7
Sound: 7
Light: 6
Total: 6.5 / 10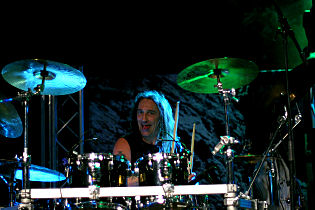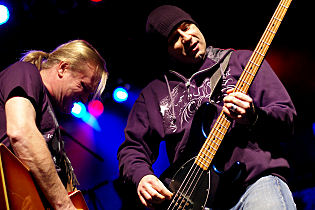 Cast In Silence

The young German band from the Harz Mountains was formed in 2006. According to their MySpace-site, they introduce themselves as a contemporary metal formation bridging the gap between traditional and post-modern metal style. The debut album `First´ was released in 2007. In October and November of the same year, they went on their first European tour with NOCTURNAL RITES and THUNDERSTONE. Since this year's spring, CAST IN SILENCE has been consisting of lead vocalist Michael Lowin, drummer Niklas Kahl, bassist Mario Thiele and the guitarists Stephan Wegner and Jens Martin Baumgartner.
http://www.myspace.com/castinsilence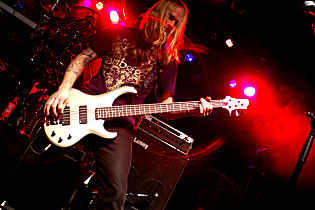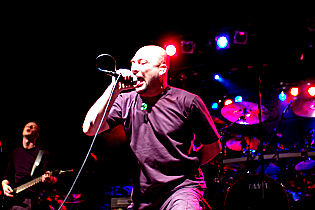 Music & Performance

In my opinion, CAST IN SILENCE turned out to be the surprise of the day. Connected to heavy guitar riffs, punching drums and an energetic stage performance, the band's melodic rock was finally able to captivate the listeners who had been restrained at first. Front man and lead singer Michael Lowin, who really has an exceptional voice, was moving and jumping like a berserk while he was intonating all in all seven songs. The other guys also did a good job and received well-deserved applause. I soon enjoyed the rousing appearance as well as the great pieces such as `Saitraya´, `Misery Inn´ and - last but not least - an innovative cover version of the well-known 80´s classic `Voyage, Voyage´ that had been originally sung by the French pop formation DESIRELESS.
Setlist

01. Two Minutes Hate
02. Last Straw
03. Saitraya
04. Misery Inn
05. A Malady for Mother Earth
06. Take a Stand
07. Voyage, Voyage (DESIRELESS cover)
Rating

Music: 8
Performance: 9
Sound: 8
Light: 7
Total: 8.2 / 10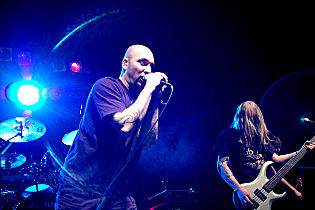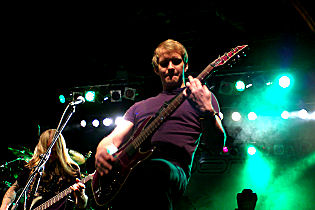 Ingrimm

The Bavarian medieval metal band INGRIMM was founded in 2005. Up to now, the formation has released two long-players, `Ihr sollt brennen´ (2007) and `Todgeweiht´ (2008). Compared to related artists, INGRIMM´s soundscape also includes traditional instruments as well as lead singer Fenris´ black metal shouts and a rather hard and darker style in general. The five-piece consisting of Fenris, Alex Haas (guitar), Christian "Hardy" Hadersdorfer (bagpipe, hurdy-gurdy), Robert "Mugl" Ruidl (bass) and Klaus Rosner (drums) has already had appearances with SCHELMISH, COPPELIUS, FEUERSCHWANZ and SALTATIO MORTIS. Moreover, INGRIMM played at several festivals and went on tour with BATTLELORE in this year's November.
http://www.ingrimm.com/
/
http://www.myspace.com/rockgrimm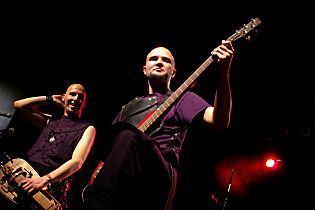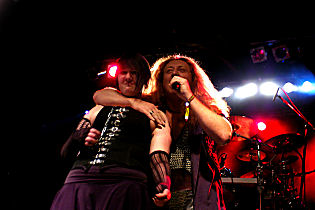 Music & Performance

Before the band entered the stage, I had already noticed some attendees wearing shirts with the INGRIMM logo. Indeed, the hall was better filled when the medieval rockers from Regensburg ignited the first bomb by presenting `Todgeweiht´. Naturally, the guys were dressed with appropriate clothes referring to the Middle Ages. Front man and spokesman Fenris, whose eye-catching sandy hair made him look like a Viking warrior, screamed the opening song `Todgeweiht´ at the top of his lungs whilst his colleagues devotedly played their instruments. Though I had known that INGRIMM is rather a medieval metal representative than a medieval rock band, I was surprised how punchy and uncompromising their pieces were. Nevertheless, the catchy songs were easy to sing along and made the crowd get into party mood. When Fenris announced the upcoming song `Teufelsweib´, he asked the audience for help as he needed to be supported by a female person who should represent the sung about she-devil. Firstly, the chosen one was a bit shy, but then she turned out to be a brave girl who was even dancing across the stage. After the Nordic drinking song `Skudrinka´ and the final `Sag mir nicht´, the way too short appearance was over and INGRIMM left the stage receiving great applause and an enthused crowd wanting for more.
Setlist

01. Todgeweiht
02. Lumpenpack
03. Teufelsweib
04. Der letzte Tanz
05. Skudrinka
06. Sag mir nicht
Rating

Music: 7
Performance: 8
Sound: 8
Light: 7
Total: 7.5 / 10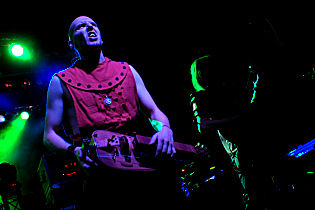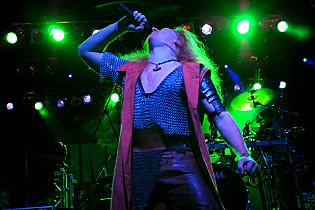 Sister Sin

There aren't that many information about the female-fronted band from Sweden. SISTER SIN is Liv (vocals), Dave (drums), Jimmy (guitar) and Benton (bass). Combining old-school Rock'n'Roll with some metal-influences, the hard rock formation from Gothenburg started its career in 2002 and released the first album `Dance of the Wicked´ one year later followed up by tours with CRADLE OF FILTH, DORO and W. A. S. P. Last year, SISTER SIN unleashed the most recent album `Switchblade Serenades´ as well as the EP `Smash the Silence´. According to their MySpace-profile, the four-piece will deliver a new album in 2010.
http://www.myspace.com/sisterssin
/
http://www.sistersin.com/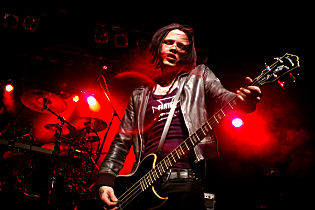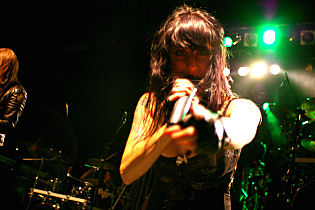 Music & Performance

I guess that many listeners didn't know SISTER SIN as the hall got emptier after INGRIMM had left the stage. I also had no idea of what to expect from the upcoming performance, respectively the musical style of SISTER SIN. When the male musicians came on stage, the audience was firstly reserved. The first bars of the opening song `Beat the Street´ resounded through the community hall and suddenly turned it into a boiling pot. At the latest, when sexy front woman Liv rushed onto the stage, the listeners were definitely hooked and couldn't take their eyes off the powerful black-haired lady dressed in leather. Besides the as seductive as roaring vocals and her striking look, the front woman provided an amazing show: Banging her head, crawling over the floor and showing passionate movements, Liv was the focal point of the appearance. The three guys, some of them with flashy make-up, also radiated a rock star-worthy in-your-face attitude with some genre-typical posing. SISTER SIN´s melodies and arrangements can be compared to good old 80´s material in the tradition of MÖTLEY CRÜE and WARLOCK. After seven songs including `Make my Day´ and `Love / Hate´, the party was over and left a wildly applauding crowd.
Rating

Music: 8
Performance: 8
Sound: 8
Light: 7
Total: 7.9 / 10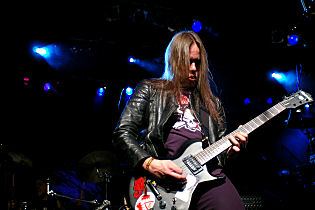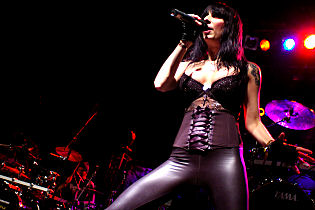 Krypteria

When KRYPTERIA from Aachen was formed by guitarist and producer Christoph Siemons, S. C. Kuschnerus (drums) and author Wolfgang A. Link in 2003, it was intended as a musical theatre project. After KRYPTERIA had released a self-titled double album in 2003, the song `Liberatio´ became famous for the background music of a TV-spot appealing for donations for the victims of the tsunami disaster that hit Southeast Asia in 2004. In 2005, German-Korean singer Ji-In Cho replaced the former singer Silvia Gonzalez Bolivar and was responsible for the female vocals on the album `In Medias Res´. KRYPTERIA also became very popular in Asia, especially in Korea. In 2006, the band released the EP `Revolution Principle´ which was followed up by the album `Bloodangel´s Cry´ (2007) and the most recent long-player `My Fatal Kiss´ (2009).
http://www.krypteria.de
/
http://www.myspace.com/krypteria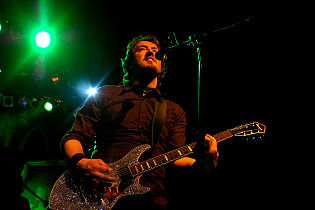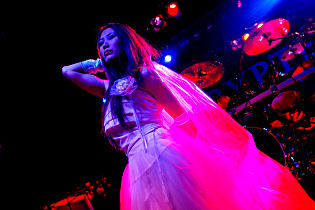 Music & Performance

The change over now took some more time. Afterwards, the stage was decorated with an impressive backdrop and two movable walls displaying the band logo. In the meantime, the hall was well-filled and many people seemed to be waiting for KRYPTERIA. Accompanied by a mysterious intro, Christoph Siemons, Frank Stumvoll (bass), S. C. Kuschnerus and an additional live keyboarder marched in and started the energizing performance by playing their instruments. One person was still missing - and then she finally came: Beautiful vocalist Ji-In Cho who was wearing a romantic wedding dress. She instantly began to sing the passionate `Shoot me´ and impressed the fascinated audience with her trained voice she was able to intonate powerful refrain parts as well as operatic lines and siren-like verses. Ji-In soon tore the wedding dress off her body and revealed a seductive black outfit. The set list consisted of catchy and melodic symphonic metal songs taken from the albums `Bloodangel´s Cry´ and `My Fatal Kiss´.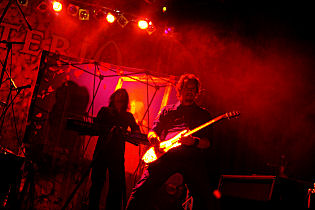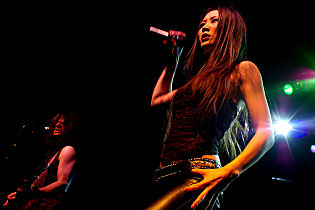 Admittedly, I liked the live songs better than the studio versions, as they were less clean and more forceful. `Somebody save me´ still had a lot of pop-appeal, but due to the expressive drums and the heavy guitars, KRYPTERIA was a suitable live act completing the evening's line-up in a good manner. After they had finished their show with the rousing piece `My Fatal Kiss´, Ji-In and her guys said good-bye to be back for having some chats with fans and friends at their merchandise stand.
Setlist

01. Shoot me
02. Sweet Revenge
03. Ignition
04. Somebody save me
05. Scream
06. For you I´ll bring the Devil down
07. My Fatal Kiss
Rating

Music: 8
Performance: 8
Sound: 8
Light: 8
Total: 8 / 10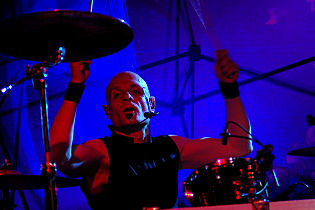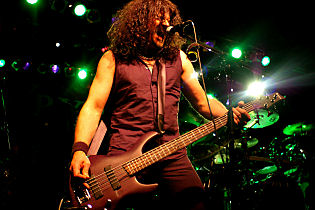 Saltatio Mortis

With regard to the musical genre of medieval rock, SALTATIO MORTIS from Southern Germany is one of the most popular representatives besides IN EXTREMO and SUBWAY TO SALLY. Formed in 2000, the band has gained a large fan base over the years and has become well-established in the scene due to many appearances at festivals and medieval markets. The current line-up consists of Alea der Bescheidene (vocals, bagpipe, shawm, didgeridoo, guitar), Falk Irmenfried von Hasen-Mümmelstein (bagpipe, shawm, hurdy-gurdy, vocals), Lasterbalk der Lästerliche (drums, percussion, programming), El Silbador (shawm, bagpipe), Bruder Frank (harp, guitar), Samoel (guitar) and Jean Méchant (percussion).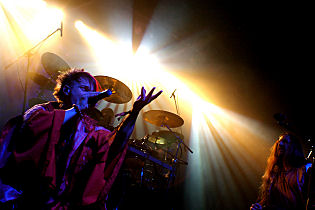 Meanwhile, SALTATIO MORTIS can look back on several long-players such as the most recent `Wer Wind Saet´ (2009) and previous releases like the debut `Tavernakel´ (2001), `Erwachen´ (2004) or `Des Königs Henker´ (2005).
http://www.saltatio-mortis.com/
/
http://www.myspace.com/mittelalterpunk
Music & Performance

There were many SALTATIO MORTIS-fans among the listeners; most of them dressed with band shirts and impatiently waiting for the appearance of their favourite act. When it was time for the medieval rockers, a huge backdrop and a stunning light show created the right atmosphere and provided a glittering feast for the eyes. The stage was filled to capacity, after the seven-piece had finally arrived. From then on, melodic songs such as `Miststück´ and `Uns gehört die Welt´ made the wild crowd chanting, dancing and banging the heads.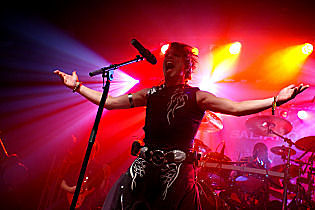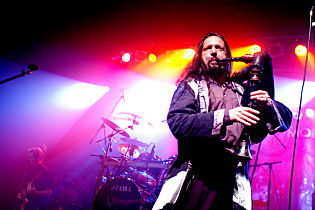 Everyone on stage was moving and so everyone in front of the stage did. Alea, the charismatic lead vocalist, cheered the audience to sing louder; he announced the upcoming songs and was jumping and posing the entire time. He often garnished his announcements with some anecdotes and stories resulting in a very entertaining show. His colleagues played their traditional instruments in a furious manner and I wondered many times how they managed to play flawlessly, as the instruments were pretty bulky. Because of the dynamic show and fantastic light beams, it was a great pleasure to take photos. Therefore, I was kind of sad when SALTATIO MORTIS said good-bye after 13 songs.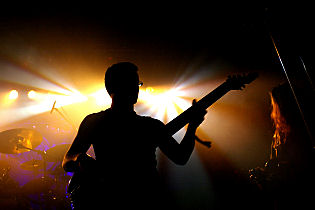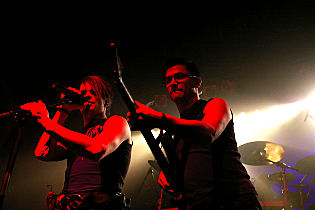 Setlist

01. Rastlos
02. Miststück
03. Tod und Teufel
04. La Jument
05. Kaltes Herz
06. Tritt ein
07. Salome
08. Prometheus
09. Wirf den ersten Stein
10. Uns gehört die Welt
11. Wir säen den Wind
12. Falsche Freunde
13. Spielmannsschwur
Rating

Music: 8
Performance: 10
Sound: 8
Light: 10
Total: 8.9 / 10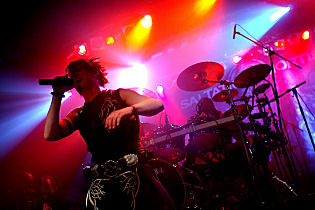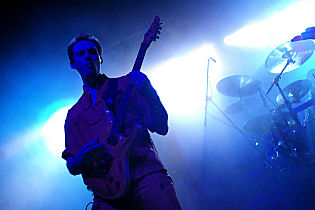 Grave Digger

The metal heads from Gladbeck formed GRAVE DIGGER in 1980 and unleashed their debut album `Heavy Metal Breakdown´ four years later, followed up by `Witch Hunter´ (1985) and `War Games´ (1986). They soon gained a loyal following due to extensive tours with related artists such as CELTIC FROST and HELLOWEEN. Named to DIGGER, the band orientated towards mainstream rock in the tradition of BON JOVI in 1987. However, the album failed and the band broke up. In 1991, they re-formed and recorded the comeback album entitled with `The Reaper´. Up to now, GRAVE DIGGER has released all in all 15 long-players, for example `Knights of the Cross´ (1998), `Rheingold´ (2003) or `Liberty or Death´ (2007). The most recent album `Ballads of a Hangman´ hit the stores in 2009. After several line-up changes, GRAVE DIGGER today consists of Chris Boltendahl, Jens Becker (bass), Hans-Peter Katzenburg (keyboard), Stefan Arnold (drums) and Axel Ritt (guitar).
http://www.myspace.com/gravediggerclan
/
http://www.grave-digger-clan.com/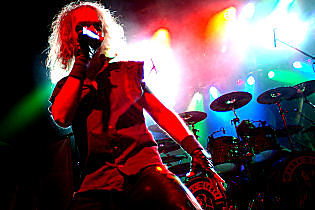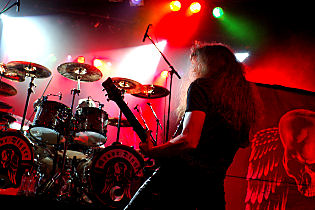 Music & Performance

As I had experienced GRAVE DIGGER in concert in this year's January before, I knew what a great live band they are. Thus, I was glad to read that Chris Boltendahl and his troops would be part of the Noisegate Metal Christmas. Besides their catchy metal anthems, the guys are also well-known for the usage of a profusion of light. Good for me! Nevertheless, I should be a little disappointed; not because of the band that did a great job as expected; it was the audience who was lacking enthusiasm for the performance. After SALTATIO MORTIS had finished their appearance, many listeners seemed to make their way home. Therefore, the hall was only half-filled, when "The Reaper" aka Hans-Peter Katzenburg walked on stage to give the starting signal. While the `Hangman´ intro was resounding through the hall, he was followed by Jens Becker, Stefan Arnold and Axel Ritt, the new man on the block. Front man Chris Boltendahl came last and welcomed the audience in his typical manner leading over to the first song `Ballad of a Hangman´.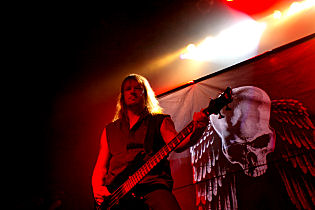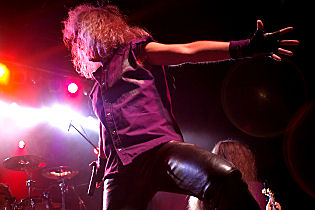 I took a photo of the set list, but I soon found out that the songs were presented in a different order. Highly anticipated `Hell of Disillusion´ and `Valhalla´ finally set the perfect mood and made the fans in the first rows shouting along. Lead singer Boltendahl, who has getting on in years, is still an alpha male and able to deliver rough vocals that perfectly fitted to the virtuous playing of Axel Ritt and Jens Becker whilst Stefan Arnold was drumming energetically. The last song `Heavy Metal Breakdown´ came as a bombshell and was celebrated for several minutes. Before GRAVE DIGGER left, they thanked all the other bands that had joined the Christmas party in Langen. To sum up: Though it can be assumed that GRAVE DIGGER had experienced livelier concerts with more devoted attendees, they made the most of the situation.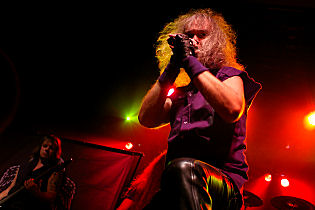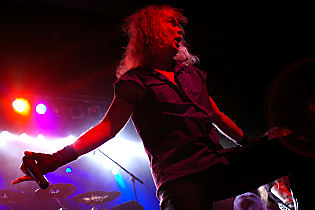 Setlist

00. Intro: Hangman
01. Ballad of a Hangman
02. Hell of Disillusion
03. Wedding Day
04. Silent Revolution
05. Excalibur
06. Valhalla
07. The Last Supper
08. The Dark of the Sun
09. Knights of the Cross
10. Rebellion
11. Heavy Metal Breakdown
Rating

Music: 8
Performance: 9
Sound: 9
Light: 10
Total: 8.8 / 10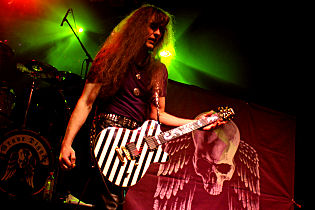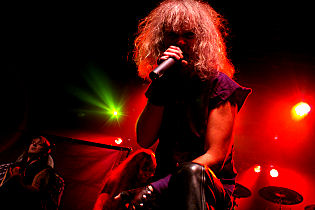 Doro

DORO is best-known for being the front woman of the meanwhile broken up German metal formations SNAKEBITE and WARLOCK. Afterwards, DORO started a successful solo career by releasing her debut album `Force Majeure´ in 1989 followed up by long-players such as `Doro´ (1990), `True at Heart´ (1991), `Machine II Machine´ (1995), `Love me in Black´ (1998) or `Calling the Wild´ (2000). In 2008, DORO celebrated her 25th anniversary on stage in her home town Dusseldorf. Within the scope of that, special guests such as LIV KRISTINE, TARJA TURUNEN, AXEL RUDI PELL and CHRIS BOLTENDAHL joined the concert and contributed some songs and duets. With the most recent album `Fear No Evil´ (2009) up to her sleeves, DORO went on European tour this year.
http://www.myspace.com/doroband
/
http://www.doro.de/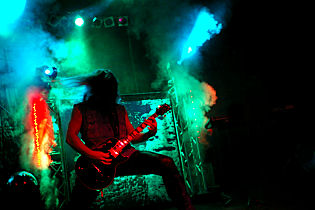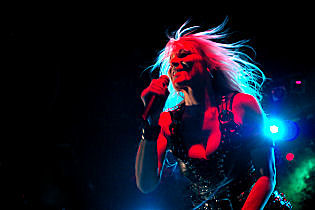 Music & Performance

I was told before that DORO is an artist who sets a high value on satisfying the desires of her loyal fans who love the small singer for being a friendly and down-to-earth person. That turned out to be right when DORO came on stage. With a big smile on her face and dressed in black leather, she apologised for having a cold. According to her raspy voice, she must have felt really ill. Nevertheless, she told that she had decided to come to Langen as she had known that many fans had been looking forward to her appearance. Obviously, the listeners gave credit to her decision and welcomed her euphorically. In spite of her illness, her vocals were as forceful as ever and she also didn't spare herself regarding the performance.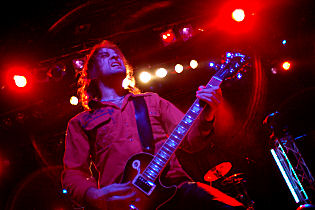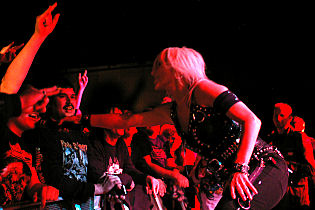 For example, she entered the photo pit to shake hands with the fans in the first rows, she was banging her head and striking poses with her musicians who willingly reserved the main role to her front woman. Admittedly, I'm not the biggest fan of DORO´s music, but I was very impressed by her vocals and the emotive way she intonated pieces such as `Burning the Witches´ or the balladry `Above the Ashes´. Naturally, some WARLOCK-anthems, for example the all-time favourite `All we are´, shouldn't be missing as well and seemed to be eagerly awaited as the dedicated crowd loudly sang along that classic.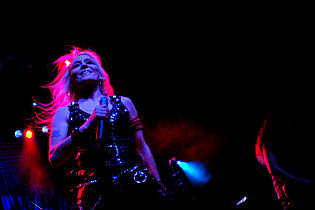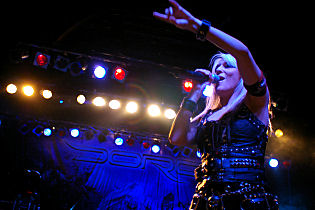 Setlist

01. Earthshaker Rock
02. I rule the Ruins
03. Burning the Witches
04. Night of the Warlock
05. Metal Racer
06. Running from the Devil
07. True as Steel
08. Above the Ashes
09. I lay my Head upon my Sword
10. Für Immer
11. Haunted Heart
12. Drumsolo
13. Haunted Heart
14. Burn it up
15. Fight for Rock
16. Herzblut / Love me in Black
17. We are the Metalheads
18. Breaking the Law
19. All we are
---
20. On the Run / Herzblut
21. Alles ist gut / Hellbound
22. Fight for Rock / Always live to win
Rating

Music: 7
Performance: 9
Sound: 9
Light: 8
Total: 8.1 / 10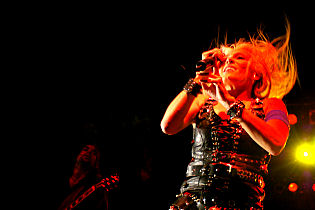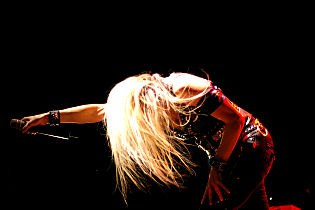 All pictures by Katrin Renner (
http://www.creavision-webdesign.de/
)
{jos_sb_discuss:18}