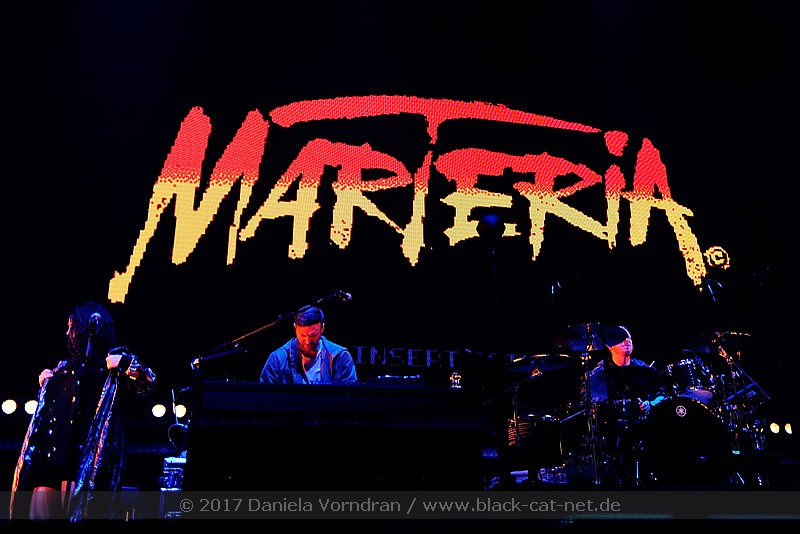 Lanxess Arena, Cologne, Germany
2nd December 2017
Marteria & Kid Simius

Last Saturday, the German Rapper
MARTERIA
was playing his biggest show so far at the Cologne LANXESS Arena in front of 13,000 visitors. The show was presented directly as 360° stream online by Telekom Magenta.
After the support act,
KID SIMIUS
(who was later part of MARTERIA's "band"), the show of the rapper started with the title song of his current album, 'Roswell'. Right from the start and during the whole show, the crowd was on fire, screamed, clapped and jumped to the music. MARTERIA perfectly managed his biggest concert. He had the crowd in his hands during the whole show. As a great final, fire columns were arising during 'Feuer'. Even though you might not be into Rap and Hip Hop, you must admit that MARTERIA is delivering a fantastic show!
Kid Simius
https://www.facebook.com/kidsimius
Marteria
http://www.marteria.com / https://www.facebook.com/marteria.official
Setlist
---Marteria---
01. Roswell
02. Aliens
03. Endboss
04. Scotty beam mich hoch
05. Cadillac
06. El Presidente
07. Bengalische Tiger
08. Alles verboten
09. Tauchstation
10. Blue Marlin
11. Skyline mit zwei Türmen
12. Neue Nikes
13. Marteria Girl
14. Verstrahlt
15. Große Brüder
16. Gleich kommt Louis
17. Das Geld muss weg
18. Links
---Marsimoto---
19. Grüner Samt (Marsimoto cover)
20. Eine kleine Bühne (Marsimoto cover)
21 Chicken Terror (Marsimoto cover) (new song)
22. Der Nazi und das Gras (Marsimoto cover)
---Marteria---
23. OMG!
24. Kids (2 Finger an den Kopf)
25. Lila Wolken
---
26. Welt der Wunder
27. Feuer
28. Die letzten 20 Sekunden (Kid Simius cover)
All pictures by Daniela Vorndran (
http://www.vorndranphotography.com
/
http://www.facebook.com/blackcatnet
)