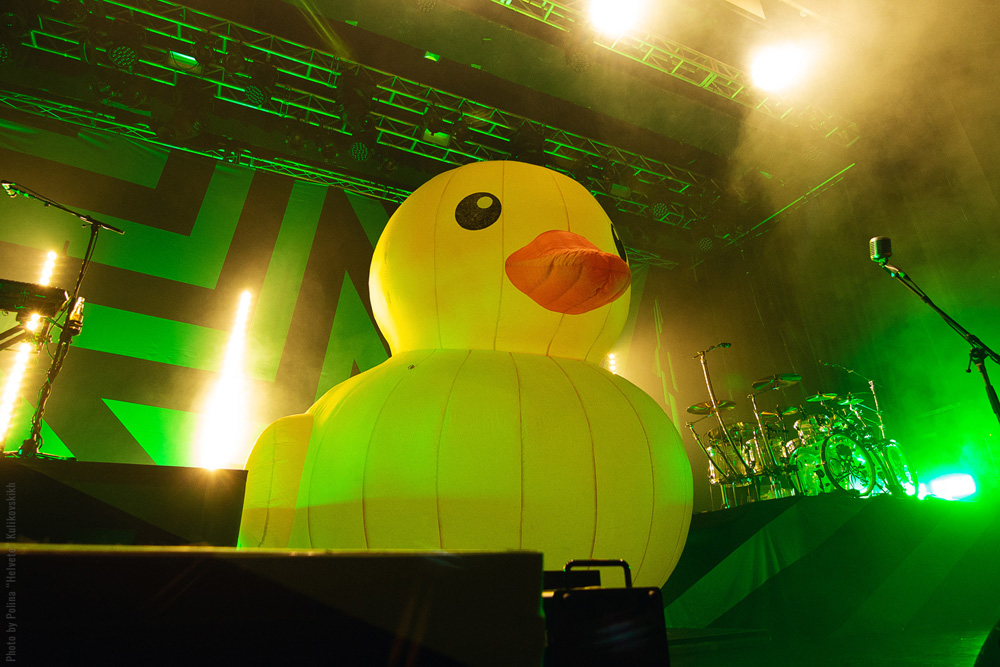 Sentrum Scene, Oslo, Norway
21st January 2023
Alestorm & Gloryhammer + Support: Wind Rose and Rumahoy

The time after the winter holidays may often seem boring - it's still dark, spring is still far ahead and big celebrations were just left behind. Luckily, there are ultimate party favorites that can brighten this time with a great show! And we all had a chance to witness just that on the 21st of January at Sentrum Scene in Oslo, when the place was occupied by partying pirates, dwarves and goblins.
Rumahoy
The evening was opened by RUMAHOY - a band that calls themselves the "World's Best True Scottish Pirate Metal Band". Their setlist for the evening primarily consisted of songs from their 2019 album 'Time II: Party'.
Setlist

01. Intro
02. Cowboys of the Sea
03. Harambe, the Pirate Gorilla
04. Treasure Gun
05. Not Looking For Love
06. Time to Party
07. Forest Party
08. Pirateship
09. Outro
Wind Rose
Next were Italian WIND ROSE. The band was formed in 2009 and draws its inspiration from the fantasy world of Tolkien and particularly from the Dwarves. WIND ROSE has released five studio albums so far, of which the most recent are 'Wintersaga' (2019) and 'Warfront' (2022) . However, their ultimate hit - the song 'Diggy Diggy Hole' - is a cover (and a really great one at that).
Setlist

01. Intro (Of War and Sorrow)
02. Army of Stone
03. Drunken Dwarves
04. Fellows of the Hammer
05. Mine Mine Mine!
06. Together We Rise
07. Diggy Diggy Hole (The Yogscast cover)
08. Diggy Diggy Hole (Dance Remix)
09. Outro
Gloryhammer
GLORYHAMMER is a British Power Metal band founded by keyboardist Christopher Bowes (also known as the vocalist of the headliner of this evening - ALESTORM). Each member of the band represent a character in the story concept and appear on-stage in armor and costume to represent their characters. In 2021 the band parted ways with vocalist Thomas Winkler and his place was taken by Sozos Michael. The first single with Michael was released in April 2022. This was the 2nd time GLORYHAMMER played in Norway and they promised to return once they release of a new album.
Setlist

01. Delilah (Tom Jones song)
02. Into the Terrorvortex of Kor-Virliath
03. The Siege of Dunkeld (In Hoots We Trust)
04. Gloryhammer
05. The Land of Unicorns
06. Fly Away
07. Also sprach Zarathustra (Richard Strauss)
08. Keeper Of The Celestial Flame of Abernethy
09. Masters of the Galaxy
10. Hootsforce
11. Angus McFife
12. Universe on Fire
13. The Unicorn Invasion of Dundee
14. The National Anthem of Unst
Alestorm
When you see a huge yellow duck on stage - you know it's ALESTORM - a Scottish Heavy Metal band formed in 2004, very well known for their pirate-themed songs ideal for a party both on land and at sea. Their setlist this evening included all their most famous songs like 'Keelhauled', 'Fucked With an Anchor' and 'Drink' as well as 'Hangover' (TAIO CRUZ cover) and the traditional sailor's song 'What Shall We Do With the Drunken Sailor?'
Setlist

01. We Will Rock You (Queen song)
02. We Are the Champions (Queen song)
03. Bohemian Rhapsody (Queen song)
04. Alestorm Intro
05. Keelhauled
06. Pirate Metal Drinking Crew
07. Under Blackened Banners
08. The Sunk'n Norwegian
09. Alestorm
10. Cannonball
11. What Shall We Do With the Drunken Sailor? (cover)
12. Hangover (Taio Cruz cover) (with Phill Philp)
13. Magellan's Expedition
14. Mexico
15. Tortuga (Chris doing the rap-part as Captain Yarrface forgot to come out)
16. Nancy the Tavern Wench (with Captain Yarrface sat at the front of the stage as he forgot to come out for Turtuga)
17. Rumpelkombo
18. Shipwrecked
19. P.A.R.T.Y.
20. Death Throes of the Terrorsquid
21. Shit Boat (No Fans)
---
22. Drink
23. Zombies Ate My Pirate Ship (with Captain Yarrface singing the female part)
24. Fucked With an Anchor
25. Mr Blobby
All pictures by Polina Kulikovskikh