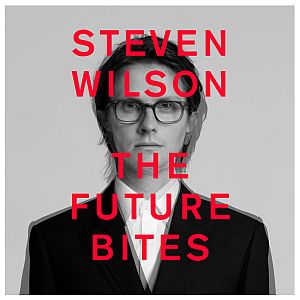 "Sunglasses… teeth whitener… deluxe-edition boxsets… volcanic ash soap… multivitamin supplements… noise-cancelling headphones… designer trainers… detox drinks… organic LED television… fake eyelashes… branded water… self-doubt… self-esteem…"
On June 12, 'The Future Bites' will be released. STEVEN WILSON's sixth album is a journey of exploration into the human mind in times of the Internet. Consequently, 'The Future Bites' is not just Wilson's impressive new studio work, but also an (online) portal into a world of high-concept design for the ultra-modern consumer of the present.
While dealing with the problems of post-truths and fake news on 'To The Bone' (2017), Wilson takes the listeners into a world of addictions in the 21st century on 'The Future Bites'. It is a place where people are constantly and publicly experimenting with the effects of emerging technologies on our lives. Despite topics such as out of control addiction to shopping, manipulative social media or the loss of individuality, 'The Future Bites' is less a dark vision of an emerging dystopia than a curious analysis of the situation in the here and now.
Musically, 'The Future Bites' is great as usual. Electronic sounds - alienated by human influence ('King Ghost'), spherical acoustic sounds ('12 Things I Forgot') or bass-driven Krautrock grooves ('Follower') combine with dripping, dark Funk to perhaps Wilson's most consistent work. The album was recorded in London and co-produced by David Kosten (BAT FOR LASHES, EVERYTHING EVERYTHING) and STEVEN WILSON.
In the internet, 'The Future Bites' is the wide open door to a universe of consumption, where everything is marketable and nothing too unlikely to be offered for sale. 'The Future Bites' is a well-designed shopping paradise, inspired by such remarkable things as Virgil Abloh's 'Ceramic Blocks' or 'Vitality Air' - fresh air from Canada that is sold in cans: guaranteed affordable and arousing new desires for the simple fan just like for hardcore collectors.
The first track of 'Future Bites', the ten-minute Moroder-eske 'Personal Shopper', can now be heard on all streaming platforms and at www.thefuturebites.com.
Tracklist

01. Unself
02. Self
03. King Ghost
04. 12 Things I Forgot
05. Eminent Sleaze
06. Personal Shopper
07. Man Of The People
08. Follower
09. Anyone But Me
STEVEN WILSON's 2017 album 'To The Bone' hit #3 in the UK and #2 in Germany. During the following tour, Wilson played in more than a quarter of a million fans in 33 countries. In March 2018, he sold-out the Royal Albert Hall three times in a row, which was recorded i.e. in the concert film 'Home Invasion'.
Source: Press Release / www.thefuturebites.com
See also (all categories):