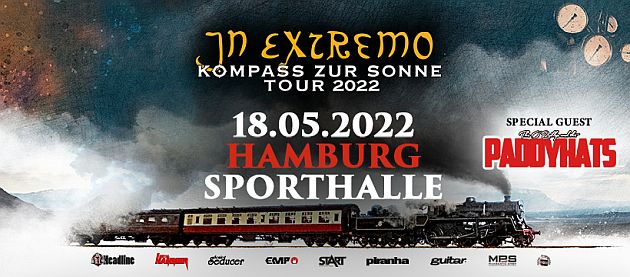 Sporthalle, Hamburg, Germany
18th Mai 2022
In Extremo - "Kompass zur Sonne" Tour 2021 - Special Guest: The O'Reillys and The Paddyhats

The big milestone is approaching, the last new notes are being recorded, the shadows of the big events to come are getting longer and longer - IN EXTREMO are getting ready. Ready for their impressive quarter century, which will be celebrated with at least as impressive and extravagant highlights.
The fans should now grab their calendars and note down the dates of the big anniversary tour in spring. From April onwards, the jubilations will be moving through the country again to ask for a particularly dirty and unforgettable birthday dance with their unmistakable mixture of the Middle Ages and brute metal guitars. Their new album is also in their luggage, about which we don't want to reveal too much just yet, but there's plenty of room for her uncompromising energy between yesterday, today and a whole lot of tomorrow. For one or the other look back, for the long way, for this rousing cohesion. For familiar moments, old strengths and new goals, for unmistakable instruments and strong lines. And for exciting new compositions that will ignite live that fabulous metal magic with which the band has worked tirelessly and successfully since 1995 to achieve their impressive status.
Because IN EXTREMO are now one of the most successful German bands and definitely the band with the benchmark in German medieval metal. They keep surprising us with adventurous ideas, with impressive shows and events such as their legendary castle tour and build on an extraordinary and particularly loyal fan base - without which the following anniversary would not have been possible. Of course, it is also important to celebrate the fans, to toast 25 true years together and to lay the foundation for the next 25 with the new album. Because whether mangy, ingenious, revered and spat on - IN EXTREMO are one thing above all: far from finished!
Tour Dates

22.04.2022 Wiesbaden - Kulturzentrum Schlachthof
23.04.2022 Cologne - Palladium
29.04.2022 CH-Zürich - Komplex 457
30.04.2022 Stuttgart - Porsche Arena
06.05.2022 Bremen - Pier 2
07.05.2022 Hanover - Swiss Life Hall
12.05.2022 Saarbrücken - Saarlandhalle
13.05.2022 Munich - Zenith
14.05.2022 AT-Wien - Gasometer
19.05.2022 Dresden - Alter Schlachthof
20.05.2022 Erfurt - Thüringenhalle
21.05.2022 Leipzig - Haus Auensee
26.05.2022 Hamburg - Docks
27.05.2022 Bielefeld - Lokschuppen
28.05.2022 Berlin - Columbiahalle
Additional Concert Info

Doors: 19:00
Start: 20:00
Tickets: are available for 52.70 euros (plus charges pre-sale) via
Eventim
Facebook Event: https://www.facebook.com/events/2118966551536975