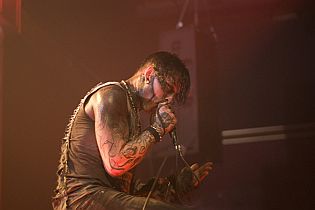 Interview with

Andy LaPlegua from Combichrist

COMBICHRIST are currently on US tour, on Monday May 16th we caught up with Andy LaPlegua in Portland/OR for some questions about the new album and everything else that makes one of the most popular industrial acts tick.


Reflections of Darkness (RoD): Right now you're on the Making Monsters tour, how has the turn out been for this tour?
Andy LaPlegua (Andy): It's been really good. It's been, I mean it's the second part of it somehow and I guess it's been really good all the way around. You're always worried before a tour when the entire country is kind of hurting for money and everything. People don't have too much money to spend on entertaining themselves. So, you kind of worry about that when you go on tour, but the tour has been good, so I guess we did something right.

RoD: What do you like to see in an audience when you perform live?
Andy: I wouldn't say that our entire show is kind of interactive in a way that, we put out a very high energy show but it's really hard to maintain that if you don't get that feedback from the audience. I like to think that everything around COMBICHRIST in general is generally interactive, I kind of spin off the energy from the crowd. The higher energy from the crowd, the higher energy it gets on stage. So I guess what we're looking for is high energy. [laughs]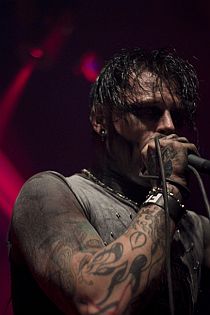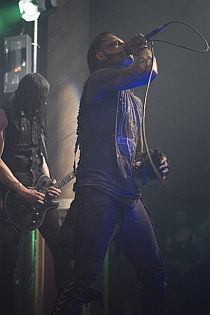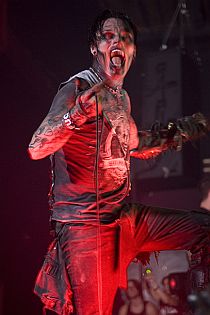 RoD: I noticed that you are playing in Portland tonight, the music scene there is pretty diverse and interesting. Are there places, like cities you enjoy playing more than others?
Andy: Yes, there is, not on top of my head, though. There are areas and cities that we prefer to play to others. I'm not going to say which ones we don't like to play. You know like Seattle and Portland are always a lot of fun. For some reasons it's just kind of a little bit more underground than other cities, but at the same time it's just so much fun and energy. It's one of those shows where you're coming through and you're onstage, and go, oh yeah, this is why I'm doing this. You know you get that feeling like I'm actually enjoying this. I'm not just doing this because I have to do it on tour, like because you're doing it every day. You realize you're actually doing it because you love doing it. And definitely Portland and Seattle, those places. Also LA is always a lot of fun. I could go on forever for different cities in Europe and stuff, like Japan, and Melbourne, Australia is another favourite place to go. And London. There's definitely good cities out there.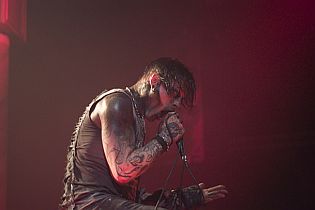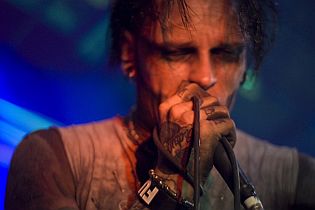 RoD: I was reading about the V.F.I.M. passes and making an opportunity to hang out with some fans before the shows, is it fun for you guys to get to do that? And have all your experiences with that been positive?
Andy: There's been awkward moments really because some people are awkward. You know or we can be awkward if people don't say anything. It's sometimes awkward if people are not very social. It's hard to get people going you know. Most of the time it's really good, and one of the reasons why we're doing this is that our schedule is so hectic right now, and we just never have any time. We used to be able to do the show and then pack down and then go out to after parties, and hang out all night. And hang out with friends and fans and just have a party every night. It's just that there's no time for this anymore because it's just hit the showers, and the crew is packing everything down. Since we're done getting ready the crew already packed everything into the tour bus, and we're about to go so we never really get to hang out anymore too much. That's one of the reasons why we did this so we can actually meet people before the show. And it's some kind of controlled environment, you know. Usually there's not too much chaos. So overall it's been really positive.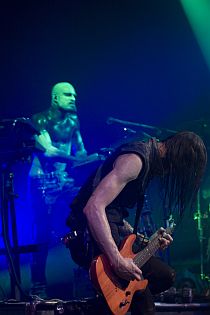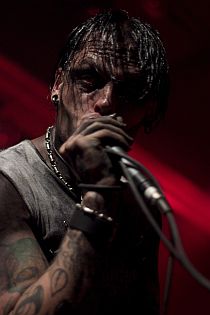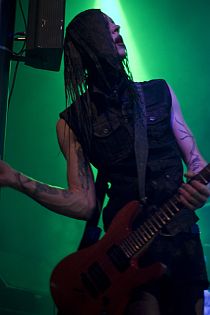 RoD: Yeah, I was noticing on your tour schedule that most of your shows are like back to back, like the dates are you're going straight to the next city and doing a show one night after another. So with a schedule like that are you getting any time to enjoy the cities you're passing through or is it just like, straight to business?
Andy: There's not much time to enjoy anything but the shows. Either time getting prepared for shows or getting to the next city. So there's not really time to enjoy the cities. In all fairness I've been to most of these cities so many times, so if I need something I know where to go. We usually don't have really any time to enjoy the city itself, except the show. Like on this leg of the tour we have thirty-four dates and thirty-two shows. And those two off dates are basically driving dates for in between the US and Canada and back. So, there's really no days off at all, you know.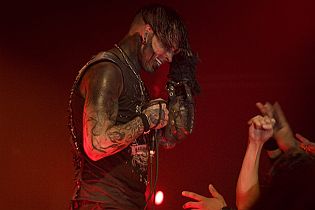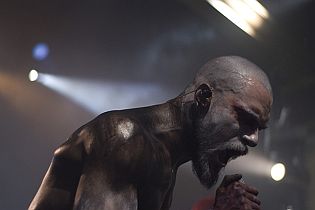 RoD: Since we're talking about touring, what has it been like touring with RAMMSTEIN?
Andy: It's been great. I think we did some seventy-one shows with them and it's nothing like I've done before obviously and it's a grand opportunity for us, like professionally and as a band. But also its people have been great, it's kind of like a big family and we've gotten very close to them as people and it's almost like when we're hanging out more like one band rather than, you know what I mean? So it's like a family on tour and now it's kind of weird. The days where we're not playing with them is weird not to see them or be around them, because we have been playing so much with them. So, this has been a good run for us.

RoD: What is your writing process for new material? Do you write as a band, or how does that usually work?
Andy: I'm a control freak [laughs] so I actually write and record everything myself and I don't think anyone in the band even knows until I tell them 'alright this is the new album', time to learn it. But that being said it wouldn't sound like that if they wouldn't have been who they are and what they do live with me because I take a lot of that experience, a lot of that inspiration with me into the studio after being on tour, so I guess I have in the back of my head, what would this person do live, and you put that into the writing process too. I kind of lock myself up in the studio the only ones who are allowed to get in there is whoever brings me coffee, you know. It's my little throne of dictatorship in there.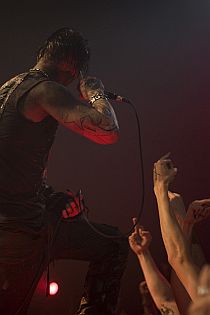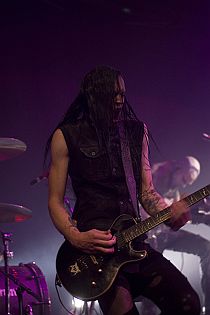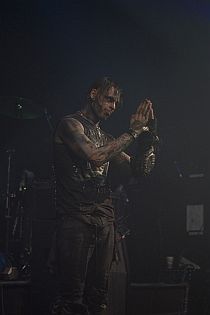 RoD: What do you think has influenced your music to evolve?
Andy: First of all, that has such a diverse background and diverse taste in music. I grew up on the seventies metal and stuff like that from my dad's side and my uncle was into eighties metal, and my other uncle was into that kind of Grindcore and cousin's into punk rock, and you kind of grew up with a lot of that underground stuff, you know, everything to metal and punk rock stuff and the rockabilly and stuff like that. I kind of started getting into that electronic stuff at the end of the eighties and the beginning of the nineties and stuff like that. It's been just a natural progress to where it is now. I just make sure that I never compromise anything. But I always do what I want to do, and that's what people expect from me. I think if I kind of allow myself to do exactly what  I want to do at all times, then I'll just do what's right for the music and not be too concerned about I can't try this or it has to be right for this scene or anything. I just do what I feel like, and I think that's the biggest red line from the beginning on. That's the red thread through the whole thing, it's like I've done exactly what I wanted to when I wanted to the whole time.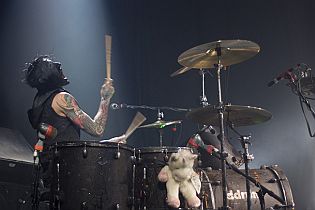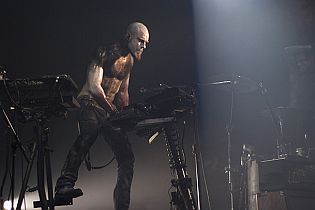 RoD: What music outside your genre is influential to you or do you listen to recreationally? Like, what is the least likely thing people would expect that you to listen to?
Andy: Well, at this point I think that, for those who do read my interviews, those people kind of have an idea. But most people that didn't they probably think that oh yeah I listen to music like mine, but that's far from the truth, I listen to mostly punk rock and rockabilly stuff. One of my favourite artist of all time is Billy Holiday so I listen a lot of that and Johnny Cash. It's really, really rare that I listen to anything similar to what we are doing. But it also gives me objective to what I am doing. It gives me a lot more objective and I think I can see things really very clear. I'm not unintentionally too much inspired by one thing from the same style of music. And I think a lot of the bands you listen to, especially when it comes to radio friendly stuff, new rock and stuff like that. The one band sounds like the other, and the next one and the next one. I feel like they're all inspired by each other because they're all listening to each other's music and it kind of blends out. I'm trying to be a little bit more objective to it. And I'm trying to not really listen to the type of music that I am writing.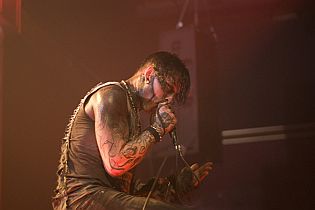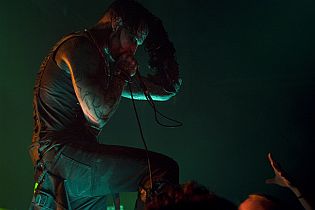 RoD: What inspires you?
Andy: Life, on all bases I mean I guess that's what inspires everyone. Like you have, it could be anything, it could be comic books, it could be movies, it could be something that happens to me, it could be the way I feel. I tend to be more inspired by entertainment when I'm home. When I'm working in the studio at home I tend to be more inspired by what's going on around me. Like when you're at home, and it's kind of a safer environment I tend to write more fiction. While I'm on tour I tend to write more personal because sometimes that's the darkest hour, you tend to get more of emotions and being more personal. It's just everything in general.

COMBICHRIST's new album 'Making Monsters' available now!

Pictures by Shannon May taken during the US Tour