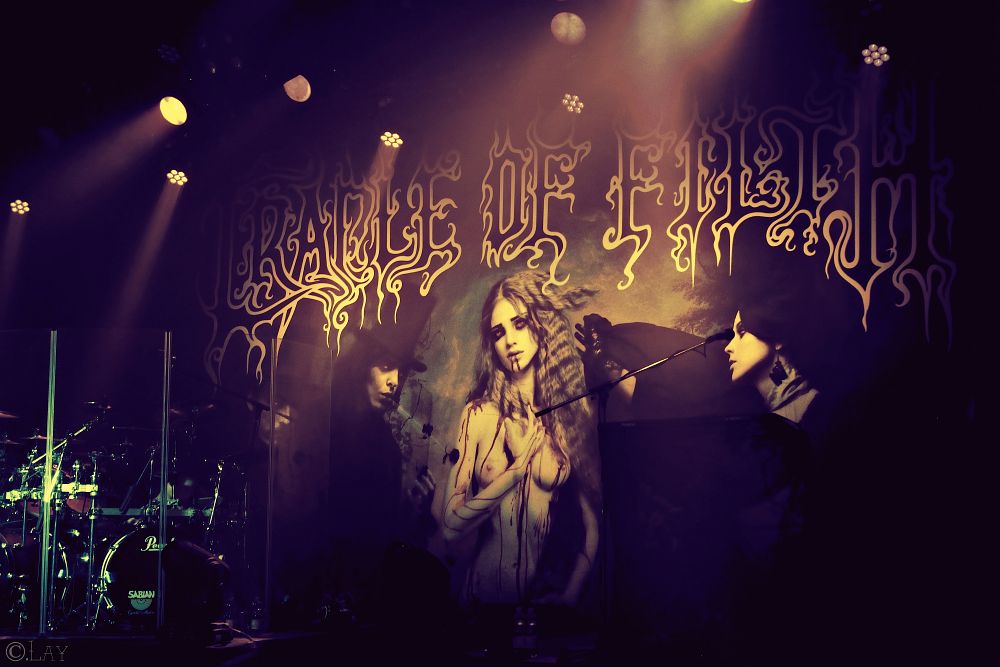 Zeche, Bochum, Germany
6th February 2018
Cradle of Filth & Moonspell

"Cryptoriana World Tour" - Vampyric Metal fans aren't gonna just sit at home when a cult band like CRADLE OF FILTH are in town to bring the black, the sinister, and macabre live and loud on stage. The band's latest release with the fancy title 'Cryptoriana - The Seductiveness of Decay' is CRADLE at its finest being "deeply infused with Victorian gothic horror." In celebration of their 12th album of anti-hymns "UK's most visionary and hellish outfit" is coming to haunt 14 German cities. On February 6th, it was Bochum's turn. As a very special guest CRADLE OF FILTH are having Dark Metal heroes MOONSPELL from Portugal on this tour. MOONSPELL's latest opus '1755' is also their 12th record and an orchestral Metal masterpiece dealing with the destructive earthquake that hit their hometown Lisbon. Without any doubt, both bands made a "shitty Tuesday," as Mr. Filth put it, a darkly delight.
Moonspell

In 1992,
MOONSPELL
was formed from the remains of MORBID GOD, a project they started back in 1989. In 1995, one year after their EP 'Under the Moonspell', their first album, titled 'Wolfheart', came out via Century Media. Yet just another year later, they made their breakthrough with 'Irreligious'. MOONSPELL became the most influential Goth Metal act hailing from Portugal. Their tenth LP 'Extinct', produced by Jens Bogren (OPETH, KATATONIA, PARADISE LOST, ARCH ENEMY) and released via Napalm Records, made number one in their home country and was also widely celebrated internationally. The new piece '1755', out since last November, is their latest masterpiece. This February, vocalist Fernando Ribeiro has also published 'PURGATORIAL', a poetic anthology presenting his dark lines written between the years of 2001 and 2012 for the very first time in English. https://www.moonspell.rastilho.com / https://www.facebook.com/moonspellband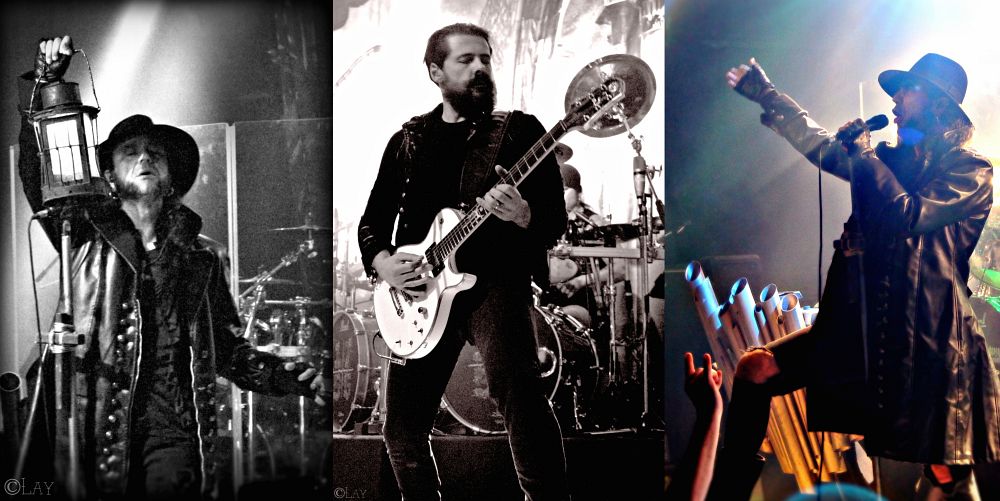 Music & Performance

It's 8 o'clock sharp. The lights go off and excitement rises for mighty MOONSPELL are about to grace the Zeche stage - the first headliner of tonight! Last time I've seen the combo from Portugal was the Castle Rock festival last June and now I'm very much looking forward to hearing their new '1755' pieces live for the first time. Their growing opener 'Em Nome Do Medo' resounds and vocalist Fernando Ribeiro appears carrying around an antique glowing lantern. The band succeeds with their atmospheric and dramatic intro and the sound is splendid. The spirited MOONSPELL put their old fans immediately under their spell one can be dead certain that very soon they will also carry their new hearers along, who need a couple of songs tonight.

Tonight's gig is under the banner of their latest, highly recommendable opus on the Great Lisbon Earthquake, one of the deadliest earthquakes of all time. By causing fires and a tsunami it almost totally destroyed Lisbon back in 1755. Fernando tells the crowd that this concept album is "sung entirely in Portuguese for the very first time" in the band's history. And as expected, his great vocals in their native tongue are forceful harmonizing just perfectly with the raw aspect of MOONSPELL's melodic and dark Metal tunes. What a joy to witness such a charismatic band playing not only as professionally as they do, but also full of passion. Aires Pereira's Fender bass booms wonderfully as he plays his lines, Miguel "Mike" Gaspar's dynamic drumming is sharp, and Ricardo Amorim's guitar-playing is masterful and souled. If you are standing at the side you can see Pedro Paixão's fingers flying over the keys enriching MOONSPELL's symphonic sound that's spiced up with some amazing Oriental vibes. His keyboard is hidden behind a cool organ pipes decoration reminding one of Tuomas Holopainen's (NIGHTWISH) instrument. Mentioning NIGHTWISH here, also melodic death metal heroes AMORPHIS come to mind; so, if you're into unique bands like these, have a big melancholic head-banger heart, and haven't seen MOONSPELL live yet, you've definitely missed out on some extraordinary Goth Metal greatness.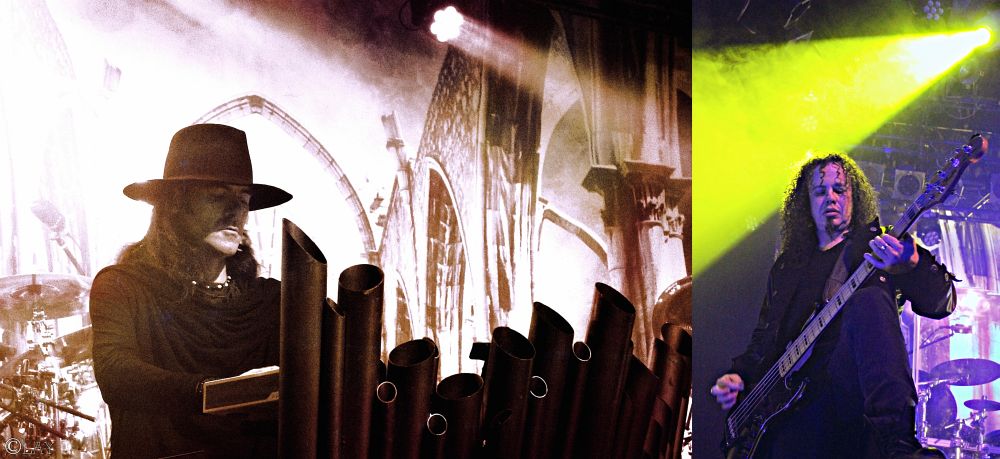 During their epic title track '1755', Fernando appears as a plague doctor adding the typical beak-shaped mask to his wide-brimmed black hat. A large wooden cross hangs from his neck and another one is bound to his mike stand contributing to the medieval feel. The following tune, the amazing 'In Tremor Dei', is loaded with emotion and Ricardo's cleaner vocals are a great contribution. Like on the record, it leads right into the fast-pasted smasher 'Desastre'. To hear the powerful 'Ruínas' live is also simply thrilling. During the cinematic intro of 'Todos Os Santos' Fernando balances a huge cross above his head surfing some red laser beams coming out of the cross over the crowd that's standing in the dark. The tune picks up pace and there are clenched fists in the air for this the last tune performed from the new album. "Faz dia! Faz dia! ...em Portugal!" - The lyrics tell us, that in spite of the fact that "all the saints did not arrive", despite all death and destruction, massacre and misery, "It's daylight! It's daylight! ...in Portugal!"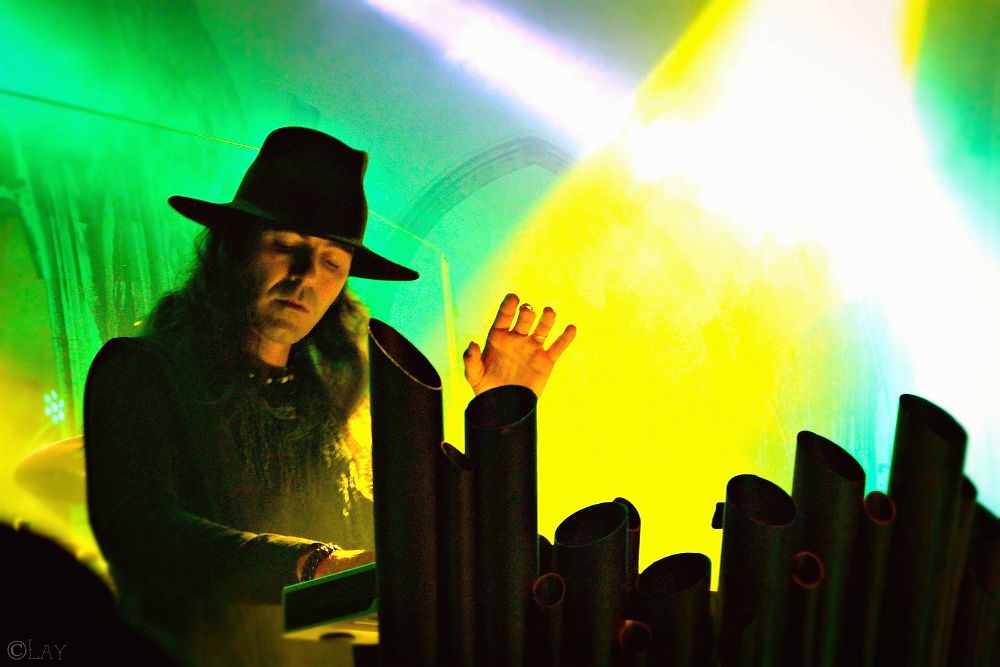 Next to the new material, the band also performs the crushing title track from the 'Night Eternal' album (2008), neck-breaker 'Alma Mater' from 'Wolfheart' (1995), and of course their classic 'Irreligious' classic 'Opium' (1996) is not to be missed. Some diehard FILTH fans standing next to me who don't know MOONSPELL's lyrics by heart yet raise their arms screaming and growling "Opium!" at the top of their voices. Another highlight from the same record, 'Full Moon Madness', marks the end of the show. It makes not only Fernando, but also the audience howl like wolves in the beginning of the song. For its fulminant ending, the vocalist also grabs two sticks hammering at Mike's drum kit. And thus, MOONSPELL's one-hour show seems to come to end very quickly. The only thing I've been hoping for, were one or two further pieces performed from their number one album 'Extinct' (2015) - but no reason to grumble. MOONSPELL have put on a dramatic and musically powerful show. There are big smiles on and in front of the stage as the gents make their bows and shake hands with some music lovers gathered in the front rows.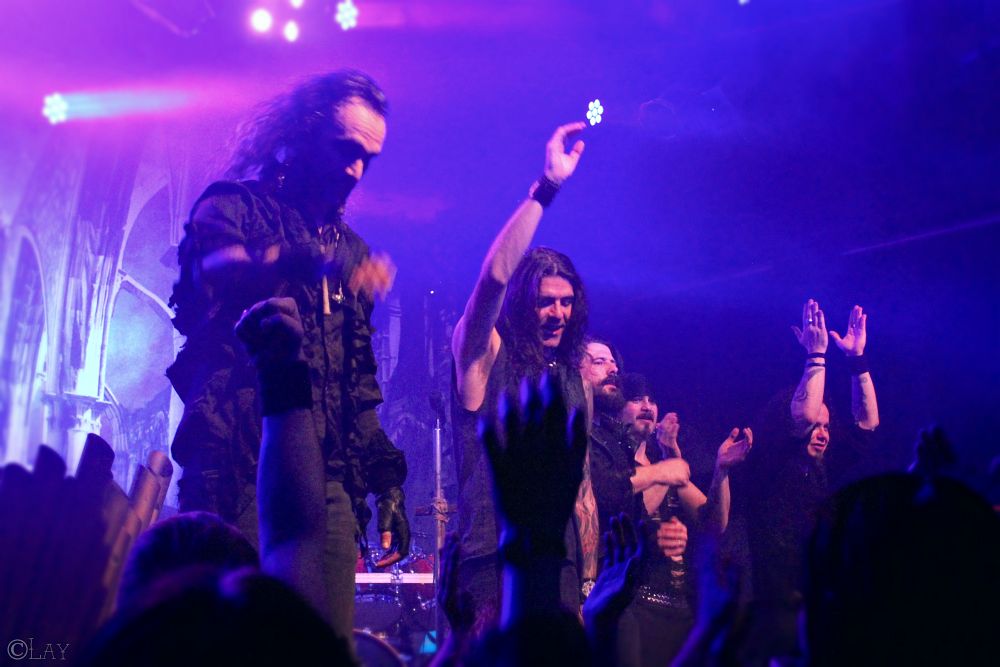 Setlist

01. Intro
02. Em Nome Do Medo
03. 1755
04. In Tremor Dei
05. Desastre
06. Night Eternal
07. Ruínas
08. Opium
09. Evento
10. Todos Os Santos
11. Alma Mater
12. Full Moon Madness
Rating
Music: 10
Performance: 10
Sound: 9
Light: 8
Total: 9.3 / 10
Cradle of Filth

Extreme Metal act
CRADLE OF FILTH
was formed in Suffolk, England in 1991. With their debut album, 'The Principle of Evil Made Flesh', they shook things up in 1994. Only vocalist Dani Filth remained from the original line-up and with his current bandmates the CRADLE seems most brilliant and crushing than ever before. About their latest and one may say greatest release, front man Dani Filth says: "The album, both lyrically and artistically, is infused with Victorian gothic horror and thus the title is a reflection of that. 'Cryptoriana' implies the Victorians' infatuation with the supernatural, the grave and the ghoulish. And the subtitle, 'The Seductiveness of Decay', further cements this attraction to death and the glittering lengthy process of self-annihilation." He goes on: "We mutate, breed and run totally amok with this album. Plus we covered 'Alison Hell' by ANNIHILATOR, a thrash metal classic that has been on our proverbial lips for centuries!" 'Cryptoriana' was unleashed on mankind on 22 September 2017 through Nuclear Blast Records. http://www.cradleoffilth.com / https://www.facebook.com/cradleoffilth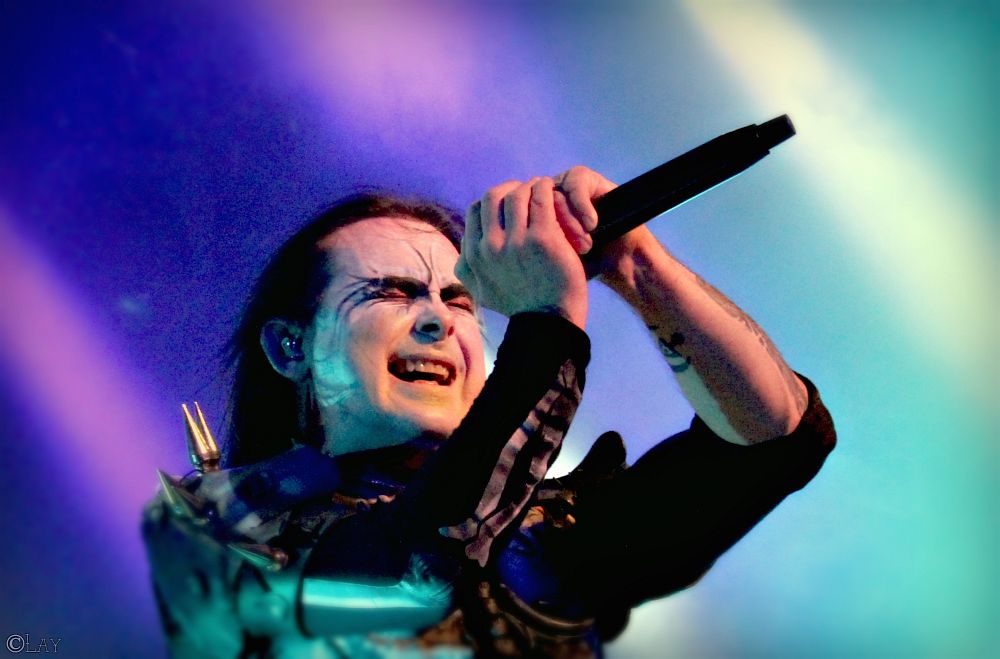 Music & Performance

The audience is in for a real treat as the iconic CRADLE OF - freaking - FILTH are up next for another headliner show of their current tour. As their intro 'Ave Satani' resounds the band enters the stage. Lindsay Schoolcraft gets behind her keyboard, drummer Martin "Marthus" Skaroupka gets on this throne surrounded by the plastic screen, and bassist Daniel Firth and both guitarists, Marek "Ashok" Smerda and Richard Shaw, take their position with their backs turned towards the eagerly awaiting crowd. The venue is filled with fans of extreme music. The musicians turn around, Dani Filth runs on stage greeting us with his one of a kind, high-pitched shriek and the extravagant sextet immediately puts the petal to the metal with 'Gilded Cunt'. CRADLE blast their enthusiastic fans off their feet right from the beginning on. (Un)holy moly!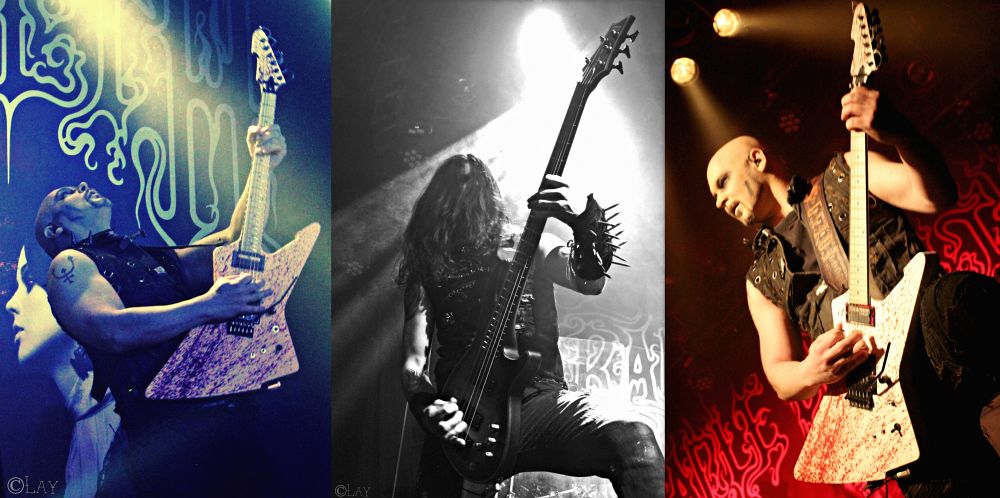 With 'Beneath the Howling Stars' from CRADLE's four album 'Cruelty and the Beast' (1998) the rage goes right on. Most of the fans obviously know that this year marks the 20th anniversary of the record. Dani tells us that they will release a remixed and re-mastered version at some point to cure "shitty drum sound". Then, Lindsay's impressive operatic and perfect-pitched vocals introduce the great and newer title 'Blackest Magick in Practice' from 'Hammer of the Witches' (2015). Unfortunately, one of my personal favourites, 'The Byronic Man' is not tonight's setlist, but the first tune from the latest opus 'Cryptoriana' also easily plays the trick, the epic 'Heartbreak And Séance', the first single. Up next is the eleven-minute-long ode on a bloody countess, "a dark queen" – 'Bathory Aria'. It's impressive how Dani sings, shrieks, growls, screams and whispers and the way the guitarists' fingers skilfully fly across the fret. And I'm loving how Richard moves his head in slow motion staring at us like a zombie when not wind-milling his hair when there's a change in tempo like Daniel. The frontman with the corpse paint is full of energy bouncing to the racing drum beats.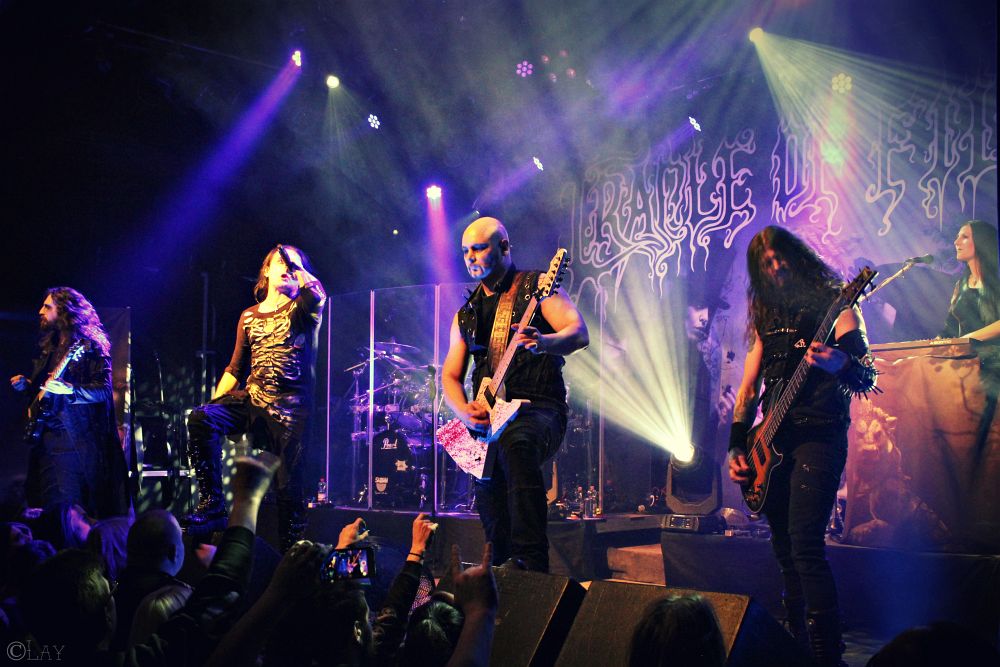 The melodies of 'The Death of Love' is another personal highlight of tonight and we get to hear more of Lindsay's sweet siren vocals and spoken parts. "For only in the grip of darkness / Will we shine amidst the brightest stars." After celebrating the second single from the new album, 'You Will Know the Lion by His Claw', the band leaves the stage. One hour has passed and it's time for a short break. We are calling CRADLE to come back and 'A Bruise upon the Silent Moon' serves as a second intro for the band to reappear and delight the delirious crowd with a five song encore that's shining with the final new composition tonight, the third single 'Achingly Beautiful'. Another highlight follows as an all-time favourite, the dark Romantic duet 'Nymphetamine (Fix)', resounds. 'Her Ghost in the Fog' and 'Born in a Burial Gown' mark the end of a, all in all, delirious and phantasmagorical, one and a half hour COF show.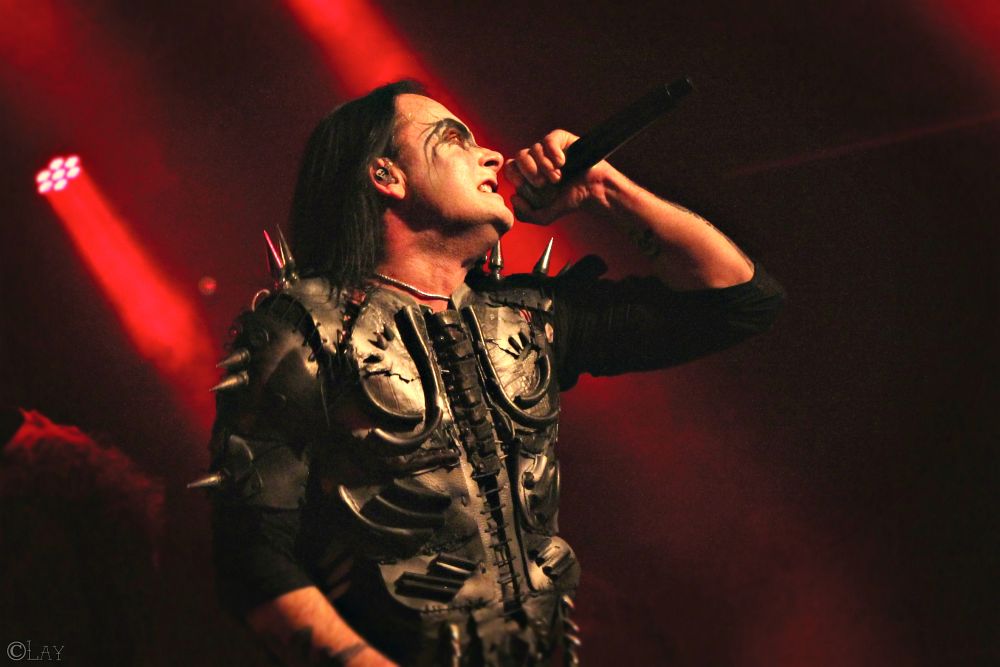 It's shortly after 11 pm, Mr. Filth & Co bid their lively audience farewell and capture the moment on camera while the outro 'Blooding the Hounds of Hell' is raised. While some fans keep standing in the dark listening to it, others make haste to grab their jackets, leave the venue and catch the bus. I have my jacket with me, keep on listening, and almost miss the bus. Luckily I make it though and have to thank a kind fellow concert goer who's offering to share his bus ticket. Some younger FILTH fans, who "live in a backwater" and still have a long train ride ahead, share how stoked they are about joining in "such a wickedly good gig as tonight" and beam for having snatched the setlist as a memento.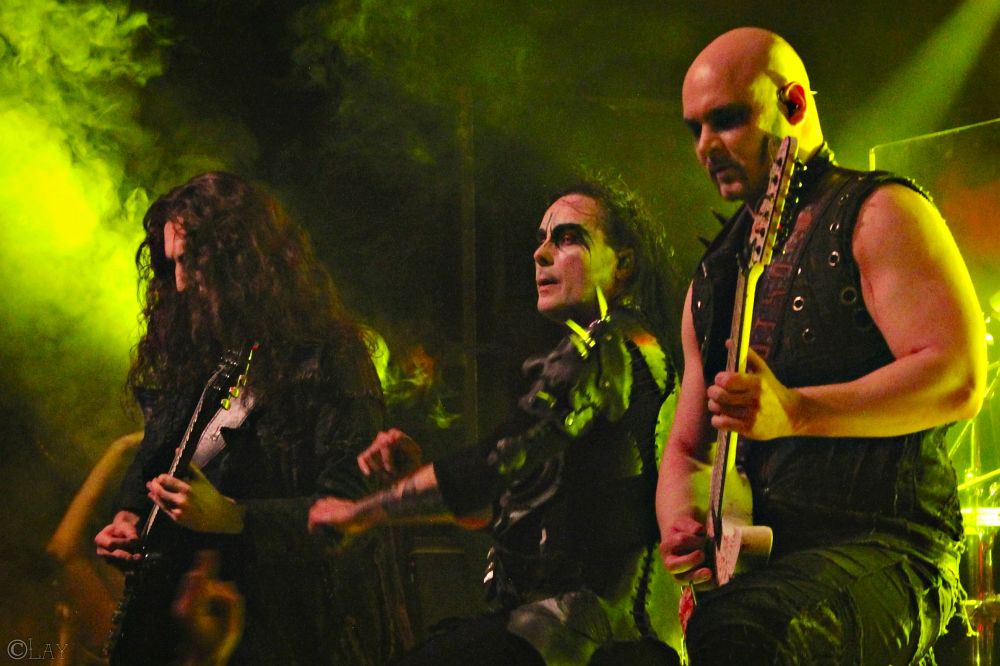 In a nutshell: Hail MOONSPELL! Ave CRADLE OF FILTH! This dark double pack - the former more melodic and mighty, the latter more black and brutal, and both convincing with their distinct and yet evolving sound - has proved more than once that they stand for a memorable live show of glorious "gloom" at full blast.
Setlist

01. Intro: Ave Satani
02. Gilded Cunt
03. Beneath The Howling Stars
04. Blackest Magick in Practice
05. Heartbreak and Séance
06. Bathory Aria
07. Dusk and Her Embrace
08. The Death of Love
09. You Will Know The Lion By His Claw
---
10. Intro: A Bruise upon the Silent Moon
11. The Promise of Fever
12. Achingly Beautiful
13. Nymphetamine (Fix)
14. Her Ghost in the Fog
15. Born in a Burial Gown
16. Outro: Blooding the Hounds of Hell
Rating

Music: 9
Performance: 9
Sound: 9
Light: 9
Total: 9 / 10
All pictures by LAy
See also (all categories):