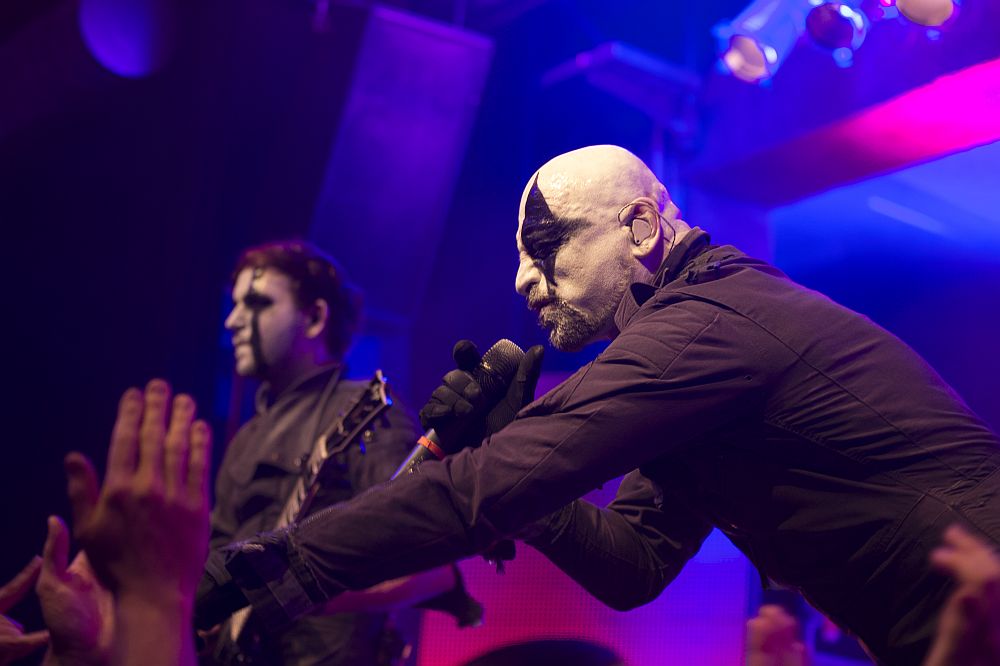 Substage, Karlsruhe, Germany
12th October 2018
Megaherz, Heldmaschine & Anna Lux

It's Friday night and it still feels like summer as we arrived the Substage club in southern Germany after a long working day. This is the 2nd part of the MEGAHERZ "Komet" tour. This time in smaller clubs, but mostly you feel the bands more close.
Anna Lux

After a first tour, with excellent feedback from audience and journalists, ANNA LUX released their debut album, 'Wunderland'. With their unmistakable sound, ANNA LUX manages the balancing act between Dark Rock and radio-suitable German Pop Rock like no other band before. Multitasking is no stranger to the likeable front woman Anna. With piano, vocals and guitar she writes most of her songs herself. Catchy melodies, singable choirs and cumulative energy make you want more. Music by ANNA LUX is not afraid of hard riffs, wide guitars and electronic elements. The German texts are direct and without taboos. www.annaluxmusic.com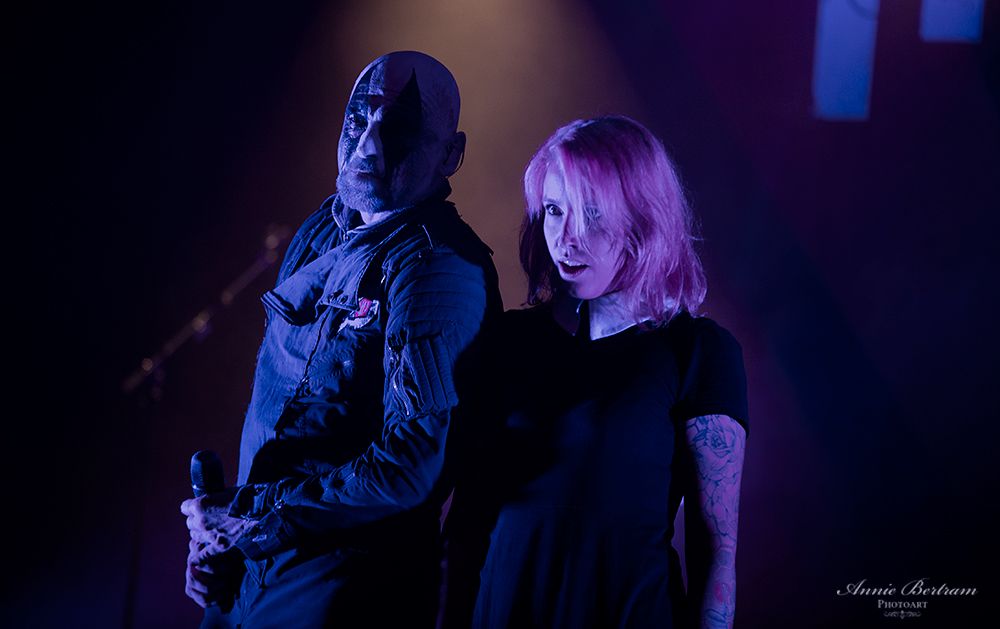 Music & Performance

Unfortunately we were late because of work and traffic jam at the highway, that's why we missed most of ANNA LUX' show. As we arrived, the song 'Lauf kleiner Mann' was played and the audience was dancing. As next song they played a cover from DIE ÄRZTE, 'Wie es geht'. After 30 minutes the show was already over and they finished with their latest single, 'Mädchen im Koma'.
Rating

Music: 8
Performance: 8
Sound: 8
Light: 8
Total: 8 / 10
Heldmaschine

Parallel to this band, singer René Anlauff and his four companions Tobias Kaiser (guitar), Eugen Leonhardt (guitar), Marco Schulte (bass) and Dirk Oechsle (drums) have been active in the RAMMSTEIN cover band VÖLKERBALL since 2008. Founded in 2011, they have released four studio and one live album. http://www.heldmaschine.de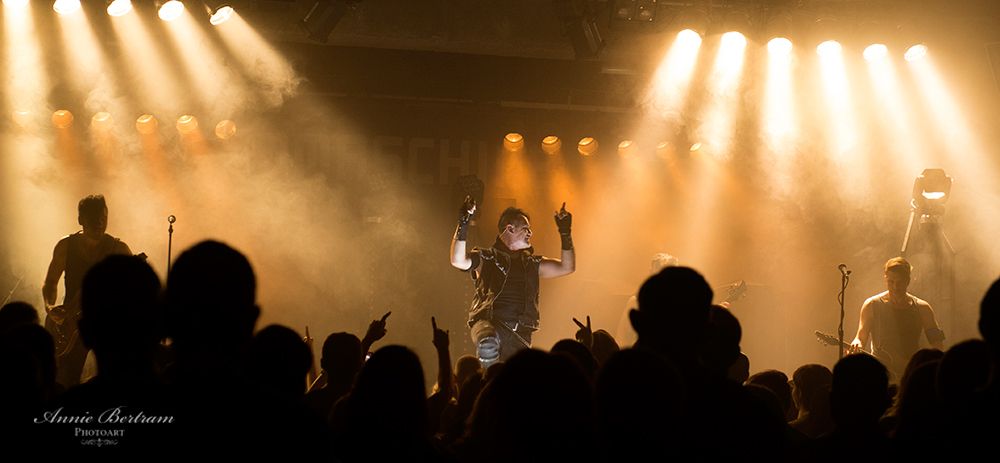 Music & Performance

20:45, the time has come for HELDMASCHINE's show. The band enters the stage all dressed in black wests with blue led lights on. And they brought a lot of own fans with them. The audience started to celebrate from the very first moment. René was dressed in a special kind of laser suit, reminding me of RAMMSTEIN, to their hit 'Radioaktiv' from 2011. Fountains of fog followed and the stage turned into blue light with their next song, the audience is singing and dancing and celebrating. After the song 'Das Mass ist voll', HELDMASCHINE gave their statements against discrimination and racism.
Rating

Music: 9
Performance: 9
Sound: 8
Light: 8
Total: 8.5 / 10
Megaherz

MEGAHERZ (English "Mega-heart", a pun on the homophone "megahertz") is a German Neue Deutsche Härte band formed in Bavaria in 1993. One of the band's most famous songs is 'Gott sein' ('To be God') on their first full album, 'Wer Bist Du?' ('Who Are You?'). MEGAHERZ has gone through many changes in musical style since their founding. Their early works are a fairly dark Alternative Metal, comparable to 1990s American bands such as FAITH NO MORE, whereas recent works are comparable to bands such as OOMPH! and RAMMSTEIN. Their early albums all include at least one song based on a classic German fairy tale, including 'Hänschenklein' ('Little chick') on 'Herzwerk', 'Rapunzel' on 'Kopfschuss', 'Windkind' ('Wind child') on 'Himmelfahrt' and 'I.M Rumpelstilzchen' on 'Herzwerk II'. www.megaherz.de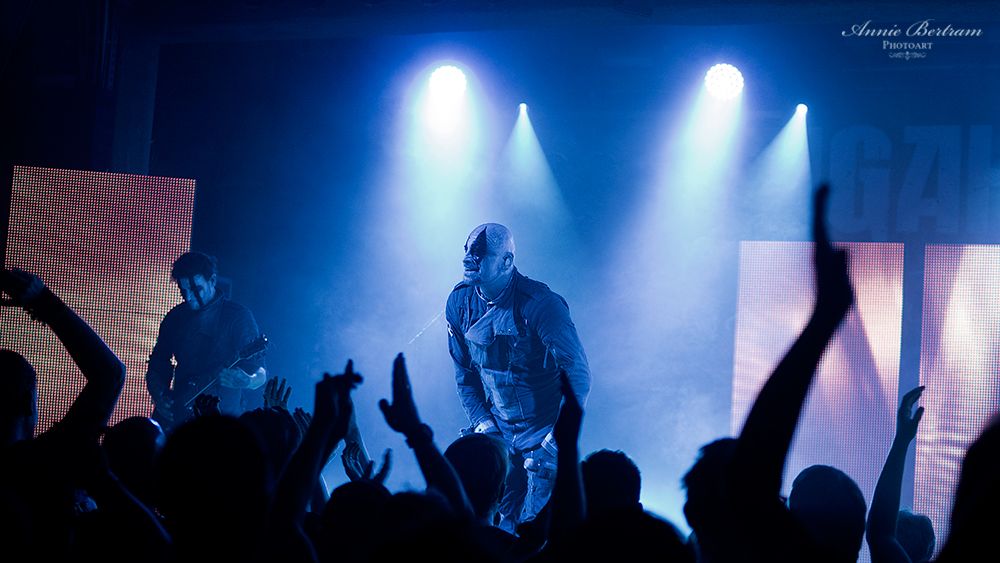 Music & Performance

After releasing their new album, 'Komet' (placed on number 7 in the charts), and a successful first tour leg in spring 2018 the time was right for the second leg of the tour in smaller clubs. Which song could be more suitable to open a show than 'Vorhang auf' and to bring the audience from zero to 100% in only a few seconds time? Followed by 'Horrorclown' and 'Komet' in the first hour most of the latest hits were played. Always very close to their audience this concert seems to be unforgettable for their fans and for the band itself. Since I already saw the first leg of the tour, I was wondering if the setlist would be the same. But as the band celebrates their 25th anniversary, some very special highlights were presented. Older songs like 'Kaltes Grab' from the 'Heuchler' album (2008) and 'Liebestöter' from 1998 or duets with ANNA LUX and HELDMASCHINE made it a very special concert night. The acoustic version of 'Augenblick' shows the great variety of Alex' outstanding voice.
Rating

Music: 9
Performance: 9
Sound: 9
Light: 9
Total: 9 / 10
All Pictures by Annie Bertram