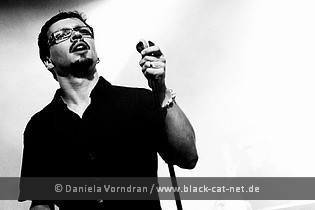 Markthalle & Stadtpark, Hamburg, Germany
8th to 9th July 2011
Nordstern Festival Day 1: Slave Republic, Architect, Klangstabil, Empirion, Frozen Plasma, Sono

On 8th & 9th July, a total of 13 bands was coming to Hamburg for the start of a new event, the Nordstern Festival. So, Friday was all under the sign of a kick-off event and besides six bands there was a warm-up party before on Saturday the fun continued with 7 more live acts at the open air stage at the wonderful city park. Originally planned as Friday's headliner were ZEROMANCER, but since the band hat to cancel all their summer shows, SONO from Hamburg jumped in to fill the spot.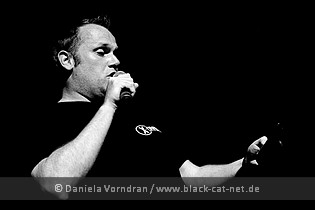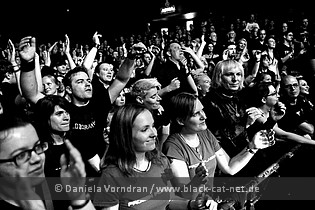 Slave Republic

SLAVE REPUBLIC had come a long way, founded in the 90's and after many years without output they restarted three years ago as a duo and released their current album 'Electric One' last year. SLAVE REPUBLIC is Alec Fu (vocals, guitar) and Alex Alice (bass, programming, background vocals). http://www.slave-republic.com/ / http://www.myspace.com/slaverepublic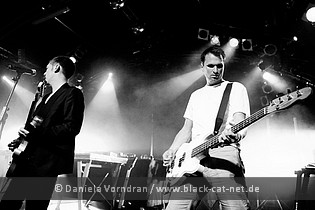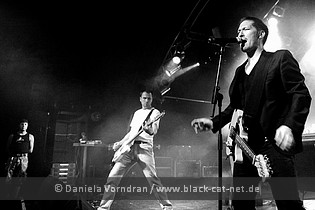 Music & Performance
SLAVE REPUBLIC opened the stage on Friday and the first Nordstern Festival as well and they did a good job. I had never hear anything from this band and I was positively surprised by them and bought the CD at the merchandise after the concert. Only a few people were in the venue at this early hour but they enjoyed the short set and after it they were warmed up well because the temperature in the venue already was hot and the music was pleasing.

Setlist
01. The driver
02. Hadron Collider
03. Number Three
04. Electric
05. Less Of Me
06. Truth Or Dare
07. My Maker

Rating
Music: 8
Performance: 8
Sound: 8
Light: 8
Total: 8 / 10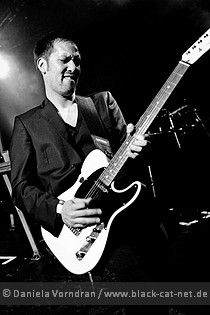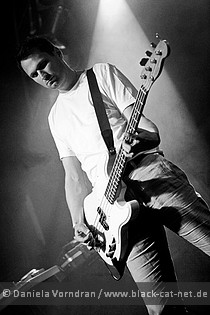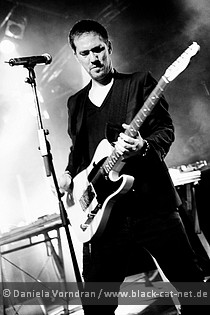 Architect

ARCHITECT is a unique hybrid of IDM, Electronica and smooth ambient soundscapes as inexhaustibly explored by German mastermind Daniel Myer. Daniel began experimenting with electronic music in his teenage years, and in 1993 he founded the legendary electro-industrial / EBM project HAUJOBB. Since then he has made a name for himself in the modern electronic music scene and initiated a legion of first class band projects like HMB, NEWT and DESTROID - as well as being a permanent member of the renowned Swedish electro band COVENANT since he joined in 2007. ARCHITECT was created in 1998 and can be easily described as the most outstanding and fascinating of Daniel's projects. The recent release 'consume adapt create' is a unique blend of atmospheric IDM, cinematic samples, powerfully distorted sequences, ramming electro grooves, razor-sharp break-beats, and haunting ambience. Daniel Myer demonstrates his astounding compositional skill through his use of surgically placed sounds, unrelenting beats and complex, intelligent arrangements. Creating a powerful mix of both synthetic noise and organic emotion. http://www.daniel-myer.de / http://www.myspace.com/architectmusic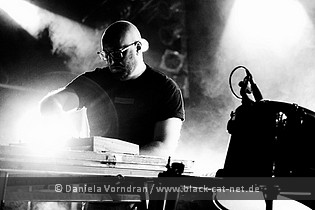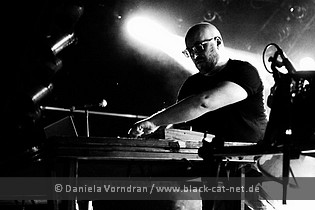 Music & Performance
After a short change over, Daniel Myer entered the stage which was dominated by a large table with some electronic devices and a small drum kit. This kind of electronic music is not everybody's darling but I think Daniel Myer demonstrated that live performance of electronic bands don't need to be boring. He operated his devices combined with additional analogue drum parts. The show contained some unpublished demos and was finished after about 35 minutes by the Kraftwerk-song 'Radioactivity' on audience's request.

Setlist
01. Krister
02. Maureen
03. Hyde
04. Stripped funck
05. Improvisation with public enemy
06. For you
07. Radioactivity (kraftwerk cover)

Rating
Music: 8
Performance: 9
Sound: 9
Light: 8
Total: 8.5 / 10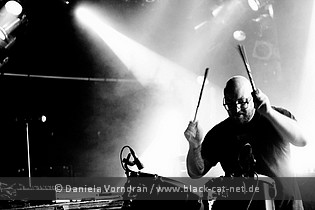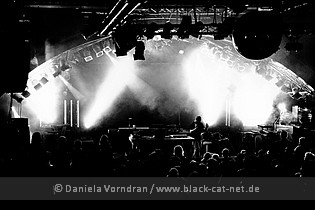 Klangstabil

KLANGSTABIL was formed in 1994 by Maurizio Blanco and Boris May. At that time, Boris was not yet an active musician, while Maurizio was already knee-deep in electronic music and had already begun to develop his own ideas in music. At first, the project produced music without intention of releasing it, as they considered it purely as research. External interest resulted in live performances, and labels became aware of the project. The first release on vinyl followed quickly. Since 1995 more than a dozen releases were published on vinyl, CD, and digital download formats. Also, KLANGSTABIL played many successful live concerts in Germany, eastern and western Europe, Russia, and the U.S.A. Since 1998 Boris and Maurizio also run their own label MHz Records. The last EP called 'Vertraut' and was released in 2010. http://www.klangstabil.com / http://www.myspace.com/klangstabil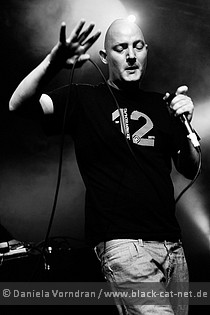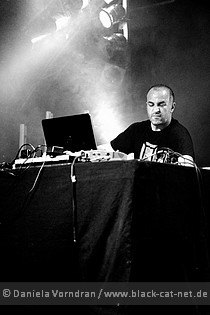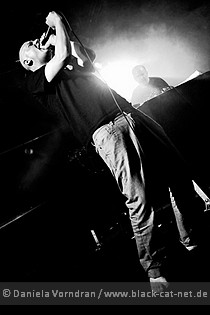 Music & Performance
Short change over again and KLANGSTABIL entered the stage and started their set with 'Math & Emotion'. They performed a solid set of eight songs with partly English, partly German and partly Italian lyrics ('Perdere per Vincere' where Maurizio took over vocal duties). The audience enjoyed the fantastic music and great show and was dancing and cheering along. The set was finished after about 40 minutes with 'Lauf, lauf'.

Setlist
01. Math & Emotion (the square root of one)
02. Push Yourself
03. Perdere per Vincere
04. Twisted Words
05. You may Start
06. Math & Emotion (the square root of three)
07. Vertraut
08. Lauf, lauf

Rating
Music: 8
Performance: 8
Sound: 8
Light: 8
Total: 8 / 10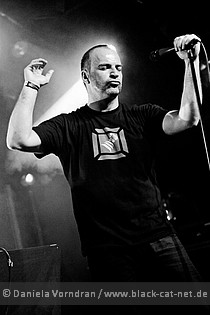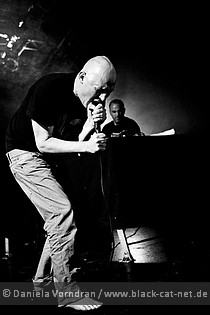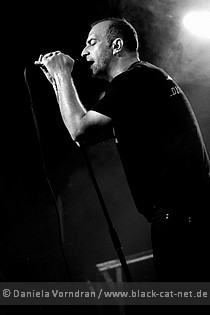 Empirion

EMPIRION is a British industrial techno band, from Essex, England. The band was formed in 1993, and the original line up consisted of Oz Morsely, Bob Glennie and Jamie Smart. They went their way about some years, tragedy then struck the group when Glennie was diagnosed with a brain tumour, and died in 2005. Morsley went on to start his own project called KLOQ and Smart continued to DJ. In 2011, Smart and Morsley came back together under the EMPIRION name with a remix of the Victory Pill track, 'Burnout'. They have also embarked on several live dates throughout Europe, and are planning some new material. http://www.empirion.org/ / http://www.myspace.com/empirion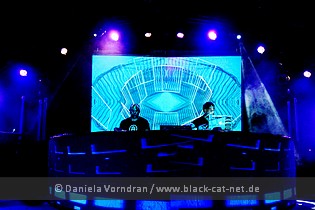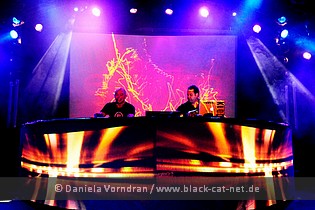 Music & Performance
The next place in line was EMPIRION who entered the stage after an announcement by Mark Jackson - the drummer of VNV Nation. EMPIRION performed a pure electronic set without vocals, the formidable lightshow was supported by a nice background video projection. A part of the audience left the hall and used the slot to take some drinks or food, the still present people enjoyed the show and had fun. The set ran about 45 minutes.

Setlist
01. Intro
02. New track (untitled)
03. Jesus Christ
04. Ciao
05. Narcotic Influence
06. Quark

Rating
Music: 7
Performance: 7
Sound: 8
Light: 9
Total: 7.6 / 10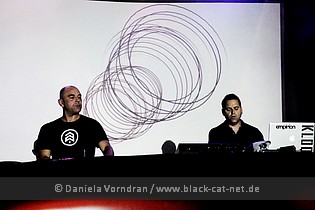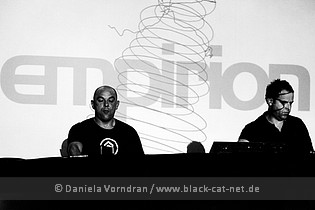 Frozen Plasma

After the split of his very successful band NAMNAMBULU, Vasi Vallis founded FROZEN PLASMA in 2005 together with Felix Marc. The debut single 'Hypocrite' was released in November 2005, the first album 'Artificial' followed in April 2006. The last album called 'Monumentum' and was released in 2009, followed by a single release 'Tanz Die Revolution' which was released in different languages. Vasi Vallis is also known for his band REAPER, Felix Marc is member of DIORAMA and runs a solo project under his own name too. http://www.frozenplasma.com / http://www.myspace.com/frozenplasma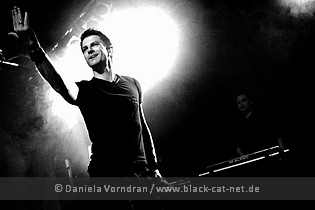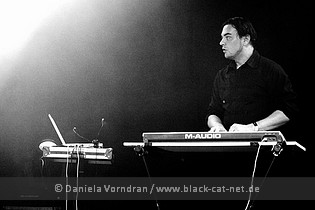 Music & Performance
Vasi and Felix entered the stage and started their set, warm welcomed by the meanwhile well-filled crowd and Felix welcomed they with the words "Guten Abend Frankfurt" (Good evening Frankfurt) what was obviously a little mistake, anyway right from the start the crowd was infected by the rousing pleasing sound and the charismatic performance. Felix animated the crowd to moving and clapping hands and the temper was good. The set contained all in all nine songs and finished after about 50 minutes with 'Tanz Die Revolution', the latest single release.

Setlist
01. The end – deliverance
02. Condense
03. Earthling
04. Excited
05. Imaginary
06. Irony
07. Murderous trap
08. Warmongers
09. Tanz die Revolution

Rating
Music: 8
Performance: 8
Sound: 8
Light: 8
Total: 8 / 10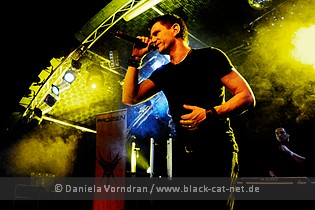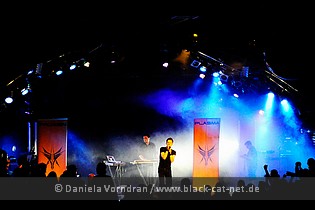 Sono

SONO is a band from Hamburg and was founded in 2001. Musically, SONO could be categorized widely as pop, with strong influences from techno, house, and electro. This musical diversity has provided SONO with a considerable number of fans from various music scenes. Aside from studio projects, SONO performs in various live constellations, from DJ live sequencing sets to stage performances including a large rhythm section. The last album called 'Plus' and was released in 2009. SONO is Lennart A. Salomon (vocals, guitar) Florian Sikorski (keyboards) and Martin Weiland (keyboards, DJ). http://www.sono.fm / http://www.myspace.com/sonomusic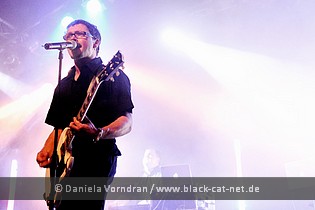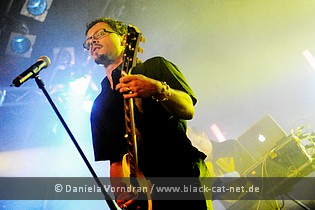 Music & Performance
11:20 pm, the first festival day came to an end and the stage was ready for the head liner. Normally ZEROMANCER should be the head liner today but due the illness of a band member they had to cancel all shows in summer and must be replaced by SONO this time. SONO performed a solid show, the pleasing and danceable sound was perfected by the distinctive voice of the singer and the audience enjoyed the show. Infected by the rousing rhythm the crowd were dancing along and quickly the time went by. The set list included songs from the last album as well as older well-known songs like '2000 guns' or 'A New cage' and when SONO finished their show and left the stage the crowd was satisfied. Altogether a nice evening, a good organisation, very short change over breaks and nice bands.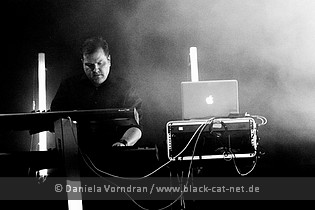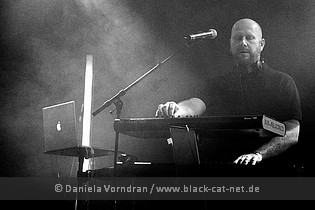 Setlist
01. Future Sun
02. What You Do
03. All Those City Lights
04. Blame
05. The Edge
06. A New Cage
07. 2000 Guns
08. Perfect Harmony
09. Always Something Missing
10. The Brightest Star
11. Open The Door
12. Better
13. Keep Control
---
14. Come On

Rating
Music: 8
Performance: 8
Sound: 8
Light: 8
Total: 8 / 10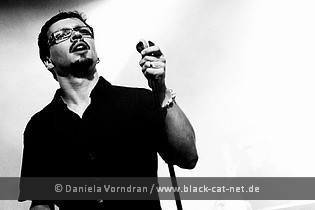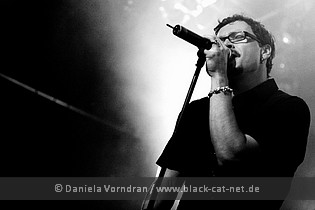 Pictures by Daniela Vorndran (http://www.vorndranphotography.com / http://www.black-cat-net.de/ / www.myspace.com/vorndranphotography / www.facebook.com/blackcatnet)