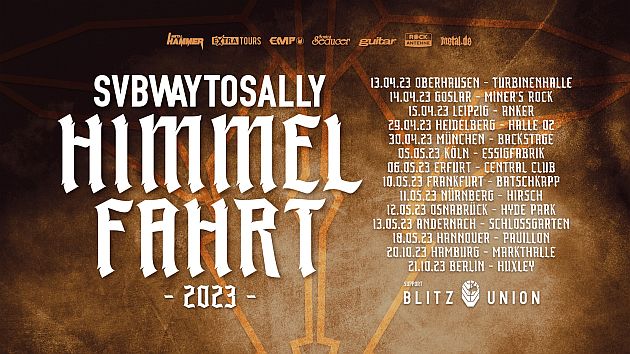 Anker, Leipzig, Germany
15th April 2023
Subway To Sally - "Himmelfahrt Tour 2023" - Support: Blitz Union

What will we say when we look back at the year 2023? Hopefully this: It was a year of new beginnings and hope. A year in which we looked ahead and not back. All of this is still in the future, but hope is the fuel of the future. The new, meanwhile 14th, album by the veterans of Medieval Rock, which will be released in March, is entitled 'Himmelfahrt'. The dystopian lyrics of the predecessor 'Hey!' are in the past. The new album marks a turning point.
'Himmelfahrt' is the end and a new beginning at the same time. After the depressing years, which were characterized by narrowness and stagnation, the new songs are about departure and travel, about being able to reach out to other people to lead them from the deepest depths into the light. Musically, the Potsdam-based band delivers a damn plank of hit songs and big melodies. SVBWAY TO SALLY are vital, like they came straight out of a boot camp. You can feel the thirty years of stage and studio experience in every note and that they have an irrepressible hunger for the stage and their audience.
Much can be written about SVBWAY TO SALLY, but seeing them live is still the best way to convince yourself of the quality of their live concerts, their songs, their outstanding craftsmanship and their love for their audience.
Additional Concert Info

Doors: 19:00
Start: 20:00
Tickets: can be bought for 44.25 + charges (pre-sale) via
Eventim
Info: https://anker-leipzig.de/veranstaltung/subway-to-sally
Facebook Event: https://www.facebook.com/events/1155955528608102