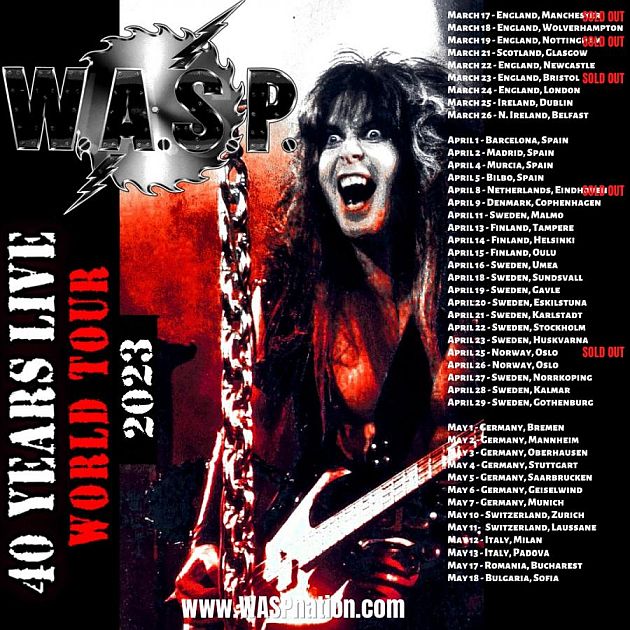 Rockefeller, Oslo, Norway
25th and 26th April 2023
W.A.S.P. - "40th Anniversary World Tour"

One of the most infamous and controversial Heavy Metal bands in music history - W.A.S.P. - is celebrating its 40th anniversary! On 25th and 26th of April 2023 there will be a double concert at Rockefeller!


Few bands in Rock have managed to incur so many emotions and reactions. From the beginning back in 1982 in small clubs in Los Angeles, to later large arenas all over the world, the band has been banned by government organizations and religious sects. In the 80s, W.A.S.P. reached even the US Senate for its terrifying aesthetic and bone-chilling shock & roll. The hysterical 80s, that is, with scandals, attention and media coverage that, ironically, propelled W.A.S.P. to heaven, supported by rock solid and timeless song material that sent the band straight to the top of the international charts.

The otherwise very likable Blackie Lawless, founder, frontman and prime mover, has led the band throughout, and has sold millions of records. Lawless is accompanied by bassist Mike Duda and guitarist Doug Blair, who have now been with the band for 26 and 18 years respectively, as well as the eminent drummer Aquiles Priester. Together they will take the W.A.S.P. and the fans back to where it all started, complete with the extreme stage show that many fans never got to experience.

The boss himself announces the following: "We will go back to the beginning. We're taking the show back to where it all started, complete with all the pyro and gore that shocked the world in the first place. We only did this type of show on the first world tour and never again. I'll scream and I'll bleed, for 'I Wanna be Somebody'! We're all taking it back... back to the beginning!"

Additional Concert Info
Doors: 19:00
Start: tba
Tickets (25.04. - Sold out) for 26.04. for 535 NOK via https://www.ticketmaster.no/event/677007
Info: https://www.rockefeller.no/
Facebook Event: https://www.facebook.com/events/2045703218928040


See also (all categories):